Funerals, through various traditions, serve as a point of closure for grieving families. But since the pandemic began in mid-March, the once norm of offering hugs, hand-holding and other means of comfort are encouraged to remain minimal, if at all.
Attendance is asked to be kept to immediate family and close friends. And those who previously would have traveled to bury a loved one are now watching events virtually.
For the Perry family, this became evident following the death of Georgetown resident Emanuel "Manny" Perry, a 27-year army veteran who served three tours in Vietnam.
Manny was known as a jokester, always available for a laugh and a hug. His family said he loved fishing, golfing and being around loved ones. A husband, father of five and grandfather of "10 and a half" as one is on the way, Manny died from congestive heart failure on Sept. 14. He was 83.
"The only thing different is I've had several friends who have sent condolences and said they wished they could be here, but for instance they are teachers and are scared to death of exposing someone in their classrooms," Georgetown resident Maryanne Perry said. "That's been the biggest adjustment for me."
It was a similar experience for Reyna Ruiz, who buried her mom, Maria Valeria Hernandez Maya, in July. Hernandez Maya died from kidney and liver failure. She was 79.
Hernandez Maya was a retired history professor who also loved to garden and paint, Ruiz said. She added that her charismatic mom also loved to crack jokes, maintaining a positive outlook on life even when she was in pain.
While neither Manny nor Hernandez Maya died from the novel coronavirus, their funerals were impacted. The number of guests who could attend in person was limited and typical funeral traditions such as family gatherings and life celebrations were kept small.
Ruiz said she too had people reach out to her to offer their condolences and say they wish they could have attended the funeral.
"It was sad because we had people that wanted to come and be with our family and be supportive but because of their own personal risk factors, they weren't able to," Ruiz said.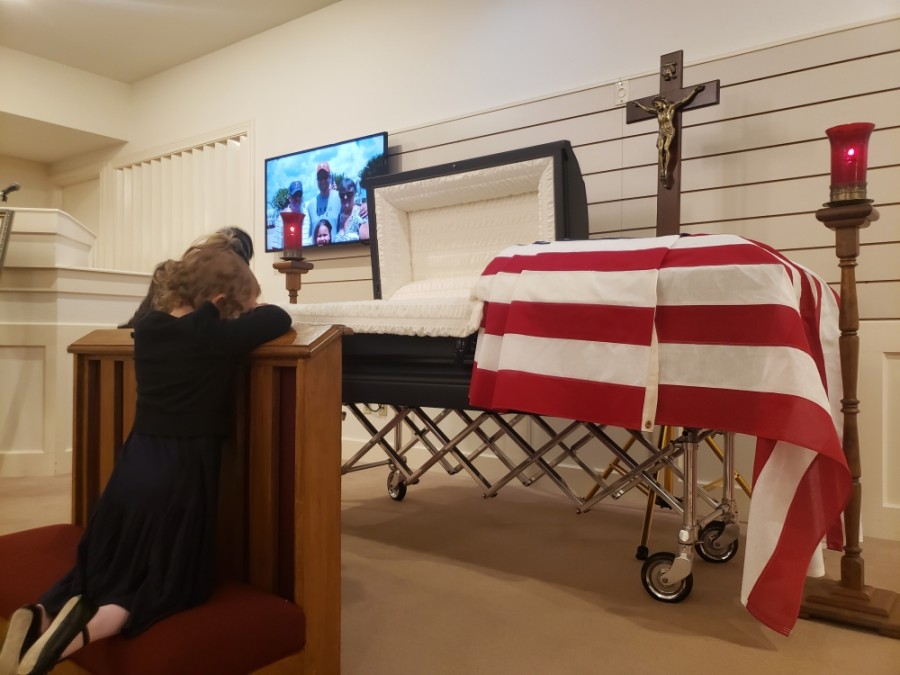 Business of burials
The funeral industry—like most—also had to adjust operations to accommodate pandemic guidelines.
For example, at Georgetown's three funeral homes, masks are required to be worn while indoors, every other row of pews is blocked off and chapel capacity is limited to 50%. Attendees are asked to maintain 6 feet of distance when not part of an immediate family, and homes also increased the number of cleanings it conducted, including after each service.
But greatest was the change in use of the funeral home's live streaming services, said Ralph Kunze, The Gabriels Funeral Chapel and Crematory funeral director.
"Families would fly in from out of town [to attend a funeral], and now they can't," he said. "So we've had to get better at the technology side of the industry in trying to create the funeral at a distance."
Mark Ramsey, owner of Ramsey Funeral Home and Cremation Services, agreed, saying while his business has had live streaming and recording of services before the pandemic, it is being utilized much more.
Ramsey also said he saw a change in how funerals are conducted.
While Ramsey said most of the families he served decided to continue with services regardless of regulations, a few selected postponed services for a time when more people can come together.
He said he also saw an increase in requests for entire services to be held at the gravesites where there is a lower risk for coronavirus transmission, according to health experts.
"We're doing a lot of just graveside services where people are out in the open. And then of course, we try to maintain the social distancing," Ramsey said.
Caring for a COVID-19 death
When it comes to a COVID-19 death, funeral homes have to take special precautions such as keeping the body in a room separate from other bodies and those who handle the body are in complete personal protective equipment gear, a standard procedure the homes follow when someone dies from any infectious disease, Ramsey said.
But with a COVID-19 death, it is also recommended that bodies are kept in specially sealed caskets and only a closed-casket service is conducted, he added.
"With all the precautions we have to take, ... it's limiting families to what services [families] can do," Ramsey said.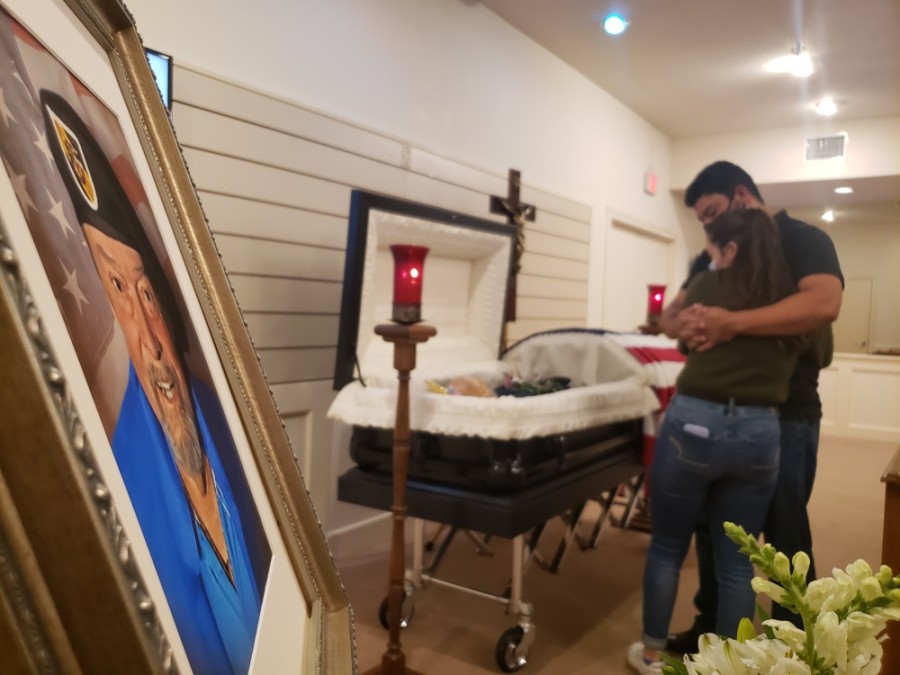 As far as the number of COVID-19 positive services conducted in Georgetown, both Ramsey and Kunze have said they have not had many at their funeral homes.
For example, in July, Ramsey funeral home hosted 65 services, of which five were COVID-19 positive, Ramsey said.
As of time of print, 23 Georgetown residents had died from the novel coronavirus accounting for 15.97% of the Williamson County COVID-19 deaths which sat at 144, according to Williamson County and Cities Health District data.
Of the reported confirmed COVID-19 cases in Williamson County, the deaths account for 1.61%. In Georgetown, deaths account for 1.42% of total cases, data shows.
However, Jared King, of Cook-Walden Davis Funeral Home, said he estimates all death calls—not just coronavirus-related deaths—are up by 15% in the Central Texas area.
"I know from our own figures in the Cook-Walden and Weed Corley Fish groups and through conversations with other funeral homes in the area not in our group, all Central Texas death calls are up," he said. "The death rate in general seems to be increasing."
WCCHD data too showed an increase in deaths in 2020 after adjusting for population growth, particularly in June, July and August, with the greatest spike in July.
"We only have cumulative death data at this point and it is pending analysis, but the trend would indicate a rise in deaths for certain periods in 2020," WCCHD Spokeswoman Deb Strahler said. "The cause of death analysis is still under review, so determining if the cause was from a person not seeking routine care cannot be determined by our data at this time."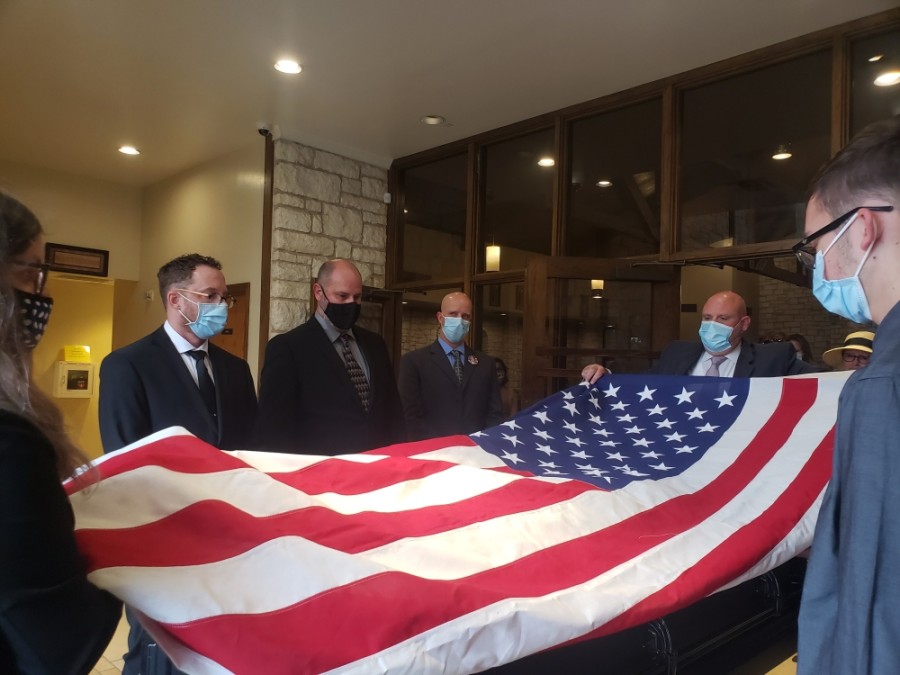 Finding solace
Strict protocols in funeral homes and hospitals have also stripped some families of the opportunity to say goodbye before their loved one has died, Gabriels funeral home Business Manager Michele Ellison said.
Ellison said she has worked with families who could not visit with a loved one due to no-visiting rules, to which she said often led to more difficulties in planning a funeral as family members felt they were unable to honor the deceased properly when only a few people could attend.
"For a lot of these families, this is probably the biggest challenge for them in that they haven't seen their loved ones for a number of days and weren't able to be with them," Ellison said. "They didn't get any kind of final goodbyes with them, and they didn't get to see them so they feel like they've died alone. They feel like they've been cheated."
And for many of those grieving, the pandemic has also altered the process, licensed counselor Kelly McCabe said.
Funerals, while clothed in sadness, allowed for human interaction in its simplest form whether that be a hug or a pat on the hand, McCabe said. The pandemic changed that.
"I think one of the things that COVID[-19] has really demonstrated for all of us is how important that in-person contact really is," McCabe said. "I think [the pandemic is] certainly having an impact on how much of that connection we're actually getting and experiencing and any relief that we would normally feel in those settings."
McCabe said funerals often serve as an opportunity for grieving family members to transition through the five stages of grief, but when families are not able to host funerals as they want or planned due to protocols in place, they can find themselves stuck and unable to find closure.
She added that having moments and gathering with people that loved their loved ones as they did is imperative to reaching acceptance. Instead, she said many might find greater feelings of loneliness rather than closure.
"Closure is not happening for a lot of people," McCabe said. "But I think the most important thing is to really be mindful of how much of a storm we're really in and to give yourself that permission to really have a hard time."