Teachers are the No. 1 reporters of child abuse in America, but with kids not in school due to the coronavirus pandemic, experts on the ground are seeing fewer cases reported. However, they understand it does not mean less abuse is happening. In fact, they fear the opposite.
Kerrie Stannell, CEO of the Williamson County Children's Advocacy Center, said where the center usually receives an average of 20-30 reports of child abuse in the county a day, they are now receiving an average of 8-10.
The center provides assistance to children who have experienced physical or sexual abuse. As a nonprofit, the center works with law enforcement, child protective service professionals and the county district attorney to minimize trauma for survivors of abuse while other agencies conduct criminal investigations.
Child abuse has always been an issue, Stannell said, and with children being away from the most likely reporters of abuse, she said she knows abuse is still happening; it just is not being reported. Most of all, Stannell said she fears that in the current climate, it could get worse.
"The problem before [the coronavirus pandemic] was big," Stannell said. "So I hope we don't see this amplified to any degree."
According to statistics by the Children's Advocacy Centers of Texas, 175 Texas children are the victims of abuse every day. In addition, 1 in 10 children will be sexually abused before their 18th birthday. With 7.4 million children residing in Texas, this would equal 740,000 child victims of abuse—without a global pandemic changing life in every aspect.
Stannell said she fears the impacts from the coronavirus pandemic will increase stressors that could lead to more child abuse: Families are bound inside together all day. Parents are now teachers as well as providers and caregivers, often with few or no breaks. Some may have even lost financial stability, whether through a job or loss in investments.
But Stannell's biggest concern, she said, is children being stuck at home with their abusers, as 90% of child abuse victims know their abusers.
"Physical abuse—we will really see [it] amp up in times of extreme stress and pressure," Stannell said. "We're really nervous about the kids that are suffering from sexual abuse. They're home with their abusers, and they're stuck in one place, so they can't tell anyone, and they can't get away from that situation."
Shedding a light
April is National Child Abuse Awareness and Prevention Month, and in April, WCCAC's Go Blue campaign works to bring awareness to the issue in the area.
While many of the events initially scheduled to promote awareness have been postponed or moved to virtual platforms, Stannell said the mission is the same: ending child abuse.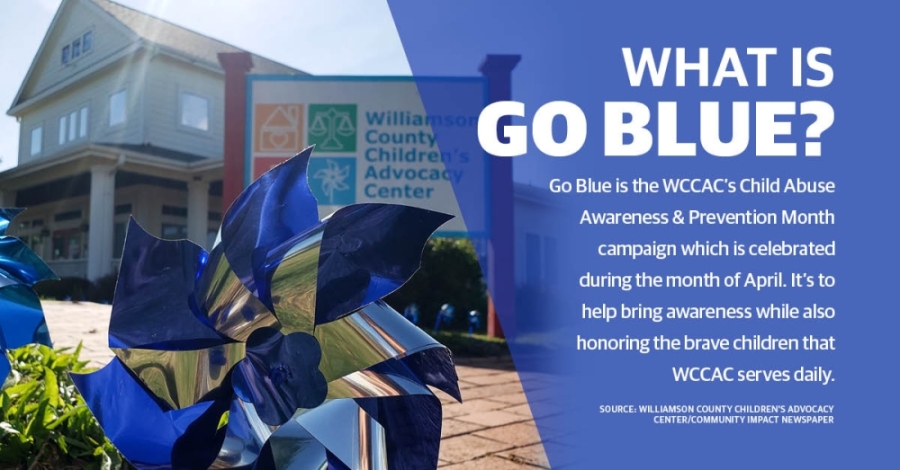 "Child abuse is a much bigger problem than people really understand, and we want people to really talk about it and know what it looks like," Stannell said. "Ending child abuse is the main goal."
The Go Blue Committee comprises WCCAC, Leander Police Department, Georgetown PD, Cedar Park PD, The Georgetown Project, CASA of Williamson County, Round Rock PD, BACA, Williamson County Juvenile Services and the Williamson County Sheriff's Office.
Go Blue's symbol is the pinwheel, which represents hope, health and happiness, the
WCCAC website said
.
"The pinwheels serve as a reminder that we all have a responsibility to create communities that promote healthy environments for children," it said.
Helpful tips
With children not seeing teachers, sports coaches, medical professional or other trusted adults outside of their home, Stannell said she is asking that neighbors and community members fill that void and look out for sign of abuse.
Stannell said she hopes that neighbors and community members will follow their gut instincts if they believe abuse is happening.
"With the crime of child abuse, it is very important to realize that these are the crimes that children are never going to call out for themselves," Stannell said. "Even though this is happening in someone's home, their children still need advocates, and they still need someone looking out for them."
Here are a few indicators of child abuse to keep in mind, provided by the
CACs of Texas
.


Unexplained injuries


Lack of personal care or hygiene


Fear of certain places or people


Risk taking behaviors


The abuse reporting hotline is 800-252-5400. More child abuse prevention and awareness resources can be found at
www.cactx.org
and
https://wilcocac.org
.