Correction: H-E-B owns land at 1460 Inner Loop.
Wolf Lakes Village finalized a contract with H-E-B for 15 acres within the 164-acre master community off I-35 and Hwy. 29,
Wolf Lakes LP President Iva Wolf McLachlan
announced during a March 9 City Council workshop.
The new H-E-B will replace the current store on I-35 and east University Avenue moving west into the new development.
"This will be more or less the biggest and best store north of the Colorado River in Central Texas," H-E-B Real Estate Director Jared O'Brien said. "Surely a flagship store at a flagship intersection."
H-E-B also owns the land behind its current location that was intended to be used for a new store, but O'Brien said after looking into the project, H-E-B found roadblocks with flood plains, transmission lines and a variety of other issues that made relocating the site altogether more reasonable.
The new H-E-B will be 117,000 square feet, more than twice the size of the current University Avenue location, and will include a barbecue restaurant with ground-level and balcony-level seating, curbside pickup and a pharmacy drive-thru.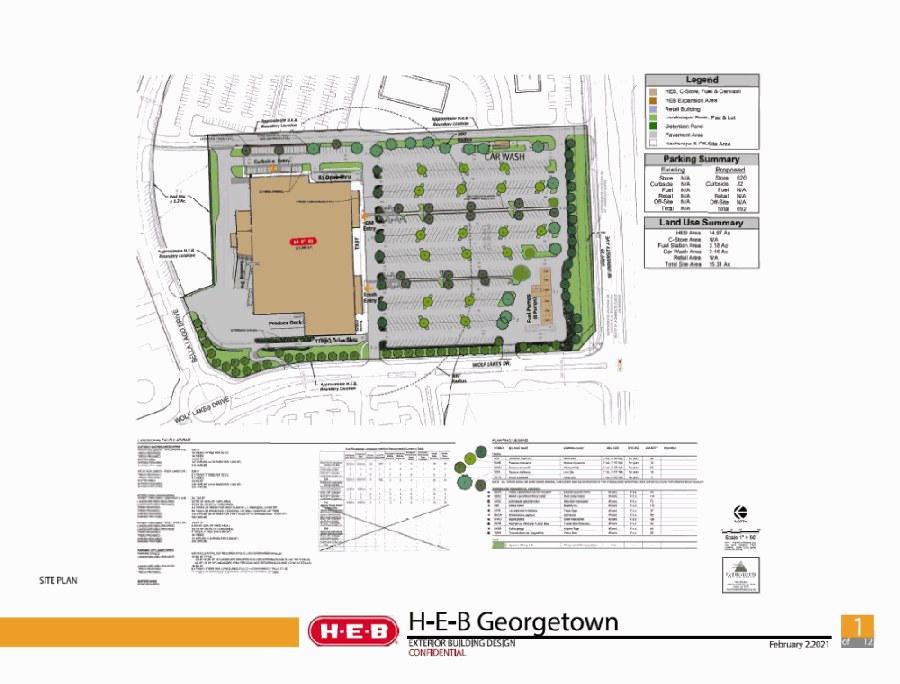 Wolf McLachlan
said the
estimated tax revenue the new H-E-B will bring to the city per year is $310,000 in sales and property tax.
"We're holding H-E-B to high standards, and to their credit H-E-B is on board to meet those standards and make this store one of the best most beautiful H-E-Bs in the state of Texas,"
Wolf McLachlan said.
H-E-B is the latest company to commit to Wolf Lakes Village, which will also house a 12-acre Ascension Seton medical office building as well as mixed-use commercial and residential options and several residential options from townhomes to apartments to single-family homes.
Wolf McLachlan presented a revised site plan for Wolf Lakes, which included the H-E-B and some street layout changes. She added that Wolf Lakes has also partnered with Hines, the largest private developer in the world, to create a multifamily development on 14 acres of the site.
"Our vision for Wolf Lakes has not changed. We are resolute in our commitment to implement our original vision with H-E-B and with all the other projects on our site,"
Wolf McLachlan said.
Council Member Tommy Gonzalez mentioned some concerns about the H-E-B moving further away from the east side of town, making it more difficult for people east of I-35 to have access to a grocery store as traffic in the area has increased.
"I understand those concerns, and I want to let you guys know that that though we are moving the store slightly west and on the other side of I-35, this does not represent in any way H-E-B's abandonment of the east side of Georgetown," O'Brien said. "In each of the communities in which we serve, we expect to serve all of the customers within those communities."
O'Brien added that the site H-E-B owns at 1460 Inner Loop will become an H-E-B at some point. Georgetown also has an H-E-B location at
4500 Williams Drive, Georgetown.
Wolf Lakes Village anticipates a
May start
for key infrastructure,
Wolf McLachlan
previously told
Community Impact Newspaper.