Nearly one year after Georgetown businesses began to feel the impacts of COVID-19 and related restrictions, Gatzby Salon owner Laura Atkinson is maintaining and adding clientele due to a continued vigilance toward keeping them safe, she said.
The salon is by appointment only, and patrons are in separate rooms from each other.
"We have clients come get their hair done because they know how clean it is, and they don't go shopping or out anywhere else," Atkinson said. "Recently I had several clients come from another salon that was not enforcing masks or wearing them, and they didn't feel comfortable, so they came to our salon."
Atkinson said she was already sanitizing every station prior to the pandemic, and that reputation for cleanliness is what has helped Gatzby stay afloat.
Local businesses have had varying experiences over the past year, with outcomes turning out better for some than others.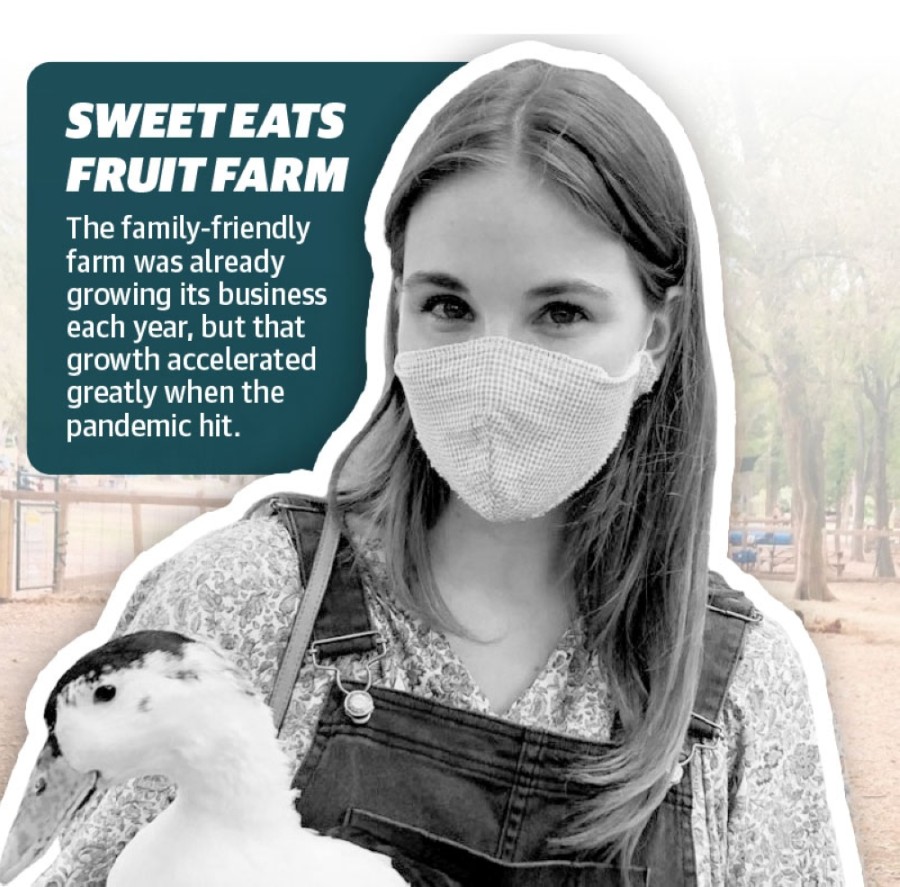 Sweet Eats Fruit Farm shut down its activities during Williamson County's shelter in place order last spring but was able to allow strawberry picking, as agriculture was deemed essential, owner Jon Meredith said. The farm remained open on weekends only, but when the order was lifted Meredith decided to open seven days a week to help disperse crowds.
"People were and are looking for stuff outside and away from other people," Meredith said. "So our business has actually seen a tremendous amount of growth through the pandemic."
While activities such as face painting were removed, others such as pony rides are able to be conducted safely with masks, Meredith said. The farm will also open its new on-site bakery and general store in late spring or early summer, he added.
Another business poised to grow and expand its offerings is Moksha Yoga and Pilates.
Owner Nanci Patch said because the practice space is so large compared to other studios, Moksha has been able to offer in-person classes that are socially distanced.
All mat-based classes have a Zoom option as well, so people can join a live class from home, she said. Patch added she plans to continue virtual classes even after restrictions are lifted.
"We're finding that people from outside the area—even in other states—are now able to come," Patch said. "We're a teaching studio, so we have access to a broader range of people and plan to do more globally through our online services."
After instructing at the studio for years, Patch bought Moksha at the beginning of 2020, right before the pandemic hit. Her plans for the future, now that the business has adjusted as needed, is to offer more teacher training; build upon the yoga program; and become more of an all-around wellness center that collaborates with chiropractors, massage and physical therapists.
"We're just going to keep building," Patch said.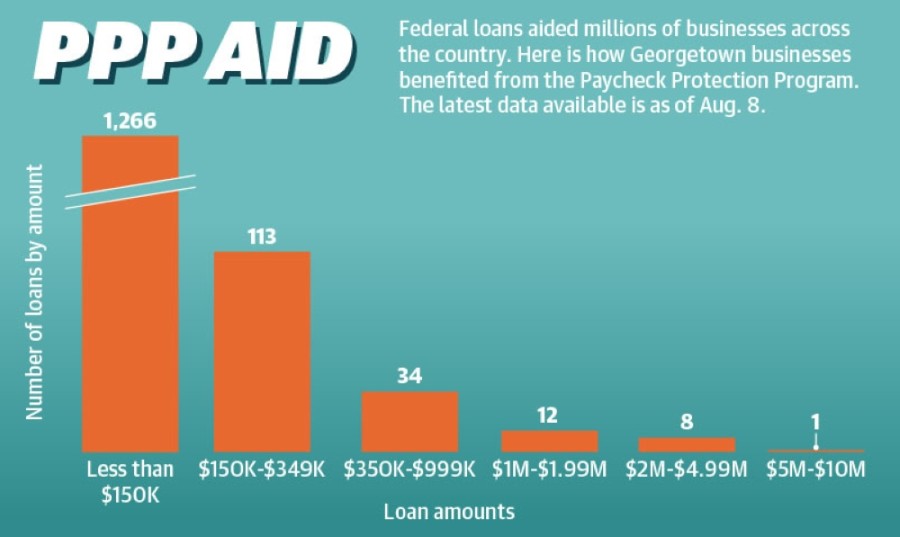 Facing setbacks
Not all existing businesses can switch to a virtual option or offer takeout. Child care, for example, must be done in person, and the model can only be altered so much.
Tina Folts, owner of Primrose School of Georgetown and Primrose at Rancho Sienna, said running her business is becoming more challenging each day. Last spring, when there were fewer local COVID-19 cases, parents were understanding of all the new safety measures the day care had in place.
"What changed is the spike in cases and people's level of grace," Folts said.
She said parents want the day care to open for 12 hours a day again, but even with the reduced hours, extra staffing has been necessary and costly.
Parents are not allowed in the building, so a staff member needs to take the temperature of each child entering the building and walk them to their classroom. Previously, classrooms could be condensed as children were picked up for the day and staff could clock out accordingly, but because classrooms cannot be condensed, all staff members need to stay until closing, with an additional 30-plus minutes after to deeply sanitize classrooms.
A spike in cases has also led to temporary closures, Folts said. The Georgetown school was closed for five days at the end of January into February, and the Rancho Sienna school was shut down for two weeks, reopening Feb. 10. Many parents do not want to pay any percentage of tuition when school is closed, but Folts said she wants to make sure she can keep paying the teachers.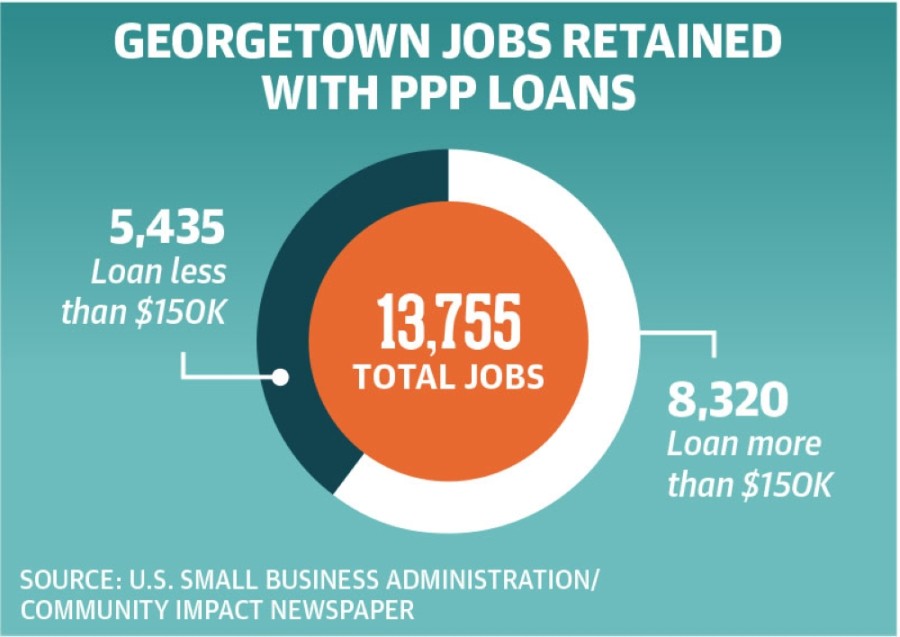 "Some people think I'm trying to nickel-and-dime them, but this pandemic has been a vacuum on my resources," she said. "We're not getting as much help from the government as other businesses. The Small Business Association was paying our mortgage early last year, which was incredibly helpful, but they're not anymore."
Even when the school is closed, the bills are still due, Folts said.
"What people don't understand is if I don't pay my staff when we're closed, they go get another job or take unemployment; then I can't open my business because we are mandated with staff ratios," she explained. "I just wish people would give some grace right now."
While some businesses struggle to remain open in the pandemic, others lost the opportunity to try.
"Ours was the most horrible timing you could have," Mahana Fresh owner Colin Reilly said.
Reilly said his startup business loans were in place and were a week from closing when the pandemic hit, causing the lender to pull out.
The Mahana Fresh building, which has been sitting empty for about a year, is 70% built out, Reilly said. But because it was not operational yet, Reilly and his partner were not able to take advantage of Paycheck Protection Program funding or other relief.
Reilly said he is still looking for other funding options, but many have ceased lending to restaurants with a lesser-known name and reputation. He added Mahana Fresh's fast-casual, healthy food concept would have done well in town.
"We're frustrated because this is a time when health is on the forefront of people's mind," he said. "We're positioned to not only help out the community but also be a fruitful and sustainable business model while this [pandemic] is going on.
"It's still a maybe," Reilly added in regard to opening. "But it's getting quite slim at this point."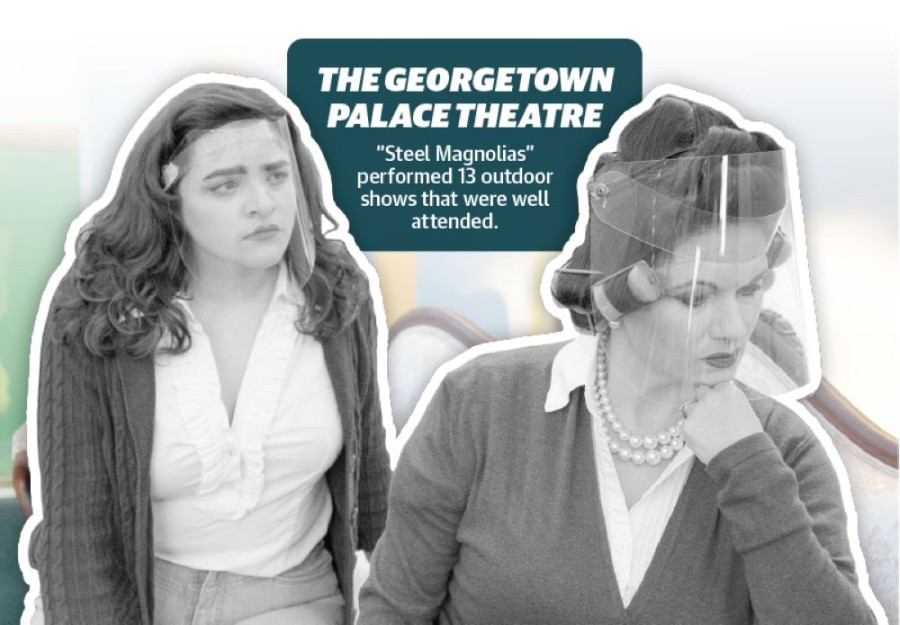 The show must go on
Last summer no one would attend an indoor event, so the Georgetown Palace Theatre headed outside, Executive Artistic Director Ron Watson said.
The group converted the parking lot behind its building into an outdoor theater showing movies on a large inflatable screen. The events were well attended, Watson said, so the theater went forward with doing a full production of "Steel Magnolias" outdoors. All but two of the 13 performances sold out.
But we had to stop doing outdoor stuff once the weather turned cold," he said.
After a survey showed patron interest for indoor productions, shows began once again in late 2020. The ventilation system was upgraded, temperatures are checked and masks are strictly enforced, Watson said.
The first show back, "A Tuna Christmas," had two actors who wore clear masks even though they were always 30 feet from the nearest audience member. The Palace's current production, "Same Time Next Year," is also a two-person show. Keeping the cast small is another safety measure, Watson said.••The Palace received several loans and hosted some fundraisers, but most of that money is long gone, Watson said. Musicals make the most money in non-pandemic times, but they are also the most expensive to produce. With the theater at limited capacity, it would not equal enough to pay the bills.
The Palace's new Doug Smith Performance Center opened last year for educational programming, but it has not yet been able to hold the 600 students at a time it is capable of.
"The reality is, all theaters are going to continue to lose money every day until restrictions are lifted," Watson said. "Right now we're just chugging along doing it as safely as we possibly can."
Georgetown Chamber of Commerce President Jim Johnson said the chamber is continuing to aid local businesses through workshops and Shop Georgetown campaigns.
The city is also updating its strategic plan this summer as it looks for additional ways to support small businesses going forward, Economic Development Director Michaela Dollar said.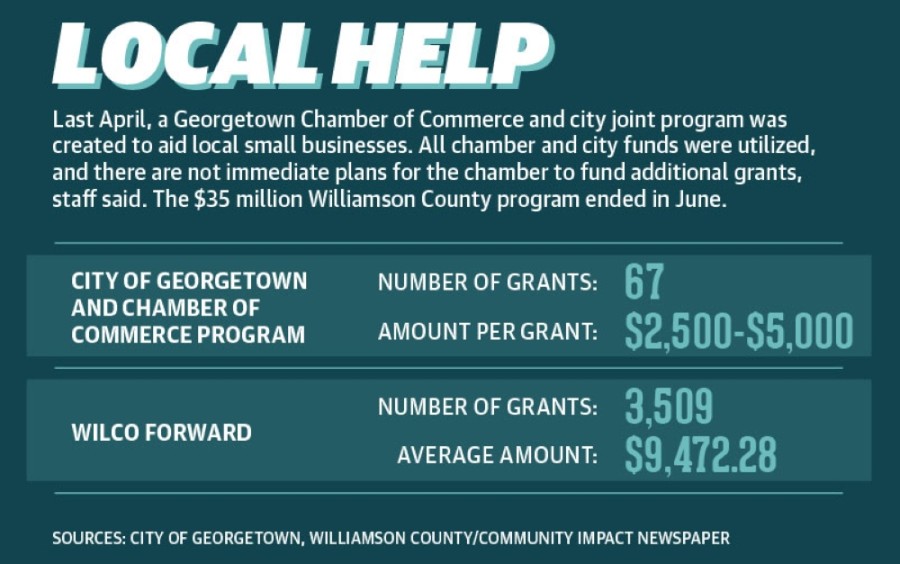 In the meantime, businesses keep adapting.
For Rentsch Brewery partner Tim Klatt, 2020 was a year of pivoting. With Texas Alcoholic Beverage Commission regulations, Rentsch kept its doors open by adding food sales. ••"As long as beer sales are less than 51% of total sales and everything is socially distanced, we are allowed to operate more like a food enterprise than just a brewery with a tap room," he said.
Combo deals offer drink and food pairings, and the brewery partnered with a taco company out of Elgin. In addition to the taco offerings, food trucks are on-site whenever the brewery is open.
"We're able to offer a wide variety that changes during the week, which is fun," Klatt said. "We've had a really great response."
Along with brewing Rentsch beer, the team also copacks for other operations such as Strange Land Brewery and VET Beer Co., makes Greenbelt Kombucha, and is working on extending the roof in the beer garden to have more climate control for both cold and hot days.
"We're trying," Klatt said. "We're just rolling with the punches, you know?"