Much of the funding needed for a $515 million plan aimed at drastically reducing homelessness in Austin has been lined up, leaders behind the strategy announced Oct. 21.
The plan, stemming from the Summit to Address Unsheltered Homelessness in Austin held in March and April, centers on the goal of housing more than 3,000 people experiencing homelessness by spring 2024. Community leaders have said they also believe the Summit Plan can end homelessness in Austin long term both by boosting the local housing stock and funding services for the unhoused and those just entering homelessness.
"This investment is also not just how we serve in the next year but an additional investment in housing that will serve this community for the next 30 to 40 years as well as investments in improving our system so that we know what we're doing is effective and really makes the difference in peoples' lives," Homeless Strategy Officer Dianna Grey said.
Spending strategy
While an outline of the Summit Plan was released after its creation this spring, details on funding and how the money would be used
were not shared
until this week. Summit leadership gathered early Oct. 21 to provide an update on fundraising work and appeal to local businesses, philanthropists, faith organizations and residents to pitch in.
Around $268 million from several sources at the
city
and
Travis County
represents a significant portion of the funding needed to implement the Summit Plan, stakeholders said. Additionally, $131 million more is anticipated from other public sources in the next few years. And based on those estimates, around $116 million remains to be filled by private sources, representatives said. Austin's breakdown of the funding plan may be viewed
here
.
"We will not get there if we do not do this as a community. And with the leadership of the city and the county, we see that they are truly committed through dollars to make this a reality," said Edward Burger, president and CEO of Summit Plan partner St. David's Foundation.
Those wishing to contribute to the Summit Plan may do so via the Austin Community Foundation's
Finding Home ATX fund
.
"It's just really powerful for this not to be a city initiative. This is a community initiative, and that's the other reason why I think this is going to work. The city is just one player," Mayor Steve Adler said.
In Austin, City Council approved a plan to spend more than $100 million of the city's American Rescue Plan Act allocation on its homelessness strategy in June. Directives to solidify spending details and involve residents came together this month with the launch of a
public input website
and virtual forums as well as a briefing from Grey to council about Austin's role in the strategy Oct. 21.
During her presentation, Grey stressed the flexibility of the city's role in Summit Plan funding as its largest backer. Among ARPA dollars, bond money, the Austin Housing Trust Fund and the city budget, Austin is expected to add around $210 million to the initiative—just over half of the dollars identified so far.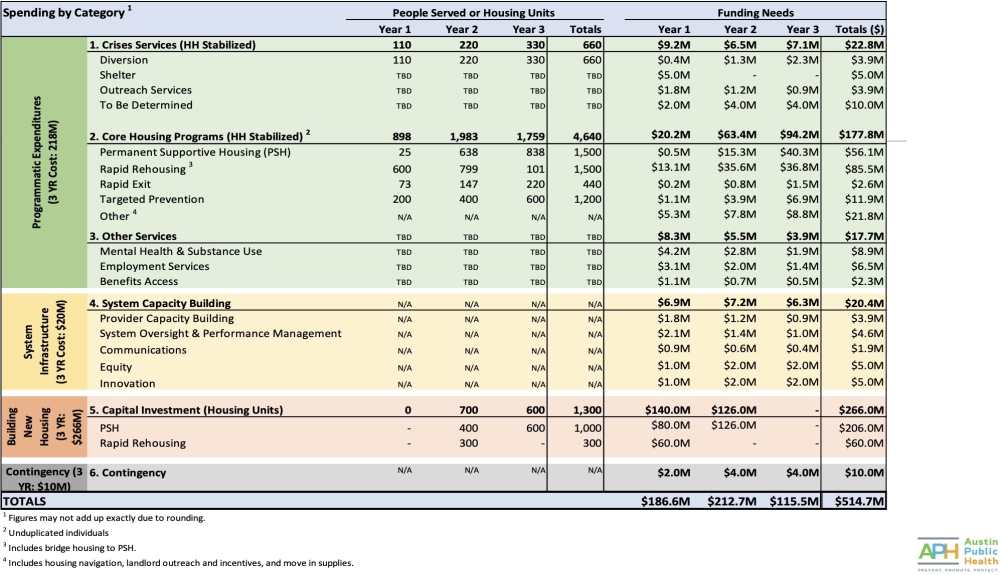 The spending plan is designed to be flexible and reflect a "balanced approach" to housing support and health services, Grey said. The Summit Plan dedicates money both to adding longer-term housing space, a main goal of the program, and short-term shelter space needed to address ongoing displacement stemming from the enforcement of Proposition B's camping ban.
Grey and city officials also highlighted the importance of funding staffing given the speed at which local nonprofits will be expected to expand their service offerings. While the city has public health employees dedicated to a homelessness strategy, the majority of Austin's work with those experiencing homelessness is supported via contracts with local nonprofits and service organizations, many of which operate with limited staffing.
"I think it's important to note that we need people ... to actually work with the folks living on the streets and help them get to stability and permanent housing," District 5 Council Member Ann Kitchen said.
Adler, a summit participant and vocal supporter of the strategy, said Austin's ARPA spending plan has garnered support from the federal government as a model of how cities can use the relief funding to tackle large local issues.
"I was speaking yesterday to Gene Sperling, who's the director of ARPA for the White House, and they're real excited about what it is that's happening here in Central Texas with the use of ARPA funds," Adler said. "[Sperling] uses this as his example ... as to a community that is taking fullest advantage of the intent of ARPA."
He also credited Austin City Council and the Travis County Commissioners Court for diving into the summit initiative with more than $150 million from ARPA contributed between both bodies.
"If those things hadn't happened, this wouldn't be happening now because we wouldn't have the momentum that we're going to draw on to get the foundations and the corporations to participate," he said.