At about 1:51 a.m. Feb. 15, as the historic winter storm knocked out power plants across Texas and increasingly stymied the ability to produce and provide power, the state's electricity system frequency fell below 59.4 hertz—a threshold that signals dire emergency.
The state's electricity system can only spend nine minutes below 59.4 hertz before a statewide blackout is imminent—something that can take weeks or longer to fix, according to Bill Magness, the CEO of the Electric Reliability Council of Texas, the state's power system operator.
Magness said ERCOT had already shed 2,000 megawatts of demand from the state's power system, hoping the forced alleviation of electricity demand would take stress off the system and buy time for more electricity to become available.
Immediately after the system's frequency fell below 59.4 hertz, ERCOT ordered another 3,000 megawatts of demand be shed from the system. The decision buoyed the system for only seconds before it dipped down again to 59.302 hertz. At 1:55 a.m., with about four minutes and 37 seconds left before a statewide blackout was imminent, ERCOT ordered another 3,500 megawatts of demand be shed from the system.
By 1:57 a.m., the system was back up around 59.7 hertz—still an emergency but further away from devastating collapse. At 2 a.m. ERCOT ordered a final 2,000 megawatts of load shed. The system bounced up to 60.1 hertz. One catastrophe—a failure of the state's power system—was avoided. However, a different catastrophe was now taking place: Millions of people were now without electricity as temperatures across the state remained below freezing. In Austin, temperatures dipped as low as 6 degrees and spent 162 consecutive hours at or below freezing; the Dallas-Fort Worth area saw a low of -2 degrees and spent 140 straight hours at or below freezing; and Houston fell to 13 degrees, spending 44 hours at or below freezing.
"If we have a blackout of the system, the system is out for an indeterminate amount of time, and it's extraordinarily difficult to bring back," Magness told ERCOT's board of directors during its emergency meeting Feb. 24. "We may still be here today talking about when is the power going to come back on."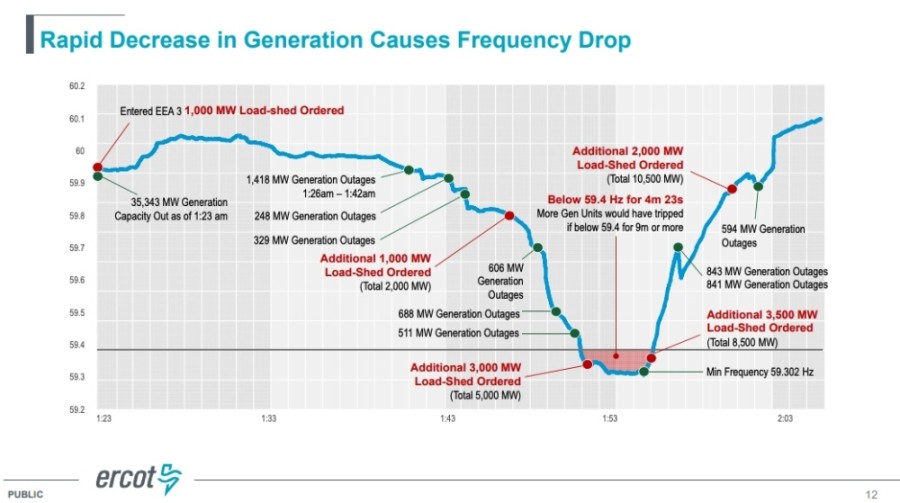 Magness explained the events leading up to state's historic energy crisis during the Feb. 24 meeting. The five board members who resigned following the crisis, including Chair Sally Talberg and Vice Chair Peter Cramton, were also in attendance. Cramton praised Magness and the ERCOT control team for saving Texas from disaster.
"ERCOT was flying a [Boeing] 747. It had not one but two engines experience catastrophic failure, then flew the damaged plane for 103 hours before safely landing in the [Hudson River]," Cramton said. "In my mind, the men and women in the ERCOT control room are heroes."
Several investigations from numerous jurisdictions have been launched into finding out where blame falls for the event that left millions in the freezing dark. Jacqueline Sargent, Austin Energy's general manager and ERCOT board member, criticized ERCOT for not communicating clearly enough the severe potential of the winter storm.
Magness blamed the severity of the storm and Texas power generators' lack of preparation for such weather extremes for the crisis. Magness said there are no regulatory mandates or rules in place that require power plants to reinforce themselves against extreme weather.
We have been here before
Analysts, politicians and experts have made many comparisons to Texas' winter storm in 2011, which forced rolling blackouts as freezing temperatures knocked out energy generators across the state. Magness offered a side-by-side view that emphasized the exponentially greater impact of the most recent storm.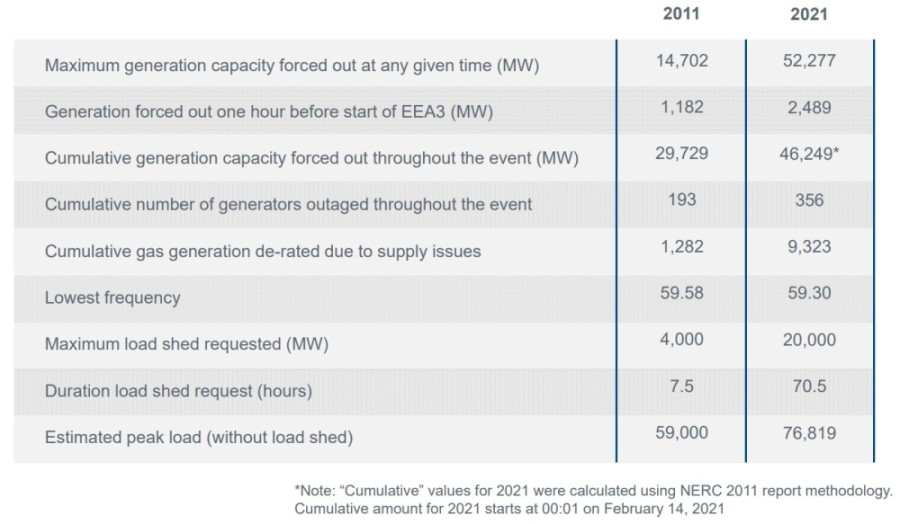 The amount of electricity generation knocked out by the storm was more than 3 1/2 times greater in 2021. The 2021 storm took out nearly double the amount of power generators than in 2011. As power plants were knocked offline, ERCOT had to enter into load shed—essentially cutting demand for electricity in the system by cutting customers off from power. In 2021, ERCOT requested five times as much load shed than in 2011, and it lasted nearly 10 times as long.
Magness said peak demand for power during the 2021 winter storm topped the all-time summer peak record for the state. This is owed to just how low temperatures dropped and for how long. In 2011, Austin spent 69 consecutive hours in freezing or subfreezing temperatures. In 2021, the capital city sat through 162 straight hours of such temperatures.