Chef Berty Richter said he never anticipated the opportunity to run a restaurant serving the cuisine of his home country, Israel—but now he does exactly that as executive chef of TLV.
When he moved to Austin in 2016, Richter said he noticed a dearth of Middle Eastern cuisine in town. It led him to open a food truck called Hummus Among Us, serving Israeli specialties such as hummus with an Austin twist.
"I mixed it up with some brisket and nachos and things like that—I just did more of an Israeli-Middle Eastern play on them," Richter said.
After running Hummus Among Us successfully for around a year, Richter was approached by a team who runs several other Austin culinary hot spots, including Emmer & Rye, with the idea to open an Israeli restaurant downtown at the Fareground food hall. TLV was born, opening in Feb. 2019.
Named after the call letters at the Tel Aviv airport, TLV features a menu "focused on my version of the Israeli street food I grew up loving so much," Richter said.
Some of TLV's popular offerings include mushroom shawarma, a vegan take on the classic Middle Eastern rotisserie, and sabich, a sandwich incorporating fried eggplant and Israeli-style condiments. The most ordered item, however, is Richter's version of a staple—falafel.
"I make it completely different from falafel you can get anywhere else," Richter said. "I like a lot of strong, bright flavors of herbs and spices—a beautiful, crispy, hot outside, and super green and fresh on the inside."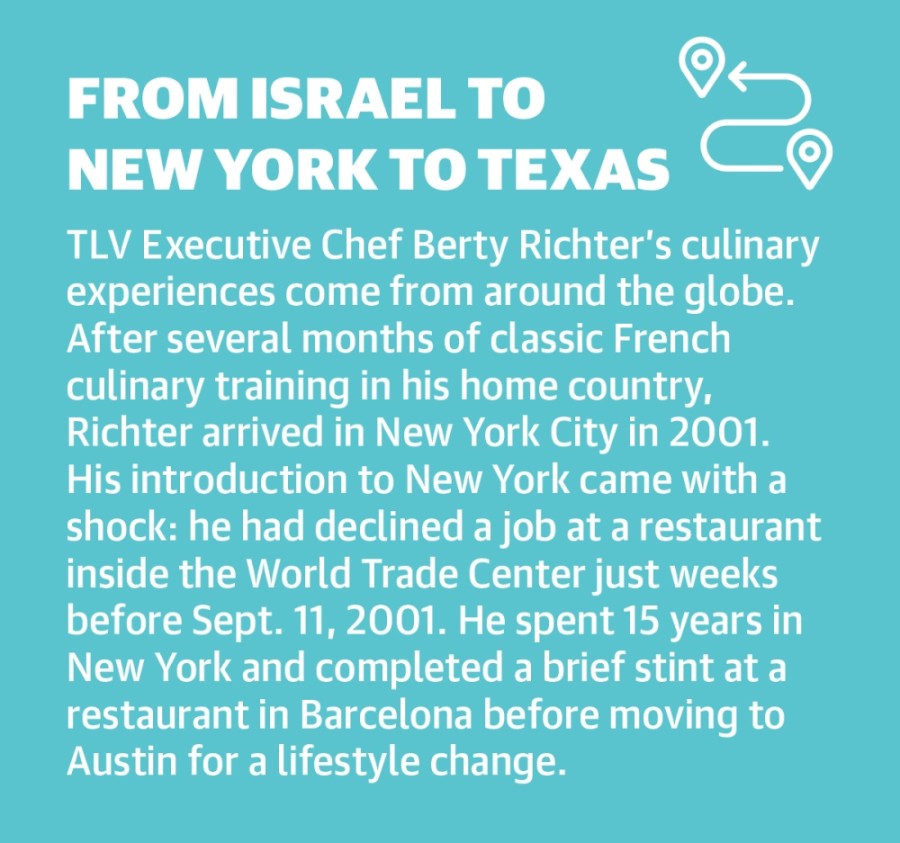 Fortunately, he said falafel, along with most of TLV's menu options, travels well and keeps fresh. At present, TLV's dining area at Fareground is closed due to building policy, and all TLV's food is served to go. Before the coronavirus pandemic, Fareground bustled with downtown workers grabbing lunch or a happy hour bite, so rerouting business to a takeout operation has been challenging. In fact, TLV is the only restaurant based out of Fareground open for service. Richter said this business model is "getting harder every day," but he is optimistic about the community's support for his restaurant.
"We will make it through these tough times," he said. "Know that we're still here to offer delicious food—just in a takeout format."