Updated July 23 10:57 a.m.
District 4 Council Member Greg Casar on July 23 laid out additional priorities that Austin's potential negotiating agreement for the redevelopment of the St. John Site could include if passed by City Council next week.
After the city released details of the redevelopment plan this month, Casar told
Community Impact Newspaper
he saw the project outline as one that met the basics of the St. John-area community's "very clear expectations" while noting there was "a ways to go" in refining the project outline. Casar this week shared several formal points he hopes to see included in the agreement with the Greystar team that, if approved, would shape the site's master development agreement.
"While Greystar/Austin Housing Authority's proposal is responsive to the community's priorities (as required by the [request for proposals]) and can ensure the timely development of this project, we know there is room to improve the community benefits and the design of the project," Casar said via council's online message board.
Casar's proposed direction for the negotiation agreement would see an additional focus on housing with commitments both to affordable homeownership and the expansion of affordable housing options on-site. Based on Greystar's initial bid, half of the 560 total units would be listed as affordable, or available to earners of 50% to 70% of the median family income. Casar also requested the potential for permanent supportive housing for the homeless.
Additionally, Casar's direction would provide for a series of community meetings to further shape the site plan. Priorities previously shared by Casar and outlined in his motion sheet include a project redesign to reduce parking in favor of increased community nonprofit and retail space—of which 15,000 square feet is currently proposed—and setting up "accountability measures" to trace the project's success at meeting community and city goals. He also said a focus on retaining or returning both current and past neighborhood residents who may have been priced out or marginalized by city policy should be included in the redevelopment planning process.
Council will vote on whether to move forward with development negotiations, potentially with Casar's direction, on July 29.
Posted July 21 4:45 p.m.
The redevelopment of a 19-acre site in Austin's St. John neighborhood could include hundreds of affordable housing units and new public and commercial space, based on a public-private proposal recommended by city staff July 9.
The St. John Site off I-35 was formerly home to a Home Depot and car dealership and has sat unused for years. The adjoining parcels at 7211 and 7309 I-35 N., Austin, were originally purchased by the city with 2006 bond money to house new public safety facilities, although those plans eventually fell through due to local opposition.
The city later shifted its focus to gathering feedback from St. John residents about the future of the long-vacant site, culminating in this year's
project evaluation process
based around several tenets previously set by the neighborhood.
"This land has been sitting and deteriorating for well over a decade, and the city has really failed this neighborhood over the years by letting it get to this point," District 4 Council Member Greg Casar said. "If it weren't for the community calling for change here, this property would sit vacant for another decade."
After a request for redevelopment proposals yielded six submissions earlier this year, city staff spent months evaluating the outlines before announcing their preference for a joint bid from Greystar and the Housing Authority of the City of Austin this month. Details on each of the five finalists' proposals—one vendor did not provide a project outline—were publicly released July 19.
Under Greystar's proposal, the St. John Site would be turned into a mixed-use district centered around a 560-unit housing complex and pedestrian boulevard. That facility would include studio and one-, two- and three-bedroom apartments split between 280 affordable and 280 market-rate units blended throughout the development. Affordable apartments would be available to earners of 50% to 70% of the area median family income.
Casar, whose District 4 includes the site, said he appreciated seeing all five applicants submit proposals this year incorporating community wishes such as affordable housing and respect for the area's history and both current and former residents. Casar also said St. John remains one of Austin's central neighborhoods at highest risk of gentrification, a trend the extensive project could partially address.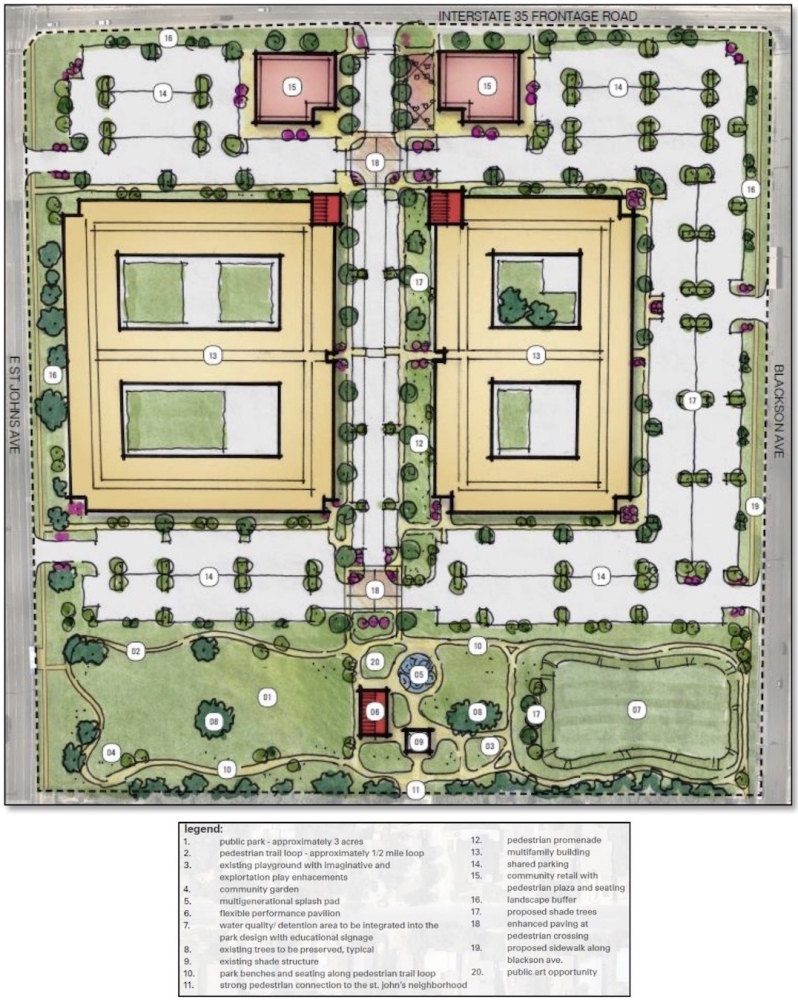 Other pieces of the Greystar-HACA plan are the expansion of the 1-acre St. John's Park on the property's eastern edge and the addition of a 15,000-square-foot retail center off the I-35 frontage road.
The redesigned park would extend north and south to cover a total of 3 acres and become "the heartbeat of the new district," Greystar said, with a redesigned playground and pavilion venue alongside a splash pad, a community garden, a detention pond and walking trails. The new commercial space would also include a public plaza and seating area.
Additional components of the Greystar plan highlighted by Holt-Rabb were the lack of any city subsidy needed to get the proposal off the ground and a purchase price that would cover the city's remaining debt on the site from its original bond-funded purchase.
The project outline now heads to City Council for further consideration, and officials July 29 could vote to move ahead on an exclusive negotiation agreement to set the terms of the redevelopment process. That potential approval would be followed by another round of community feedback aimed at refining the plan before council would sign off on a final development agreement.
Greystar estimated construction on the site could begin around one year after its negotiating agreement with the city is settled with some housing units opening in 2024 and the project completion in 2025. A Greystar representative declined to comment on the developer's proposal following its public release.
As the project scope is finalized, Casar said he would like to see additional affordable housing added and some parking removed in favor of more community spaces. Regardless of what shape the plan takes, he said the overall public-private process could serve as a road map for similar neglected sites to be redeveloped at a low cost to the city in other Austin communities.
"If we can really get this done here, then we can get this done so many other places," Casar said.