A key piece of Austin's downtown homeless shelter network is set to close on short notice, and city leaders are seeking a path forward to keep shelter clients from returning to the streets without support.
The Salvation Army announced Feb. 17 that it will be shutting down its downtown shelter facility at East Eighth and Neches streets one month later March 15. The update was provided in a
post
on the organization's website and caught shelter clients, members of the regional homeless service system, and the city off guard.
Mayor Kirk Watson said March 8 that the city is working on a transition plan for dozens of soon-to-be displaced clients. Still, the loss of a large downtown shelter will leave a hole in the local homeless response system.
"Everyone's deeply disappointed in this. This is not the way to do business with anyone, especially those who are finding themselves in a vulnerable situation with little choices given to them," Watson said.
The Salvation Army's downtown shelter offered 100 beds for both single women and men—down from a prepandemic capacity of 242—all of which may soon be eliminated. It also offered 10 walk-in "Safe Sleep" overnight beds for women.
Across Austin, several hundred shelter beds are in place for the unhoused, but shelters are typically at or near capacity, and few beds are reserved specifically for women.
As of December, the Ending Community Homelessness Coalition estimated well over 4,600 people are living unhoused in Austin and Travis County. Of that total, 818 were in shelter.
Looming closure
Since the February announcement, homeless advocates and city officials have been working to find a way to keep clients under a roof. Even so, many shelter residents have already lined up new living situations or have left the facility without providing updates to their case managers.
Homeless Strategy Officer Dianna Grey said as of March 6, more than 60 clients remained at the shelter. Lewis Reckline, Austin-area commander with The Salvation Army, said 32 clients still needed relocation assistance as of a March 8 City Council committee briefing about the closure.
Shelter residents at that March council meeting said amid already-uncertain living situations, they now face the setback of working in a tight window to regroup and seek out new accommodations, access health care and other daily needs, and potentially plan for a move across town or to other cities. Paulette Soltani, organizing director at Texas Harm Reduction Alliance who has been assisting shelter clients, said the situation demonstrated "pure negligence" by The Salvation Army.
"We want to be in a place where we can be part of this society again. But we are; we're still here. ... We're not just numbers; we're people," resident Kellie Alexander said.
Clients also said the brief time frame and limited engagement by The Salvation Army about the closure have not left them enough opportunity to plan ahead, especially for more recent arrivals.
"I think it's a slap in the face, really," shelter client Carolyn Williams, who said she recently became homeless and arrived at the shelter in early February, told council.
Shelter specifics
Reckline told city leaders that The Salvation Army plans to shut down the shelter after several years of operating at a $3 million annual loss and that maintaining the shelter is "impossible." He said the organization has been working with clients to identify possible next steps, including access to other services in the city or potential relocation out of town.
"We have honestly tried, and it hasn't gotten anywhere. And we were at a point where we had to make a critical decision," Reckline told council. "And although it seems to the community as though it was a quick decision, it was not a quick decision. It was a very lengthy decision and process."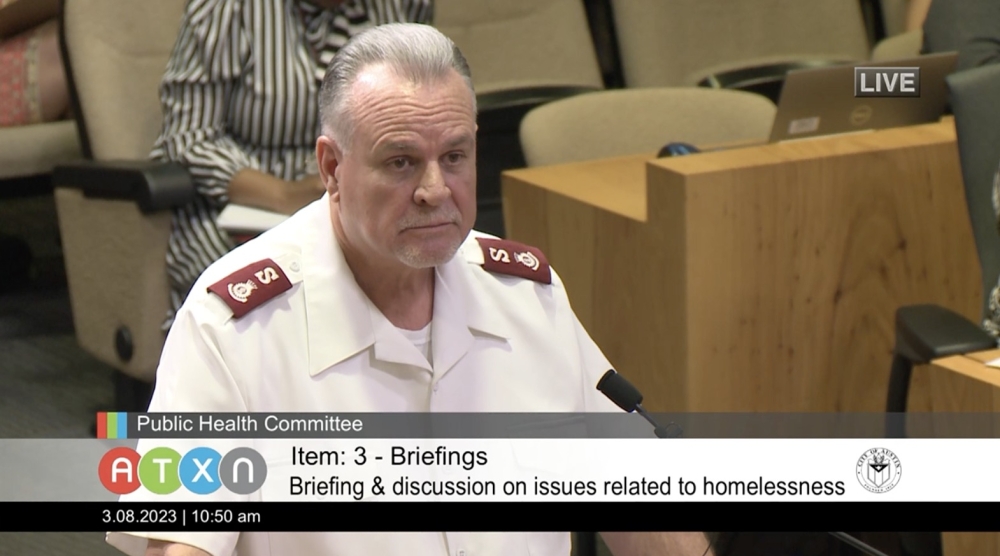 Part of the reason behind the closure is the potential sale of the shelter. Reckline said a purchase has not yet been lined up but that The Salvation Army is in the process of getting its land appraised.
The shelter land is valued at $10.68 million. The Salvation Army also owns several additional parcels near that property together valued at $3.54 million.
The Salvation Army has typically received hundreds of thousands of dollars from Austin each year for its work at the downtown shelter and was contracted closer to $1 million this year, Grey said. In addition to locally and federally funded services, the organization operates other area shelters that also receive city support and that it plans to keep open.
Grey said the city is now reviewing how the remainder of The Salvation Army's fiscal year 2022-23 contracts with the city for the downtown shelter will be handled.
Path forward
In press conferences and on social media, some city officials have already expressed disappointment and concern about what District 2 Council Member Vanessa Fuentes labeled as a
"horrific" loss
of a critical facility. During the March 8 committee briefing, Mayor Kirk Watson said The Salvation Army was abandoning its clients, and District 5 Council Member Ryan Alter called for better partnership between the organization and other members of the regional homelessness response.
"To have this short of a runway and to create this almost feeling artificial immediacy doesn't feel like a good partner. And so if there is a way that we can figure out how the city can step in, I don't know, but something's got to be done to keep these spaces operational because ... we just don't have enough," he said.
Austin is looking to step in and ensure a smoother transition for clients. But given the tight timeline and funding constraints, it remains to be seen how much of a role the city will have in supporting clients or shelter operations beyond March 15.
Reckline said The Salvation Army's board will meet later this week to discuss a possible extension of the closure process. And Watson said his office and interim City Manager Jesús Garza are committed to ensuring the upcoming upheaval does not leave residents behind. He said a plan on the city's end will be in place by March 10, pending further collaboration.
"This city is not going to let anyone be left without a place to go and no one on the street," Watson said. "We're going to work with The Salvation Army to make additional time available. If that costs some money for the city of Austin to make additional time available, we're going to do that. But The Salvation Army needs to be willing to keep that shelter open so that we can do that."