Just four months after Winter Storm Uri, the Electric Reliability Council of Texas is anticipating another potentially record-breaking strain on the state's isolated power grid this summer.
On top of seasonal adjustments, Texas lawmakers recently capped their biennial legislative session by passing several bills aimed at their stated priority of fixing the conditions during the deadly February winter storm. Since the session wrapped May 31, however, lawmakers and analysts have been split on the merits of what reached Gov. Greg Abbott's desk during the 87th legislative session and whether the changes are enough to help Texans in the long run.
Another test of the grid capacity could now be on the horizon as ERCOT is predicting high demand this summer due to "hot and dry conditions" and the growing regional population. And although ERCOT has said it is prepared for the summer heat, the grid regulator noted extreme weather could once again result in power shortfalls. The grid was tested mid-June with an unexpected, weeklong call for power conservation. Some experts and lawmakers have also questioned whether legislative adjustments made this spring will produce long-range reliability improvements.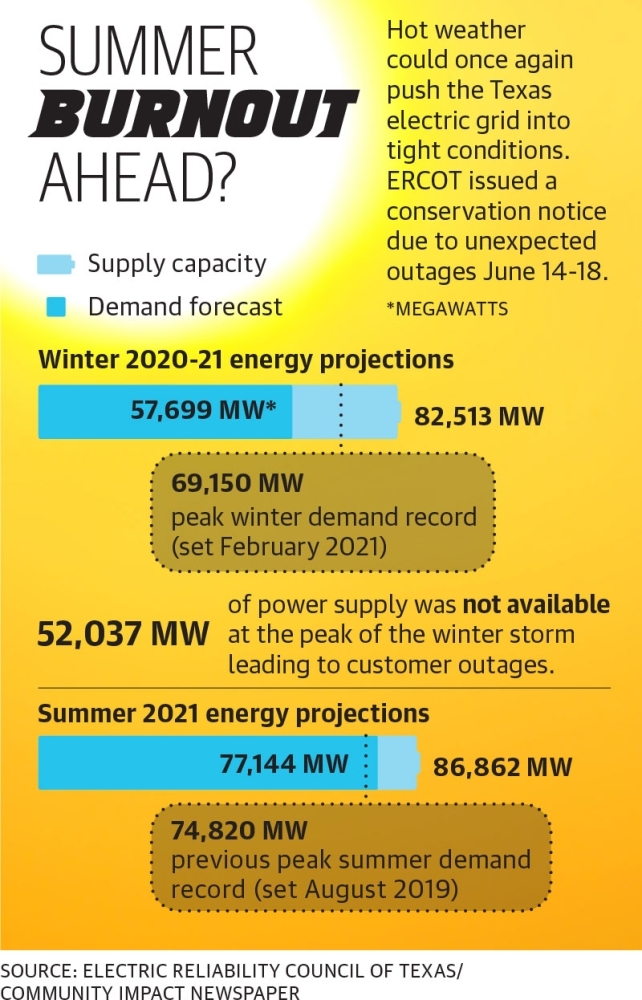 "There has never been a more incredible disaster, economic or life and death, than what we had. And the Legislature has just ignored it, really," University of Houston Energy Fellow Ed Hirs said.
Seasonal swings
Lawmakers' focus on the grid this spring came in response to a winter weather emergency that killed over 100 Texans and left large portions of the state without power or water for days in freezing temperatures. But even the expected heat of a Texas summer could snarl the balance of electric supply and demand over the coming months.
ERCOT in May released its seasonal assessment highlighting a projected summer peak demand of 77,144 megawatts this year, a new high for the grid by 3%, against an expected capacity of 86,862 MW to be available at peak hours. ERCOT said that balance is "sufficient" for generation, although less than 65,000 MW of that capacity comes from more seasonally consistent thermal and hydroelectric sources.
"The problem is, you get a day that's not average, and the grid begins to fail," Hirs said. "ERCOT, the [Public Utilities Commission of Texas] and the Legislature are playing roulette with the Texas consumer."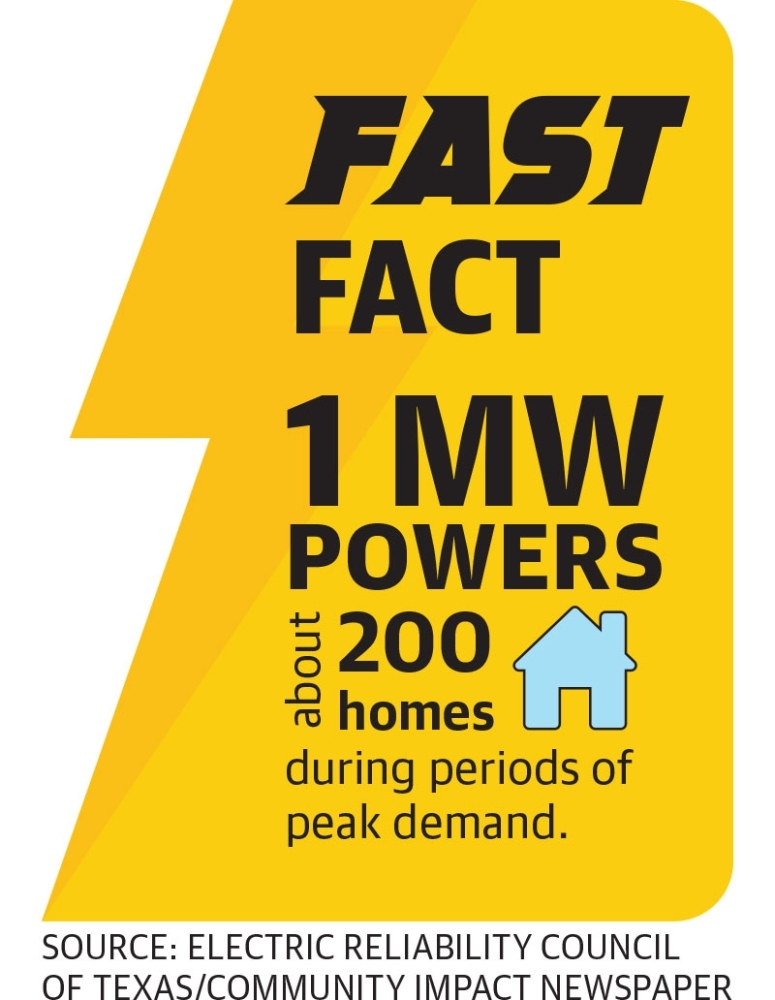 Examples of such situations nearly played out for Texans this spring. In both April and June, ERCOT officials warned of "tight" grid conditions and possible energy emergencies, due in part both to generators' maintenance and temperatures that surpassed ERCOT's expectations.
National grid regulator North American Electric Reliability Corp. also identified possible instability this summer in the ERCOT region, labeling Texas at "elevated risk" to energy emergencies in its seasonal forecast. May projections from the National Oceanic and Atmospheric Administration also show a 40% to 50% chance for "warmer than normal" temperatures in Central Texas through August.
ERCOT officials also noted the potential for adverse conditions if demand surges while winds are not blowing or the sun is not shining this summer, although generation reserves and rising battery storage capacity should help cover the state's needs.
Doug Lewin, Stoic Energy president and a previous state legislative staffer, said ERCOT typically excels in the summertime and commended its broader view of possible worst-case scenarios this year as an improvement over its winter forecasts. Still, he said some unresolved issues leave a lingering risk for operations statewide.
"I'm not feeling particularly confident coming into summer that ERCOT and the various utilities and energy companies have the tools that they need, again mostly because of the lack of policy direction," Lewin said.
Capitol considerations

Senate Bill 3, authored by state Sen. Charles Schwertner, R-Georgetown, was lawmakers' headline bill aimed at fixing the grid through emergency preparedness and changes to protect freezing facilities and transmission systems that failed in the deep cold this year. During Abbott's June 8 signing of the bill, Schwertner said it "addresses many of the concerns" stemming from the storm, and Abbott touted the measure and its companion Senate Bill 2 for their improvements to state oversight, weatherization and overall grid integrity.
"Bottom line is that everything that needed to be done was done to fix the power grid in Texas," Abbott said.
Despite supporters' claims that the bills represent sufficient fixes, the legislation also prompted concerns of a lack of significant, immediate and enforceable improvements after their passage.
"This bill is not going to cause companies in the gas supply chain to weatherize in advance of this winter. There is nothing in there that requires them; there is nothing in there that will scare them or motivate them," Lewin said of SB 3.
State Rep. Donna Howard, D-Austin, shared those critiques. She said measures such as SB 3 offer enough to "still feel good about" despite the final results of the package and the session falling short.
"Despite the fact that we all know this, it bears repeating. ... Texans died and died unnecessarily because we did not have a good system in place to ensure that their power wouldn't go out. And so I don't want to let us off the hook," she said.
Following a purge of leadership at ERCOT and its regulator, the PUC, lawmakers solidified further change to the grid authorities through SB 2 and SB 2154, which limit membership to Texas residents, adjust the size of both bodies and add political influence to certain appointments.
State Sen. Sarah Eckhardt, D-Austin, said the political sphere's approach at first resembled an "off with their heads" response with regulator firings and resignations coming in quick succession. Even with the changes, she said tracking improvements to some state departments' disaster responses and communications rather than legislation is the best avenue forward.
Financial fallout
The monetary consequences from the February winter storm are a less visible meltdown legislators also sought to tackle this spring.
Given the pressing need for more power generation in the thick of the February storm, ERCOT hiked electricity prices to their cap of $9,000 per megawatt-hour as an incentive for companies to bring more resources online. That price represented a jump for winter electric costs, which typically sit well below $100, and while initially identified as a necessary emergency step, the PUC's independent market monitor Potomac Economics later said the increase remained in place for too long and recommended revising the systemwide pricing error over the tail end of the February emergency.
Lt. Gov. Dan Patrick in March also pushed for repricing, saying that correcting the error was in consumers' best interests regardless of its potential effects on the market.

Despite that push, the $16 billion mistake labeled by Potomac in March as one that would "result in substantial and unjustified economic harm" remains on the books. Lawmakers instead acted this spring to mitigate the overcharge by spreading it out over time, likely resulting in monthly power bill hikes to settle ERCOT's ledger and keep generating power online.
That securitization, or long-term distribution of debt, is facilitated through bills such as House Bill 4492. If signed, hundreds of millions of dollars would flow from the state's Economic Stabilization Fund, also known as the Rainy Day Fund, allowing ERCOT to issue debt obligations to cover the money it is owed. That funding over time would account for losses stemming from recent bankruptcies in the power sector. The bill would also spread out additional unintended charges and costs incurred during the February disaster over years or decades.
"This comes under the heading of adding insult to injury," Hirs said of such legislation. "This of course is an incredible irony, if not absolute hypocrisy, of the free-market Texas Legislature and executive."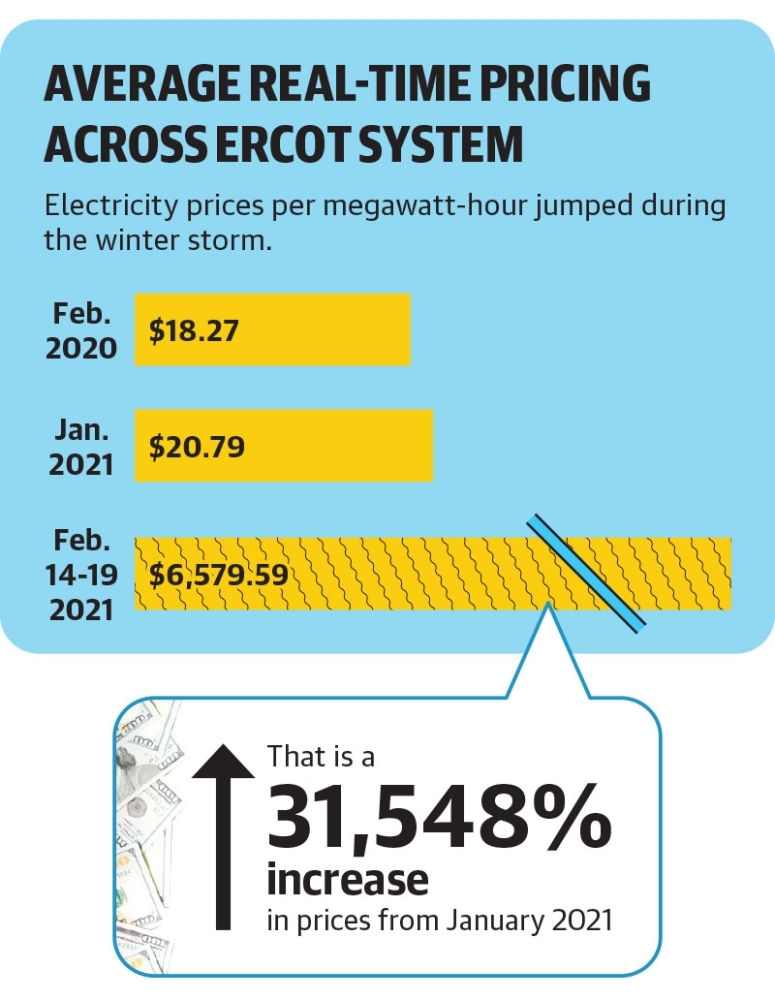 Despite those statewide changes, most Austin-area residents could be relieved from decades of slightly higher billing given their service from Austin Energy. The municipal utility said in March it pushed against winter storm repricing, saying it would have resulted in a negative for its customers.
"Austin Energy expects no immediate or direct impact on our customers' bills. ... The utility will continue to monitor the implementation of the securitization measures as they move through state, regulatory, and market bodies to assess any longer-term effects on customers' electric rates," said Jennifer Herber, Austin Energy public information manager.
While they may be spared from joining in the statewide securitization, Austinites are members of the power system that this year has swung from strains to blackout in hot and cold. And whether incidents such as the June call for conservation were a preview for this summer remains to be seen.
Trent Thompson contributed to this report.