Nearby residents, businesses and commuters will have to endure an extra year of construction along FM 2978, as the four-year widening project will not be completed until 2022, according to mid-July information from the Texas Department of Transportation.
TxDOT Public Information Officer Danny Perez said in a July 10 email the $41.7 million widening project spans three segments: FM 1488 to Hardin Store Road, Hardin Store to Spring Creek and the reconstruction of the FM 2978 bridge over Spring Creek.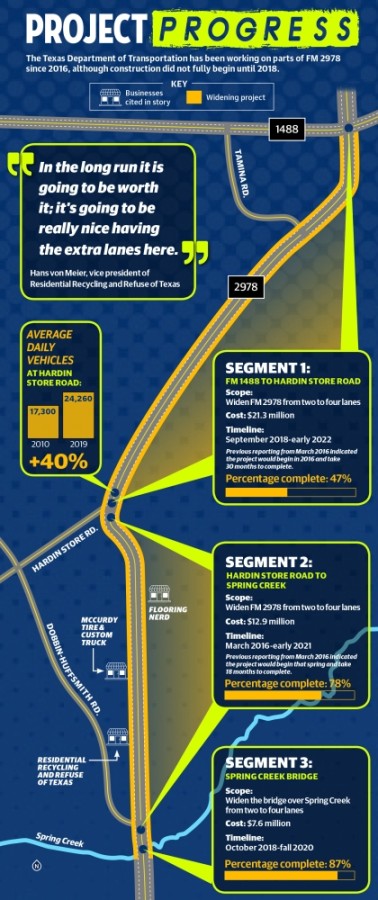 The 6.7-mile widening began in 2016, according to TxDOT. While construction timelines have changed multiple times since the widening was first announced and the full project's end date has been delayed again, one piece is scheduled to be completed by year's end. The widening of the Spring Creek bridge is set to wrap up in late 2020 with the widening between Hardin Store Road and Spring Creek following early next year, according to TxDOT information.
The widening between FM 1488 and Hardin Store, the final segment of the project, will not be completed until early 2022, Perez said.
He said the need for the projects came from the growth in traffic and the need to accommodate future growth. TxDOT data shows the average number of daily vehicles increased nearly 148% at the intersection of FM 2978 and FM 1488 between 2010 and 2019 to 26,000. At Hardin Store, traffic grew 40% to 24,260 vehicles during that time.
"We are always looking at ways to improve mobility and enhance safety in the communities we serve," Perez said. "This project will help to address continued growth for many years to come."
A closer look
Community Impact Newspaper
reported in early 2016 that work on the section between Hardin Store and the Spring Creek bridge would begin that spring with construction between FM 1488 and Hardin Store Road following later that year. However, later reporting showed the project's start had been delayed due to utility delays until the first quarter of 2017. The project was later suspended, and the first part of the widening project began in early 2018.
"Additional work and utility impacts have affected the start dates and project duration," Perez said in an email. "While we provide anticipated completion dates early on, they are certainly subject to change as the project moves forward."
In addition to widening FM 2978 from two to four lanes, sidewalks, sound walls, four detention ponds and raising the elevation of the Spring Creek bridge are also part of the project, Perez said.
TxDOT recorded construction starting in 2016 before delays pushed it back to 2018 on the segment from Hardin Store Road to Spring Creek, which is now 78% complete. Construction followed in fall 2018 on the northern segment and the Spring Creek bridge project, which are 47% and 87% complete, respectively.
Rob Eissler, executive director of the Westwood Magnolia Parkway Improvement District—a special-purpose district spanning the area around FM 1488 and FM 2978—said in a July 15 email he believes the updated road will enhance economic activity in addition to improving traffic flow, creating greater accessibility and improving safety along the thoroughfare.
"Just look at all of the property that lines the old road," he said. "The new version will spark investment in the surrounding real estate and spur developers and business to expand."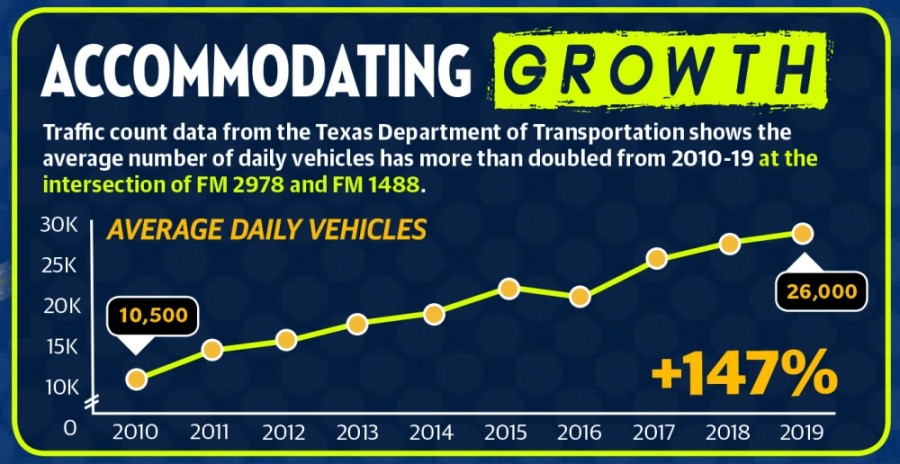 Eissler said the district also helped install a traffic signal in August 2018 to improve safety for school buses at the intersection of Tamina Road and FM 2978.
South of FM 2920 in Tomball, FM 2978 turns into Hufsmith-Kohrville Road, a county-maintained road, which also has a series of widening projects in the works by Harris County Precinct 4. TxDOT data shows a 56.73% increase in average daily vehicles between 2010 and 2019 at the intersection of Hufsmith-Kohrville and FM 2920, totaling 21,159 in 2019.
Pamela Rocchi, director of Precinct 4's Capital Improvement Projects Division, said in a July 14 email the three Hufsmith-Kohrville projects are still in the design phase, stretching from Hollow Glen Lane to Mahaffey Road, with drainage needs being re-evaluated to meet updated standards. The schedule for sending out construction bids is dependent on completing the design phase, Rocchi said.
Rocchi said $11.8 million in construction projects widening Hufsmith-Korhville to four lanes from Spring Cypress Road to Hollow Glen Lane and from Mahaffey Road to FM 2920 were completed in 2016 and 2019, respectively.
Improving safety
Perez and Rocchi said the completion of widening projects along FM 2978 and Hufsmith-Kohrville Road could improve safety along the corridor.
"Realizing completion of the proposed widening improvements along the [Hufsmith-Kohrville] corridor will improve safety and provide a more efficient corridor for motorists to travel," Rocchi said.
However, Ronnie McCurdy, the owner of McCurdy Tire on FM 2978, said he believes long-lasting construction along the road has brought safety concerns.
"There have been numerous major accidents down on that bridge when they were doing construction [on it]," he said.
Similarly, Cathy Mattiza, a resident •of Magnolia since 2018, said in a July 15 email she believes the construction activity and amount of traffic have made the road less safe.
"I have never felt the section from Spring Creek bridge to Hardin Store Road is safe," she said. "The lanes are not clearly marked."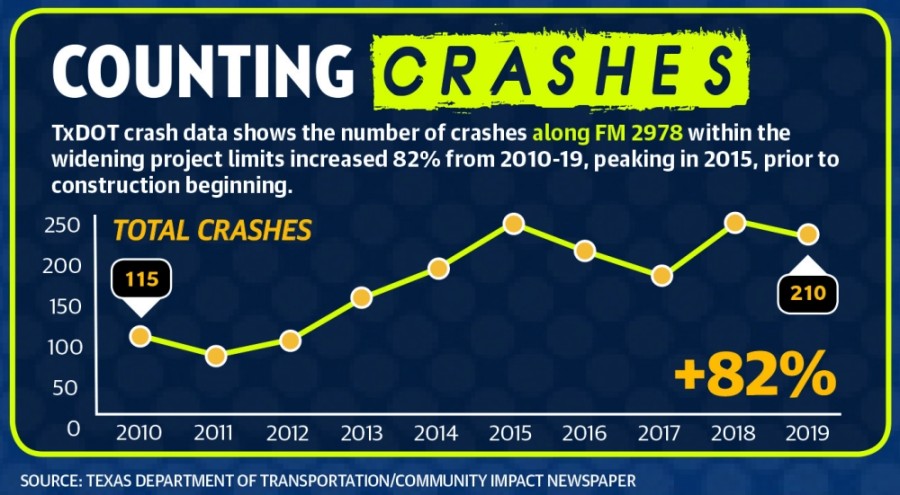 The total number of crashes along FM 2978 within project limits increased from 115 to 210 between 2010 and 2019, according to TxDOT data. However, the number peaked in 2015 with 248 incidents prior to construction beginning. In addition, according to TxDOT crash data, the number of fatal and serious-injury crashes has decreased along FM 2978 since construction began. The last fatal crash occurred in 2015.
Mattiza said while she believes widening FM 2978 will help with traffic, it will not be safer without also adding a median to divide traffic.
"Montgomery County is the 'Wild West' when it comes to traffic," she said.
Business concerns
Additionally, local business owners said construction along FM 2978 has caused inconveniences in the last few years for business located on the road.
"It has been a hindrance as far as traffic," said Vijay Bhaskaran, the owner of Flooring Nerd on FM 2978, noting his business does not meet with customers there. "There has been a lot of traffic at the bridge north of Hufsmith [Road]."
McCurdy said construction has not only been inconvenient with added traffic backups, but he claims it has also affected his business.
"Customers hate to come down this road because construction has it backed up for miles both ways," he said.
McCurdy said 18-wheeler trucks have trouble getting in and out of his business as there are barriers around the entrance.
"If you look at our sales, I bet we are down 30-40%," McCurdy said. "It ain't just been a little while—it has been four to five years."
McCurdy said the dust from construction also causes issues for customers that are parked in his parking lot.
"The dust is just horrendous," he said. "We have a customer's car or truck here, and it's clean. We do the work on it and park it in the parking lot, and it looks like it's been in a Sahara dust storm."
Hans von Meier, vice president of Residential Recycling and Refuse of Texas, said the company was affected when the construction was taking place close by, but this has improved recently. Von Meier said customers and truck drivers have been able to take different routes to avoid traffic, and he looks forward to the project's completion.
"In the long run it is going to be worth it; it's going to be really nice having the extra lanes here," he said. "A little bit of pain right now for a better experience down the road."