A project to update the play equipment at Jerry Matheson Park in Tomball is in its early stages following the city's submission of a grant application to the Texas Parks & Wildlife Department in early November, Public Works Director Beth Jones said.
After gathering community input via a survey, Jones presented proposed updates to the park to council members Dec. 8, highlighting the addition of a splash pad, a zip line, a walking trail and four lighted pickleball courts.
The city is seeking a $1.5 million matching grant from the TPWD, meaning the city would put up $750,000 to match the TPWD's share of $750,000 if the grant is approved, Jones said. During a Dec. 8 meeting, council members authorized the Tomball Economic Development Corp. to provide $300,000 of the city's match, pending the grant's approval.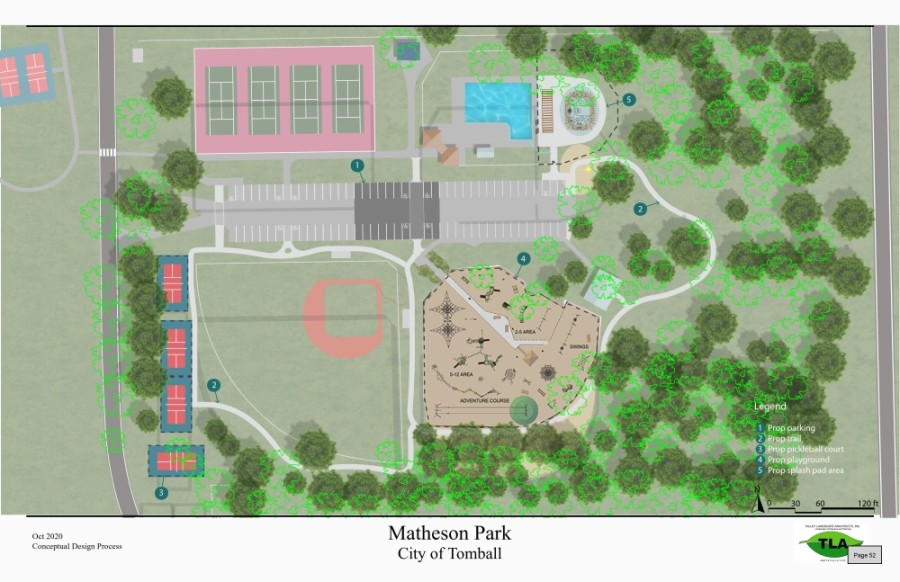 In addition to the TEDC's share, Jones said the city is pursuing other partnerships with entities such as HCA Houston Healthcare Tomball, which has earmarked at least $30,000 for the city's match; Harris County Precinct 4, which partnered with the city on improvements to
Broussard Park
; and other community groups.
"Part of the great part of the application for the parks and wildlife grant is we get extra points when we partner," Jones said. "We've done that with Broussard Park, and we hope to do it again on Matheson Park."
Matheson Park, a former project of the Tomball Rotary Club, includes an interactive wooden playground—colloquially known as the "tire park"—and needs to be updated to include safer play areas, Jones said
previously
.
"We know that there's a huge attachment to the tire park in our community; it was a community build," Jones said. "It has an ingrained culture that we really tried to carry on in the new structures that we went with."
The proposed master plan includes replacing the play equipment and dividing the play area in two. An area for children ages 2-5 will feature smaller play pieces, such as railroad play pieces, swings and slides, and an area for older children ages 5-12 will feature larger pieces tying in Tomball's oil history and adventure elements, such as a zip line replacing the park's current zip line, Jones said.
"We made sure 100% we picked out another zip line that would be appropriate as well as other adventure course material," she said.
The splash pad is proposed adjacent to the park's existing pool, which will include design references to Tomball's railroad history. The splash pad would be open anytime the weather is warm enough, Jones said, as compared to the city's pool, which is only open seasonally and must be manned with lifeguards.
Four new lighted pickleball courts are also proposed as well as a walking trail around the park and updates to existing facilities, Jones said.
"Pickleball courts have turned out to be incredibly popular in our community, especially with the addition of lighting, and we believe that based on the survey data that this would be a very large amenity," she said. "We wanted to take into account Tomball and what we have and what we represent in our heritage, so we were able to pull [the splash pad] together with various train structures."
Jones said the city will likely hear back on a grant decision in May with grant funds available next fall if approved. She said once funding is available, park improvements could be finished within a year. If the city's grant application is not approved, the city would apply again or consider setting aside the funds for park improvements in an upcoming budget.
Work on Matheson Park follows the completion of Broussard Park, a city park that
opened in September
in partnership with Harris County Precinct 4.
As previously reported
, an update to the city's comprehensive plan approved in October 2019—outlining the community's vision for the city's future—recommended the city expand parks and recreation areas and establish a network of trails to connect key destinations in Tomball.
"This is what people told us they want: They want trails; they want outdoor; they want green space," Mayor Gretchen Fagan said.