Homes are selling faster year over year in Tomball and Magnolia with fewer homes on the market as the region rides out the coronavirus pandemic, according to data from the Houston Association of Realtors.
Home sales for March-May in the six ZIP codes in the Greater Tomball and Magnolia area dropped 6.8% year over year compared to 2019. However, homes sold in May were on the market an average of 55 days, down from 73 days in May 2019, HAR data shows.
Despite the drop in sales this spring, local real estate agents said they started to see business pick up in June.
Ray Wade, a real estate broker and the owner of Legacy Texas Properties in •in the Woodlands, said June 3 the coronavirus has changed what homeowners want as well as where they are looking to live. Across the region, he said he believes homebuyers are looking to get out of the more populated areas by moving outside of Houston to areas such as Tomball and Magnolia.
"There is a trend for people to want bigger yards [and] to be a little farther away from each other," he said. "The Magnolia area seems very popular right now; people are moving away from crowded suburban environments."
Housing shortage
In May, HAR data shows the Greater Houston area saw its months of inventory—or supply of single-family homes—dip compared to last year, with a 4.1-month supply in May 2019 and a 3.5-month supply in May 2020.
With fewer available homes, HAR data also shows homes sold more quickly locally. The average days that homes sold in May were on the market dropped 24.6% from May 2019 across Tomball and Magnolia ZIP codes.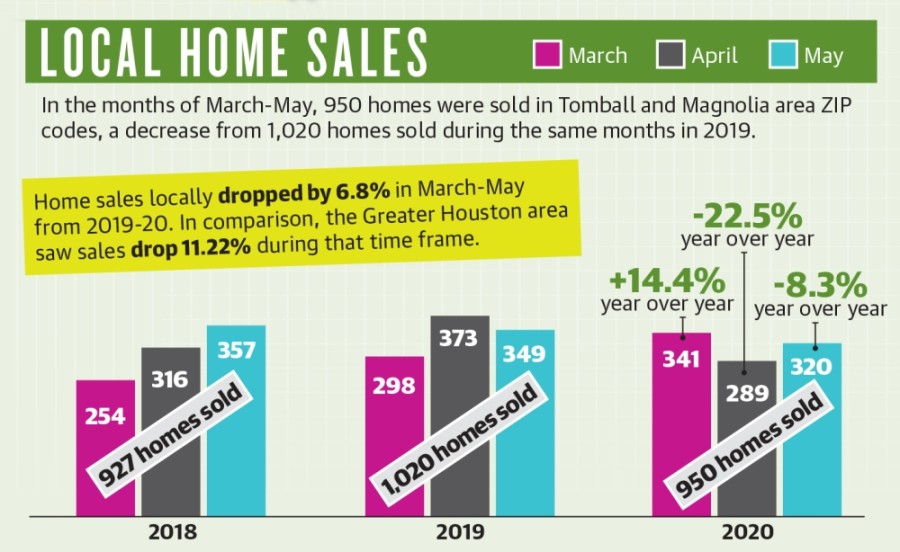 "Buyers weren't looking in March or April," said Renee Leslie-Buckhoff, a broker and the owner of RE/MAX Elite Properties in Tomball. "[But] with the housing shortage right now ... multiple offers [are being made] on homes with all the desirables."
Home sales locally totaled 341 in March, up from the previous month and year, but dropped in April to 289 homes, which is 8.5% and 22.5% less than April home sales in 2018 and 2019, respectively, according to HAR data.•Leslie-Buckhoff said June 5 she believes lower sales started to rebound in May. HAR data shows home sales rose 10% from April to 320 homes in May but were still lower than sales in May 2019. In total, nearly 7% fewer homes were sold during the beginning pandemic months—March through May—in 2020 than during the same period in 2019.
However, the total number of listings in the Greater Houston area also dropped 8.3% year over year in May. With fewer listings, Leslie-Buckhoff said homes priced below $400,000 are the most sought out.
"If anything, I am telling my sellers, 'There's just not very much on the market, so let's bump that price by $10,000,'" she said. "I am doing that pretty consistently if there aren't a lot of homes on the market in an area."
Mortgages
As houses continue to sell despite the ongoing pandemic, Jeff Anderson, sales manager at Guild Mortgage in Tomball, said on June 15 that business has not slowed.
With interest rates being so low, Anderson said many people have been encouraged to get a mortgage or refinance, which can lead to a lower monthly payment by taking out a new mortgage at a lower rate.
"Refinances are very attractive, particularly for people who bought a ho•me in 2017 or 2018, when interest rates were higher," he said.
According to Freddie Mac, also known as the Federal Home Loan Mortgage Corp., the U.S. weekly average June 18 of 3.13% for a 30-year mortgage is the lowest mortgage rates have been since Freddie Mac began tracking the data in 1971.
Jason Rinn, the president of Mortgage Outfitters in Magnolia, said•June 16 that home purchases are a little slower than previous years; however, there is a pent-up demand for homes.
"We all believe that business is coming," he said. "Overall the volume is up, but it is a bit of a different mix."
As homeowners are dealing with refinancing and taking out mortgages, the federal Coronavirus Aid, Relief and Economic Security Act Mortgage Forbearance was created to help homeowners deal with mortgage payments while possibly being out of work due to the coronavirus.
The CARES Act allows for a temporary pause or reduction in mortgage payments; however, it does not erase what is owed. Anyone can apply for the relief, Anderson said, and terms on how and when payments will continue vary case by case.
In the future, Anderson said increased foreclosures are a possibility as people have been out of work.•"I see where people who have been out of work and weren't eligible for the CARES Act, maybe because they were self-employed, where it could hurt that classification of borrower," he said. "We are going to see an increase in foreclosures, but it is not going to be a spike."
The future of the market
As a consequence of COVID-19 forcing workplaces and schools to close this year, Wade said some people have been looking for houses that can better accommodate working from home and at-home learning for children.
"People [are] wanting to move to a house that better accommodates a lot of people being home," he said.
Although real estate agents and mortgage brokers are staying busy, LaRae Whorley, a broker and the owner of LaRae Whorley Realty Group in Magnolia, said June 3 she is hopeful things will turn around, as the market is not at its normal strength.
"I think we will bounce back, and it might take a year to see a full normal real estate market," she said.
Whorley said this depends on the real estate market in the Houston area, as some areas in the region are more dependent on the oil and gas industry, which has also been greatly affected this spring.
Overall, May sales in the Greater Houston area dropped 20% year over year in the second consecutive month of declines, according to HAR.
As such, Leslie-Buckhoff said some sellers are still hesitant to put their homes on the market right now.
"I had some people that were planning to sell and move back into town [from Tomball], but with the virus they said they were staying put," she said.