HCA Houston Healthcare Tomball achieved accreditation as a Center of Excellence in robotic surgery in March, according to an April 19 news
release
from HCA Houston Healthcare. The hospital was recognized by the Surgical Review Corp.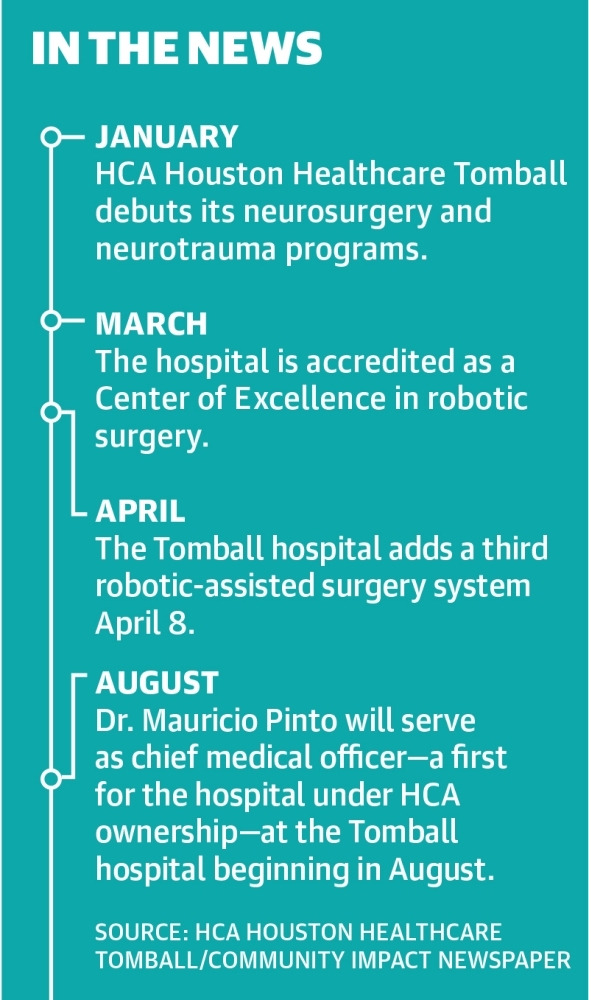 With the accreditation, HCA Houston Healthcare Tomball becomes one of two robotic Centers of Excellence in the Greater Houston area and one of six in the state, hospital Chief Operating Officer Rob Sabina said in a June 3 statement.
"This accreditation further confirms to our community and medical staff that we are a leader in minimally invasive robotically assisted surgery and goes on to demonstrate our dedication to the highest standards for patient care, quality and safety," hospital CEO Robert Marmerstein said in the release.
The Tomball hospital added its third robotic-assisted surgery system April 8, Sabina said. According to the release, the system was added because the hospital is one of the busiest and most advanced facilities in robotic surgery in the Greater Houston area. Now, 30% of the hospital's operating room capacity is dedicated to robotically assisted surgery, according to the release.
Sabina said June 3 the hospital performs about 1,000 robotic procedures annually.
The hospital offers robotically assisted surgeries in urology, gynecology, orthopedics and bariatrics as well as abdominal and colorectal procedures.
"We're proud to recognize HCA Houston Healthcare Tomball for their commitment to advancing and providing quality care for all patients," SRC CEO Gary Pratt said in the release. "This accreditation signals that this hospital is among the best in this specialty and is dedicated to delivering the highest level of care possible."
In addition to broadening its robotic surgery program, neurosurgery and neurotrauma programs debuted in January, Sabina said.
"In the 12 months preceding the reintroduction of the program at HCA Tomball, we transferred out [more than] 120 patients with neurological [and/or] neurotrauma conditions to other facilities," Sabina said in a statement. "By partnering with our exceptional surgeons, nurses and ancillary support teams, we are proud to be closing this gap in care for the Tomball and Greater Northwest Houston communities so that residents of the area can receive high-quality, tertiary health care close to home."
With expanding medical programs, the hospital will also welcome its first chief medical officer in August. Dr. Mauricio Pinto will be the first to fill the position since the Tomball hospital was acquired by HCA Houston Healthcare in 2017, Sabina said.
"As is evidenced by the launch of neurosurgery, the increasing depth and breadth of services ... necessitate the addition of this impactful senior leadership position to provide full-time, physician oversight to our quality agenda and to serve as a partner and resource to the medical staff," Sabina said in a statement.