TOMAGWA HealthCare Ministries—founded more than 30 years ago to serve uninsured residents in the Tomball, Magnolia and Waller areas—has grappled with treating patients during the COVID-19 pandemic, as all health care organizations have.
But unlike some other providers, TOMAGWA has not had access to the same resources because it is not a federally qualified health center, CEO Timika Simmons said. The federal Coronavirus Aid, Relief, and Economic Security Act has awarded $1.3 billion to health centers nationwide, including $1.8 million to nearby Conroe-based Lone Star Family Health Center, according to the U.S. Health Resources and Services Administration.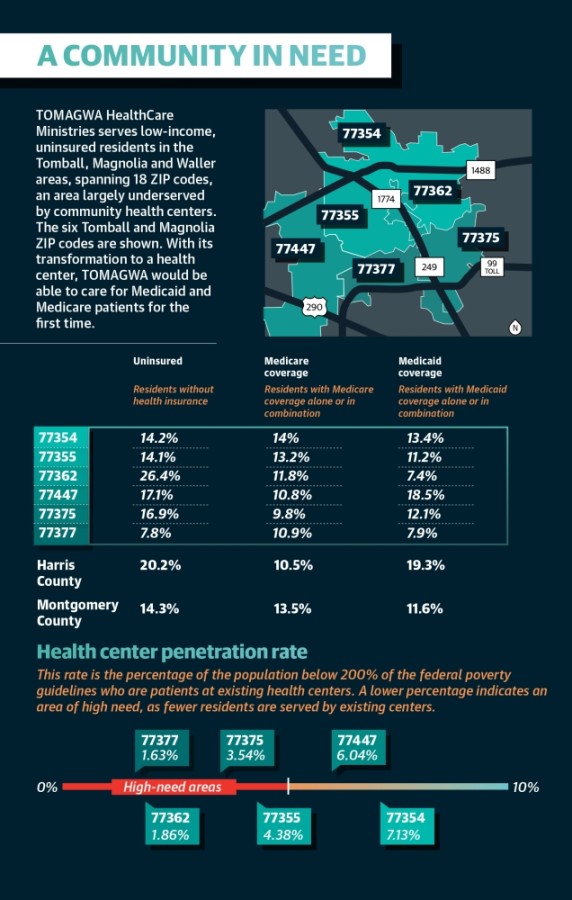 As such, TOMAGWA leaders have expedited their plans to become an FQHC, Simmons said.
"We were already struggling in the market before COVID, and then [during] COVID, so many safety-net clinics just are drowning," she said. "Becoming a federally qualified health center was something that was a part of our strategic plan to try to look at for way, way later for sustainability, but COVID kind of gave us a push to say, 'You need to look at this right now.'"
According to the HRSA, community health centers are community based and patient directed and provide primary health care services on a sliding-fee scale. FQHCs are health centers receiving federal grant funds.
TOMAGWA officials are hoping to apply to the HRSA in January to receive approval as a "look-alike health center" in May, Simmons said, which means the clinic would operate with the same standards as a FQHC but has not yet received a federal grant denoting the center as an FQHC. This would then allow TOMAGWA to compete for grant funds in July, she said.
"[Health centers are] one of the best ways to deliver health care and one of the most cost-efficient and effective," said U.S. Rep. Kevin Brady, R-The Woodlands. "I think this is the next step for TOMAGWA, and it can make their good work available to even more families that need it."
Defining health centers
Karen Harwell is the CEO of Lone Star Family Health Center, an FQHC with locations in Conroe, Willis and Spring. Harwell said the HRSA denotes locations with less than a 5% penetration rate—or the percentage of low-income residents serviced by existing health centers—as areas of high need.
According to information from TOMAGWA, the penetration rate in Tomball and Magnolia ZIP codes ranges from 1.63% to 7.13%.
"If you can enter an area where you can show very, very low penetration, you have a much better chance of receiving the [federal] grant," Harwell said. "We really don't view [other centers] as competition. ... It's another partner we can work with that our patients can benefit from."
Harwell said she is looking forward to the opportunity to share specialty resources with TOMAGWA, which could lessen staffing costs for both clinics and make patient services more robust.
As of mid-November, TOMAGWA needed to raise $225,000 by year's end and $500,000 by July to implement new programs, staffing and technology, Simmons said.
"TOMAGWA is in a unique position to be able to take advantage of this opportunity ... so we are asking people to dig very deep and look at significant one-time contributions," she said.
While she said TOMAGWA's long history in the community, quality service and partnerships will ease the financial burden of the transition, the look-alike process still requires TOMAGWA to transform much of its organization.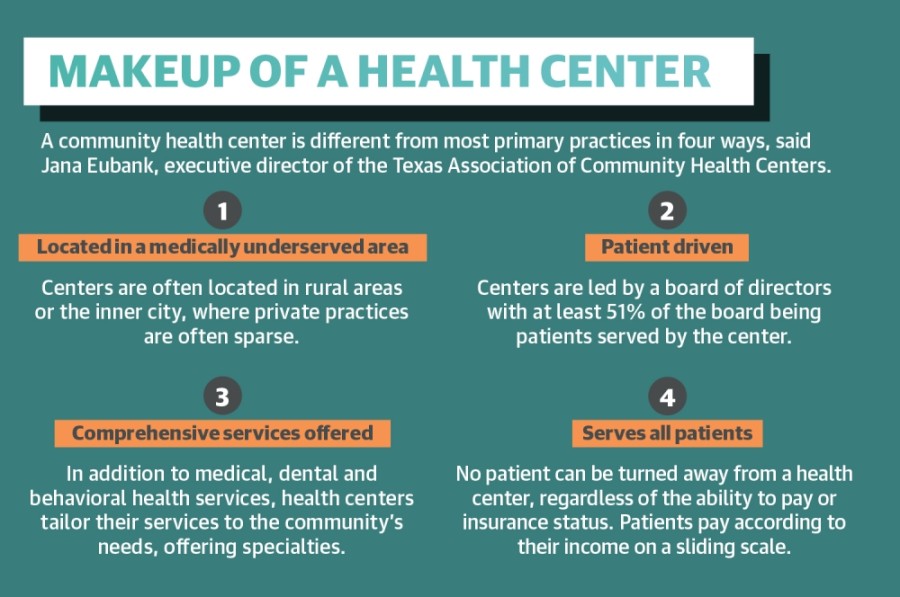 Jana Eubank, the executive director of the Texas Association of Community Health Centers, said four aspects differentiate health centers from other primary practices: Centers are located in medically underserved areas, service all patients, offer comprehensive services and are consumer driven—meaning at least 51% of the center's board members are patients.
Beyond medical, dental, pharmacy and behavioral health, health centers customize their offerings to community needs, such as vision or substance use, Eubank said.
"If that community needs it, then the center tries to figure out how to cobble together the resources and get the providers to be able to provide that," she said.
During the transition, TOMAGWA must add mental health and translation services, more robust women's and pediatrics programs, and a transportation program, Simmons said, which could mean using private vehicles or ride-hailing services to get patients to their appointments. TOMAGWA currently offers basic pediatric and women's care, lab, dental, vision, pharmacy and primary care services.
Despite the benefits, Simmons said TOMAGWA has not pursued an FQHC designation previously because of concerns of partnering with the government.
"TOMAGWA's culture has been extremely important to us. ... There have always been great concerns that if we were in a relationship with the federal government that they would require us to modify or even prevent us from practicing our Christian faith openly," she said. "We've been very excited that TOMAGWA will not have to make any modifications to our Christian faith and our values and our principles and how we care for our patients."
Seeking sustainability
Since the onset of the COVID-19 pandemic, TOMAGWA has added about 10 patients each week as unemployment rates have risen, Simmons said.
"We have to be here for our existing patients and then all of these newly unemployed in our service areas who are terrified," she said.
TOMAGWA relies largely on its donors to fund its $5 million annual budget, Simmons said, causing funding challenges at times. In March 2019, TOMAGWA closed its Magnolia clinic for five months because of financial hardship,
Community Impact Newspaper
previously reported.
TOMAGWA's pursuit of look-alike approval will make it more competitive when applying for a federal grant once funds are appropriated by Congress, Eubank said.
Funding expires in December, Brady said, but extending funding is among his priorities when Congress reconvenes this fall.
"It's important that it be extended at least a year, although I'd like to see it extended for two or three years just to create that certainty local clinics need," he said.
With funds expected in 2021, grants are only released every few years, Simmons said.
"That's why the timing is so critical now. The base grant will afford us $660,000 per location to cover operational expenses, so you're talking about roughly a $1.9 million investment about this time next year from HRSA into the community we serve," she said. "Not only will it make us sustainable; in the future it gets us out of the roller coaster of having funding now, not having enough funding later."
In addition to the base grant, TOMAGWA could begin billing Medicare and Medicaid in May, a demographic not currently served.
Simmons said TOMAGWA could collect $150 and $170 per visit for Medicare and Medicaid patients, respectively, from the Centers for Medicare & Medicaid Services, a rise from the clinic's average payment of $25 per visit. Within Tomball and Magnolia ZIP codes, 11.59% and 11.74% of residents receive some sort of Medicaid or Medicare coverage, respectively, according to 2018 U.S. Census Bureau estimates.
"We can stumble along and keep things going, but when you get things like COVID or a downturn in the economy, then a lot of your revenue sources dry up and the services you provide become less," said Tom Gloyer, the owner of the Home Health Store in Tomball and an ex officio board member of TOMAGWA. "I think [the health center approval] should help make it more consistent as well as expand how many we serve and what we do."