Tomball and Magnolia residents will be a part of new state and congressional districts for the first time in 10 years following the 2020 census and redistricting process this fall.
Tomball residents will be included in a new congressional district Texas gained as a result of its growing population. Meanwhile, in Magnolia, residents will be divided among three state senators instead of one after the Texas Legislature approved new district boundaries.
All changes at the state and congressional levels will be in effect for next year's primary election March 1.
"Redistricting is one of the constitutional obligations we have," said state Rep. Cecil Bell Jr., R-Magnolia, at a town hall meeting Nov. 5. "We don't have a lot of constitutional obligations. We have to have a balanced budget; we have to call sessions into order; and on census years we have to do redistricting."
Texas added two new U.S. House of Representative seats thanks to 16% population growth over the last 10 years, according to census data. One of the seats—the 38th Congressional District—covers the Tomball area, which has been represented by U.S. Rep. Michael McCaul, R-Houston, in the 10th District.
"The relationship [with McCaul] is strong, and that is something that we are going to really, really miss," said Bruce Hillegeist, president of the Greater Tomball Area Chamber of Commerce.
The Magnolia area, represented by state Sen. Brandon Creighton, R-Conroe, will now also be represented by state Sens. Lois Kolkhorst, R-Brenham, and Paul Bettencourt, R-Houston.
"It's disappointing that we've had to have our community split as it is between these three senators, but all of them seem to have the same primary conservative perspective that our community has known," said Sandy Barton, president of the Greater Magnolia Parkway Chamber of Commerce.
Population growth
The populations of the Tomball and Magnolia areas grew by tens of thousands of residents in the past decade, according to census figures. The population within Tomball and Magnolia ISDs' boundaries grew by nearly 40,000 and 19,000 residents, respectively, since 2010, census data shows.
Each state in the U.S. is obligated to redraw its political representative maps after every decennial census to accommodate for changing populations, according to Texas' redistricting website.
During the redistricting process, the Texas Legislature must draw districts that are as close to equal as possible, which is no more than a 10% deviation from the "ideal" population, and district boundaries cannot limit voting based on race, color or language group, according to the state's redistricting website. Gov. Greg Abbott approved the maps drawn by the Legislature on Oct. 25 after its third special session.
"We worked in a bipartisan fashion as the adults in the room, and we respected one another and made sure that different communities of different interests in our community had representation," said state Rep. Tom Oliverson, R-Cypress, at a Nov. 16 Cy-Fair Houston Chamber of Commerce luncheon.
Oliverson's District 130 includes most of the Tomball area.
However, some policy experts believe the redrawn maps do not accurately represent the demographic changes seen since 2010. Michael Li, senior counsel at the Brennan Center, a nonprofit law and public policy institute in New York, said the new 38th Congressional District that spans part of Tomball was not drawn with voters of color in mind.
"Given that most of the growth in Harris County came from people of color, you would think they would create additional opportunities for people of color," Li said.
According to census data, a little more than a third of the Harris County population identified as white in 2020, down 20 percentage points from 2010. A similar trend occurred in Tomball and Magnolia ISDs with the populations identifying as white dropping 17 and 15 points over the last decade, respectively, census data shows.
State-level changes
Districts at the state level, which includes the Texas House and Senate, largely remained intact after redistricting, approved maps show.
The Magnolia area will continue to be represented by Bell in House District 3. The Tomball area will largely continue to be represented by Oliverson in District 130.
While the Tomball area saw no changes in state Senate districts, the Magnolia area is gaining portions of two more Senate districts.
"The Senate probably changed more than most of us wanted to," Bell said. "It certainly changed a lot more than the House."
Three state senators will represent the Magnolia area as opposed to one, which was the case following the 2010 census. Creighton's District 4, which covered the area for the last decade, will represent just part of the east side of the Magnolia area.
With redrawn maps, Kolkhorst's District 18 now includes the city of Magnolia.
Further, District 7—represented by Bettencourt—previously included only portions of Harris County but now stretches into parts of Magnolia, spanning as far north as FM 1488, maps show.
As a result, Barton said she is concerned about the community's representation being split.
"There's always a concern that there might be a dilution of our rural voice here in our community," Barton said.
Montgomery County commissioners adopted a resolution Sept. 25 opposing the redrawn Senate lines. Kolkhorst said she understands commissioners' concerns, but she said she believes Montgomery County having three senators will help state legislation affecting the county move forward as the county is now represented by 10% of the Texas Senate.
"I understand the emotion the Commissioners Court would have, but I think the three of us [state senators] are going to work really well," Kolkhorst said.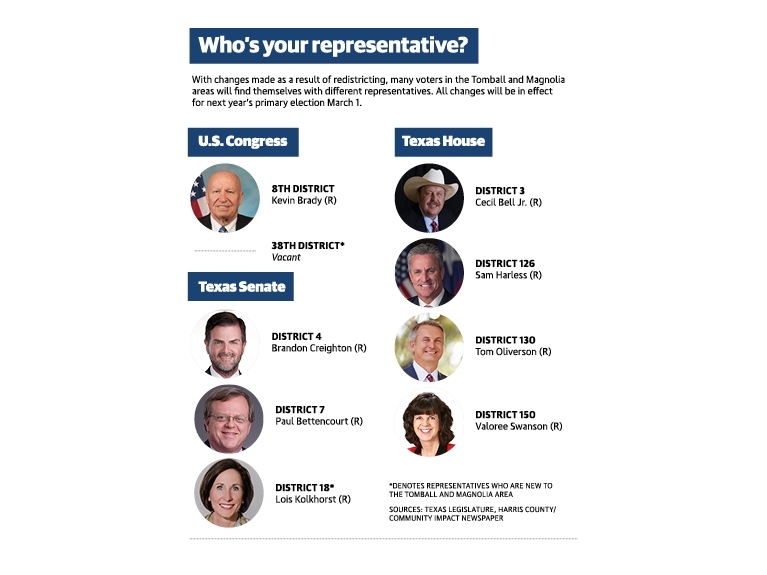 New congressional districts
As Texas' population grew, the state added two new U.S. House of Representatives seats. One of those seats is the 38th Congressional District, which covers much of northwest Harris County, including the Tomball area.
Brandon Rottinghaus, a political science professor at the University of Houston, said the 38th District is "solidly conservative." He said he believes the new district was drawn to move McCaul's 10th District to the suburban Austin area and bring in the conservative parts of the 7th District so Republicans could keep their strongholds and win the new seat.
McCaul has represented the Tomball area since 2004 and has an office in Tomball. Hillegeist said he is sad McCaul can no longer represent the area, given the relationship the Tomball community has developed with him over the years.
Despite this, Hillegeist said he views the new district as an opportunity for the Tomball area to have another voice in Congress.
"It's in a way like starting all over, letting [the candidates] know who we are and us knowing them," Hillegeist said. "We're not going to look at this as a negative but as an opportunity to develop a new relationship in Washington, [D.C.]."
In Magnolia, U.S. Rep. Kevin Brady, R-The Woodlands, will continue representing the Magnolia area until his term expires in 2022 and he retires. Montgomery County will be represented by two congressional seats moving forward instead of only Brady's district, as the county is split between Brady's 8th District and the 2nd District, served by Rep. Dan Crenshaw, R-Houston.
"I think this increases [Montgomery County's] influence and voice in Washington during a crucial period," Brady said.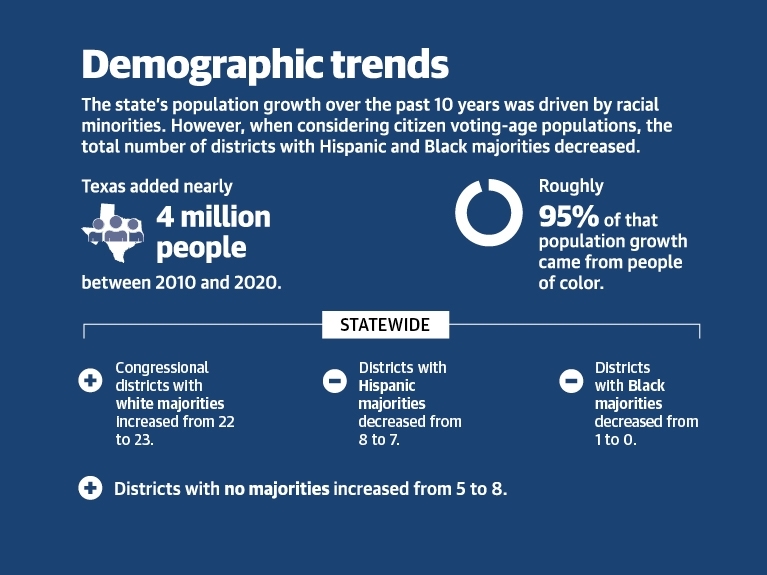 Andrew Christman, Danica Lloyd and Jishnu Nair contributed to this report.