New electoral maps are set for the next decade in Tomball and Magnolia, which divides the city of Tomball between two county commissioner territories.
In a 3-2 vote, Harris County commissioners selected a new boundary map for the county's four commissioner precincts Oct. 28. This plan has drawn criticism from the court's two Republican commissioners: Tom Ramsey of Precinct 3 and Jack Cagle of Precinct 4. Both voted against the proposal and have joined a lawsuit against the county over the redistricting results.
"What it has done for Tomball is it divides Tomball in half," said Bruce Hillegeist, president of the Greater Tomball Area Chamber of Commerce.
According to Harris County data, 95.3% of the city of Tomball, or 11,758 residents, resides in Precinct 3 under the new boundaries, and 583 residents reside in Precinct 4.
In a Nov. 9 Commissioners Court meeting, Cagle noted the vote on new maps has historically been unanimous, and both commissioners brought up the drastic "flip" of their precincts. Much of Precinct 3 is now considered Precinct 4 and vice versa.
"I don't think there's ever been a redistricting that's moved 2.3 million people. That's what we're talking about here," Ramsey said.
Montgomery County commissioner territories saw little change with no county-level changes affecting the Magnolia area. Precinct 2 Commissioner Charlie Riley will continue representing Magnolia with his position up for election in 2022.
The only boundary change moves residents in southeast Conroe from Precinct 4 to Precinct 1, according to approved maps.
Harris County commissioner precincts
In Harris County, the Tomball area was largely contained within Precinct 4 for the last decade with a small portion of the unincorporated Tomball area within Precinct 3. Now, the city of Tomball is split between two precincts, with much of the Tomball area served by Precinct 3. Precinct 4 mainly starts west of Tomball.
The U.S. Constitution states commissioners court precincts should not deviate from 10% more or less than an ideal population size, which for Harris County was 1.18 million.
"The map we passed here today stands in stark contrast to the radical gerrymandering passed in Austin, which was designed ... at the expense of fair representation for all Texans," said Precinct 1 Commissioner Rodney Ellis, who proposed the approved map, in a statement.
County officials said the deadline to transition responsibility is not until Jan. 1, 2023, but commissioners agreed Nov. 9 to complete the transition by March 31.
Cagle alleged the county violated the one-person, one-vote principle used in redistricting.
"Right now, the rules are being made up as we go along," Cagle said. "Instead of slightly adjusting for population, we transmigrated precincts."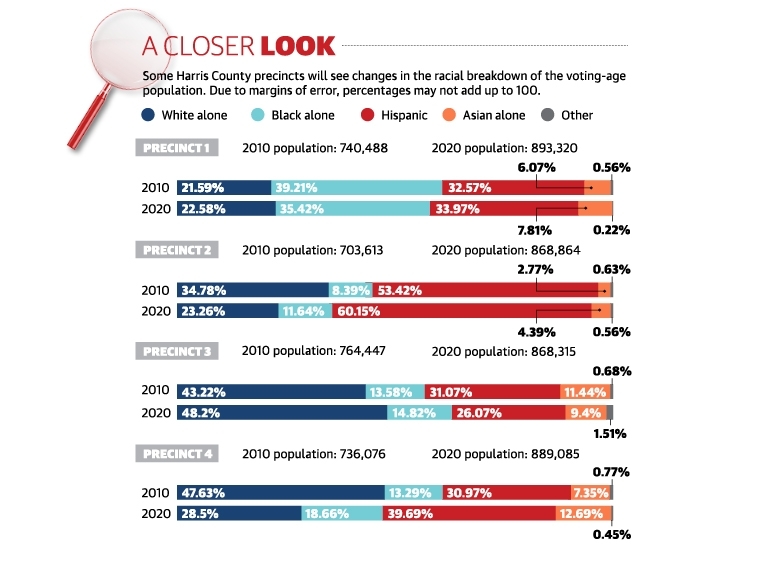 Pending litigation
Cagle and Ramsey joined a lawsuit against the county Nov. 16, which alleges the new commissioners map violates voters' right to cast a ballot by forcing constituents in the new Precinct 4 to vote for a new commissioner in 2022 when Cagle's term is up. Residents in the new Precinct 3 will not get to vote in a commissioners' election for six years, Cagle said, should the lawsuit fail.
"You've now taken away the right to vote for [1.3] million people. ... There's no greater voter suppression than taking away [residents'] vote," Cagle said.
The lawsuit asks the Harris County District Court to draw an interim map for the 2022 commissioner elections while also applying for an injunction to block the Ellis map from taking effect. Emily Berman, a professor at the University of Houston Law Center, said the suit relied on a precedent in which state courts can listen to cases alleging excessive partisan gerrymandering.
According to Mark Jones, a political science professor at Rice University, gerrymandering is the practice of drawing political districts to benefit a political party or a racial or ethnic group.••"Partisan gerrymandering is 100% constitutional. ... You can also draw districts that ... are designed to ensure that underrepresented minorities are able to elect candidates of their choice," Jones said.
The type of gerrymandering that is illegal "would effectively hurt the ability of underrepresented minorities [and] cancel their choice," Jones said.••A court hearing was held on whether to grant a temporary restraining order preventing Harris County from implementing the Ellis map Nov. 29, but the attempt was not successful, Cagle said. A hearing on the temporary injunction is slated for Dec. 17, after press time, and Cagle said the goal is to get the lawsuit before the Texas Supreme Court by early January.
"We oppose the action taken by Commissioners Court and would hope that a court would reverse the decision made and that Commissioner Cagle and Commissioner Ramsey hold on to the original precincts 3 and 4," Hillegeist said.
Tomball representation
Tomball officials said the transition likely comes with costs for the city.
The city and Precinct 4 partnered on maintenance and amenities at Broussard Park, which opened in September 2020 and neighbors Harris County's Mathews Park. The agreement stated Precinct 4 would help maintain the park, and Tomball would provide utilities to Mathews Park.
"That actually has dollar implications for us because if they terminate that partnership, then we are going to have to add staff to maintain that park," City Manager David Esquivel said.
Esquivel said Precinct 3's capability to respond during local emergencies, such as weather, and county projects—such as the Spring Creek Greenway and improvements to roads—are also concerns for the city.
"If it stays as it's drawn, we'll be mostly in Precinct 3," he said. "It is a concern for us. ... It's going to be completely different and all of the priorities and maintenance of the roads that are within the city of Tomball."
Hillegeist also questioned the "enormous" cost for the county.
"Just think of the number of signs that have to be redone, the familiarity of the commissioners and their workers for the various parks," he said. "We see this as a political move. ... We see this as a waste of taxpayer money."
However, Esquivel said as of Dec. 2 the city was continuing to work with Precinct 4 as the lawsuit calling for interim maps was pending.
"Precinct 4 is still handling all of the stuff that they typically do. ... They're kind of still in a holding pattern of business as usual," he said. "We haven't had any of those handoff kind of conversations yet at all [with Precinct 3]."