Tomball and Magnolia ISDs are both making investments in their staff with federal Elementary and Secondary School Emergency Relief funds to address learning loss from the COVID-19 pandemic. Congress approved three different allocations of funding for ESSER, setting aside a total of almost $200 billion for school districts, according to the U.S. Department of Education.
Greg Smith, executive director of The Fast Growth School Coalition, of which TISD is a member, said the federal funding will help districts get back on track this academic year.
"The ESSER funding has been a great boost in the arm or steroid shot for local school districts to help play catch-up for kids that are behind," Smith said.
The second and third rounds of funding, referred to as ESSER II and ESSER III, were approved in December and March, respectively. MISD received about $25 million from the two funding rounds, according to Assistant Superintendent of Operations Erich Morris. However, the numbers differ from the Texas Education Agency's figure. According to the TEA, MISD received nearly $29 million total between the two rounds.The discrepancy is due to the state already spending a portion of the relief funds for its funding requirements, Morris said. TISD is expected to receive almost $3.5 million from ESSER II and $7.8 million from ESSER III, Communications Director Allison Suarez said in an email.
Targeting learning loss
With the funds, MISD hired 38 employees ahead of the 2021-22 school year to help in critical need areas such as special education and reducing class sizes, Morris said. The funding will also go toward employee benefits and retaining current staff. MISD trustees unanimously approved a one-time $1,000 bonus pay for staff, paid for by ESSER funds, at its Aug. 2 meeting. Morris said the proposed FY 2021-22 budget includes another one-time $1,000 bonus to be paid in November.
"We want to focus our dollars in the classroom," Morris said. "We want to take care of our kids and retain our talented staff."
While most of MISD's ESSER funds will address learning loss, MISD Chief Academic Officer Brandon Garza said the district did not experience significant loss like others in the state. According to State of Texas Assessments of Academic Readiness results, MISD improved in some areas, such as third- and sixth-grade reading, in 2021 while statewide, fewer students approached grade level in those subject areas than in 2019, according to state data.
"What we found was that compared to many districts in our area we actually [performed] right with them or better in many cases and just far better than the state in terms of learning loss," Garza said.
With its funding, TISD has been able to hire 25 additional staff members, including interventionists, support staff for English language learners and an additional administrator, Chief Academic Officer Amy Schindewolf said. While much of the district's funds will address learning loss, Schindewolf said TISD fared better than some districts. Despite slight drops in students approaching grade level in STAAR assessments from spring 2019 to spring 2021, TISD's results were above the state average in all subject areas, TEA data shows.
"Although the pandemic has been extremely challenging, because our school district worked with our parents and worked with our community throughout this last year, our students fared well comparatively," Schindewolf said.
MISD plans to use its remaining ESSER funds on technology, such as laptops and Wi-Fi, and air quality in schools, Morris said.
Schindewolf said TISD plans to address professional development for teachers and administrators, increased parental engagement and additional instructional resources.
Morris described the ESSER funds as critical for school districts to recover from the pandemic. Schindewolf said the funds are allowing TISD to address pandemic-related needs quickly.
"It's an opportunity for us to continue to progress and meet the needs of our students in a faster way than we would be able to do without [the ESSER funds]," Schindewolf said.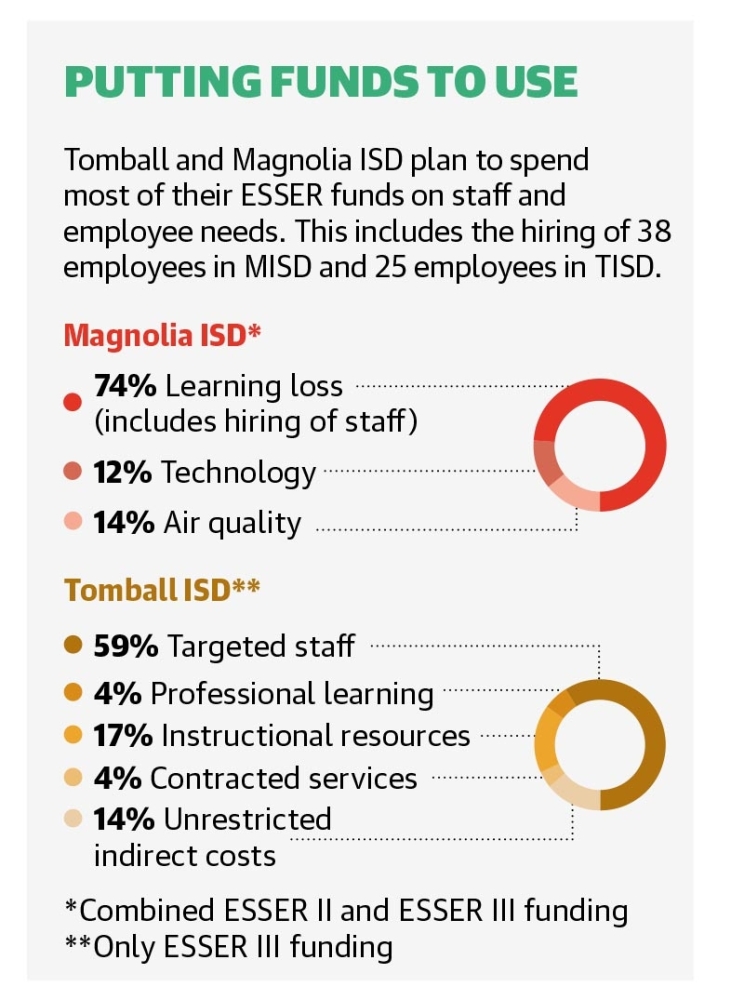 Ally Bolender contributed to this report.