The Magnolia ISD board of trustees approved the district's 2021-22 school calendar Feb. 8.
Deputy Superintendent Jason Bullock noted during the meeting that the newly approved calendar is similar to those approved for the previous and ongoing school years.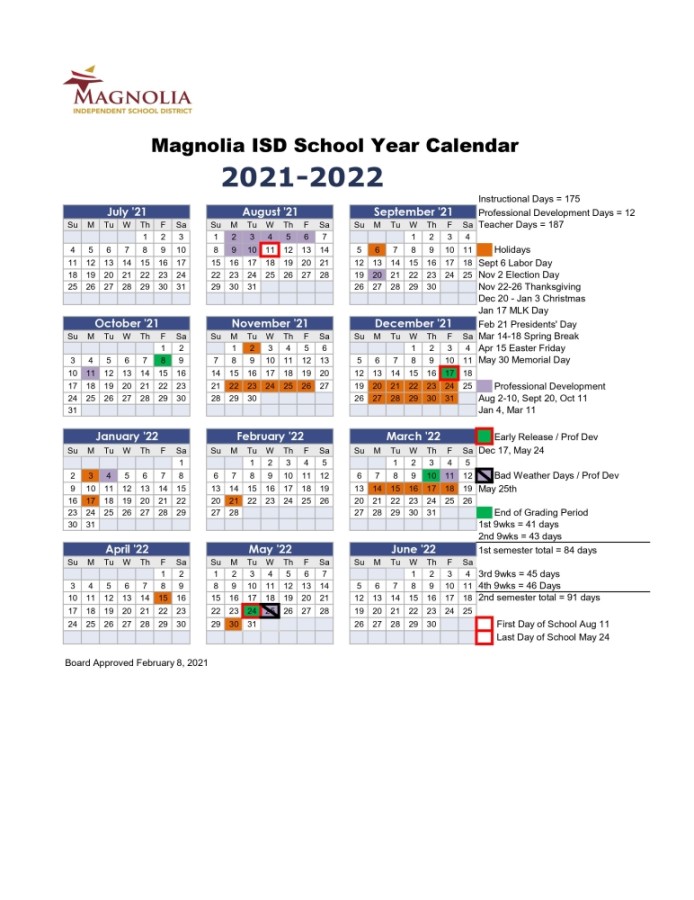 With the first day of school slated for Aug. 11, the calendar includes 175 instructional days and 12 professional development days, including a professional development day for educators at the end of each nine-week grading period, Bullock said.
"That's something that is very popular with teachers and with principals," he said.
Additionally, the calendar includes a full week for Thanksgiving break and an Election Day holiday, which the district first introduced as a student holiday in the 2019-20 school year.
"I think that's something we've learned along the way that makes a lot of sense," Bullock said.
The weeklong spring break will begin March 14, according to the approved calendar.
"We've been careful to make sure the spring break is aligned with the school districts in this area and with all of the major universities that we could come across with and colleges, with one exception [of Baylor]," Bullock said, noting that several families live or work in neighboring districts. "The more alignment we have there with spring break and holidays, the better off you are."
The last day of school for the 2021-22 school year is set for May 24, Bullock said.
"We have the last day of school as May 24, which is in front of Memorial Day weekend—something else our community has been loud about liking," he said.
Superintendent Todd Stephens said although the calendar is subject to change, the district at this time intends to keep with a traditional school calendar instead of adding extra days or making other school year changes to accommodate learning loss as a result of COVID-19.
"This reflects a very traditional calendar, and as of this time, our thinking in Magnolia ISD ... is that we're not ready or at this point to say we want to do anything unusual in a calendar for any type of remediation of any kind of COVID slide we may see this year," Stephens said during the meeting. "That could possibly change as the [Texas Education Agency] and the state give us other options about what we need to do as far as ... remediating kiddos, but at this point, we're going to figure out ways to do that within a traditional calendar next year."