Local businesses in Tomball and Magnolia have faced unprecedented challenges since mid-March after county and state restrictions were put in place limiting gathering sizes, the operation of nonessential businesses and dine-in services through April, community leaders said.
Sandy Barton, the president of the Greater Magnolia Parkway Chamber of Commerce, said concerns from local business owners have varied.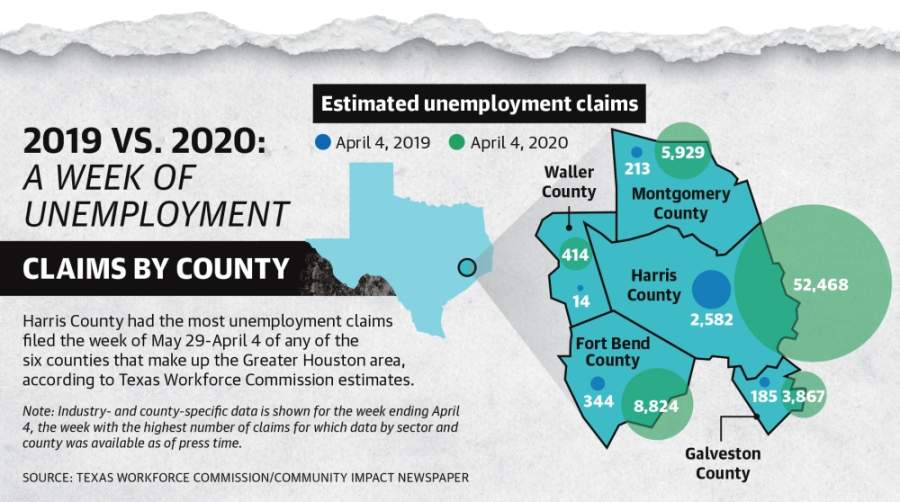 "The biggest issue is that we've got a lot of business [owners] that are afraid they are going to have to close their doors permanently," she said in an April 7 interview.
Due to the coronavirus outbreak, restaurants were forced to close dining rooms and only operate through takeout or delivery until April 30 with limited occupancy allowed May 1, following local and state orders as of press time. Nonessential businesses—such as salons, gyms and some retailers—were forced to close completely during stay-home orders, leaving those who cannot work remotely or from home with no source of income, officials said.
As such, from March 14-April 25, the Texas Workforce Commission estimated 1.8 million unemployment claims were filed—more than a year and a half of claims—exceeding 300,000 claims for the weeks ending April 4, 18 and 25. According to county-specific data available as of press time, claims peaked the week ending April 4 at 52,468 and 5,929 in Harris and Montgomery counties, respectively.
To help businesses get back on their feet, Barton said small businesses can apply for government loans, such as the Paycheck Protection Program and the Economic Injury Disaster Loan, which were rolled out nationally April 3. Due to overwhelming interest, President Donald Trump signed a bill April 24 adding $320 billion to the PPP and $50 billion to the loan program, according to a White House release.
David Cardona, a co-owner of Salon on Main in Tomball, said his business was not able to receive a PPP loan after applying April 3—the same day the program launched.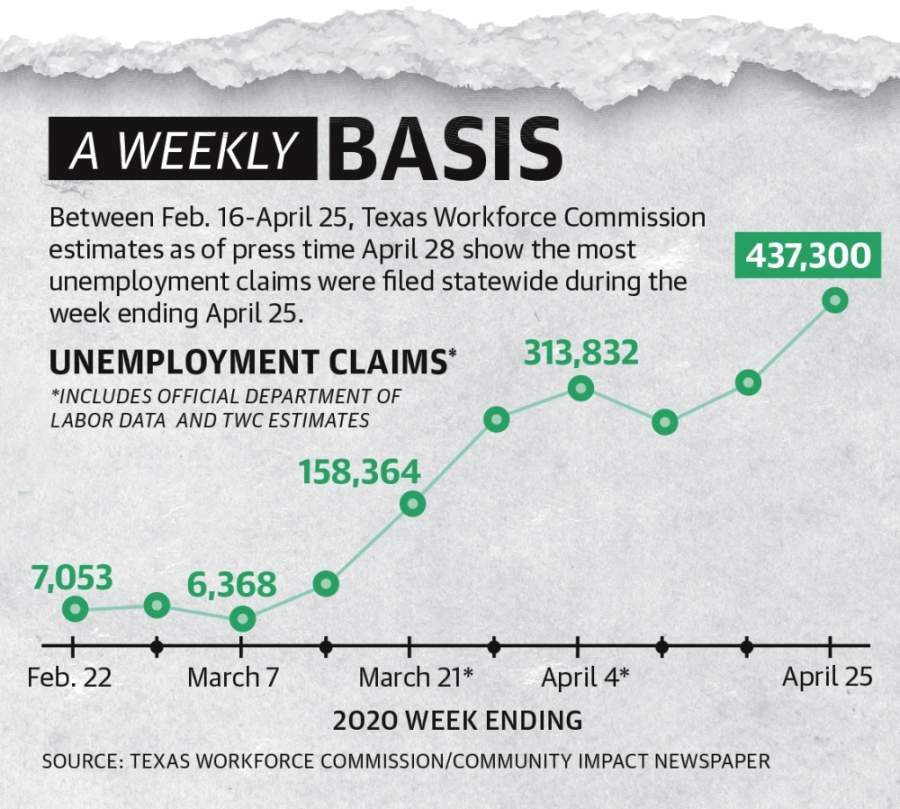 "[Chase Bank] said that they've exhausted all the funds for the first round and that they weren't even able to send it into the [Small Business Association] yet. So that was pretty frustrating," he said.
Unemployment surge
As local businesses closed and staff were furloughed, unemployment numbers rose across the state, and the future of the post-coronavirus job market remains unclear, local economic leaders said.
"We are going to see [a] tremendous amount of unemployed people," said Kelly Violette, the executive director of the Tomball Economic Development Corp. "We have been on this high, especially in the Houston area, with such a low unemployment rate."
The Houston metro's unemployment rate jumped from 3.9% to 5.1% in March, losing 8,200 jobs in March alone, according to TWC data.
Patrick Jankowski, senior vice president of research at the Greater Houston Partnership, said on April 14 that job losses could reach 250,000 in the Greater Houston area for March and April.
According to TWC data, the retail industry has been hit hardest, with the largest number of unemployment claims—36,820—coming from retail workers in the week ending April 11—the most recent industry data as of press time—followed by the accommodation and food services sector.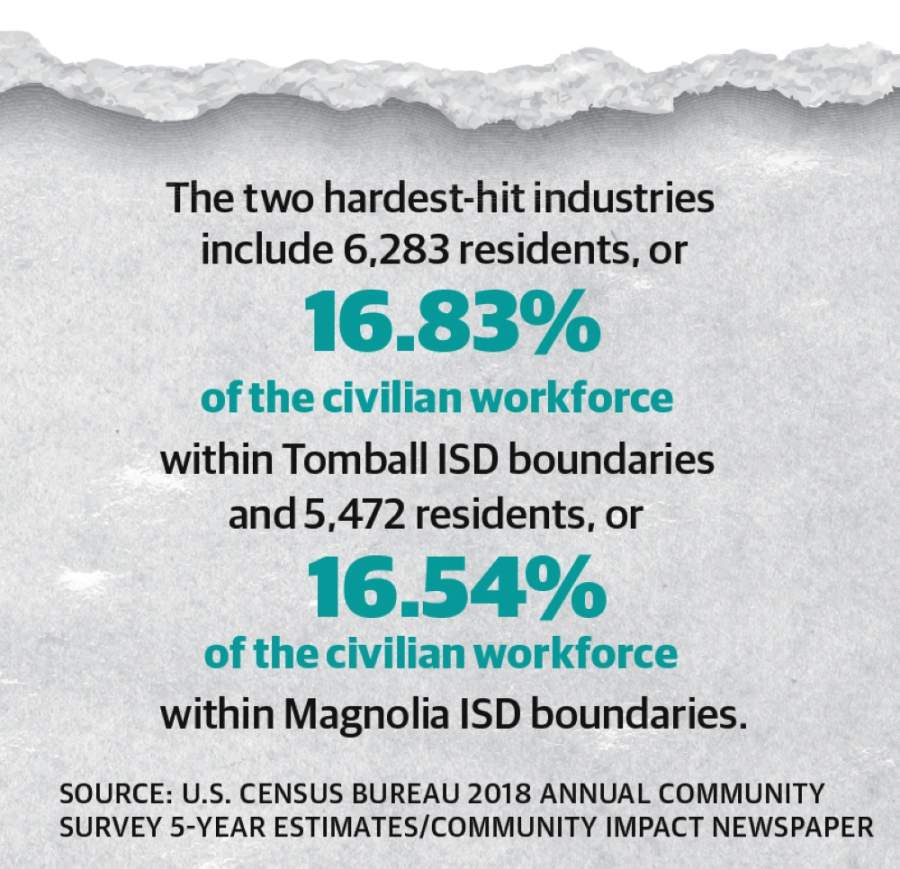 Within Tomball and Magnolia ISDs boundaries, 16.7% of the civilian workforce—more than 11,700 residents—work in the two aforementioned industries, according to 2018 U.S. Census Bureau estimates.
"Having to close my business means we have lost a major part of our family's income," said Joanna Nguyen, co-owner of Paradise Tomball Nails & Spa in Tomball, in an email. "This is not only for me, but for all of our staff as well."
Business support
With more than 450 businesses listed on the Magnolia chamber website, Barton said small businesses are the job drivers in the community.
"The concern is not only for employees, but also the business owners are unemployed [if this situation persists]," Barton said.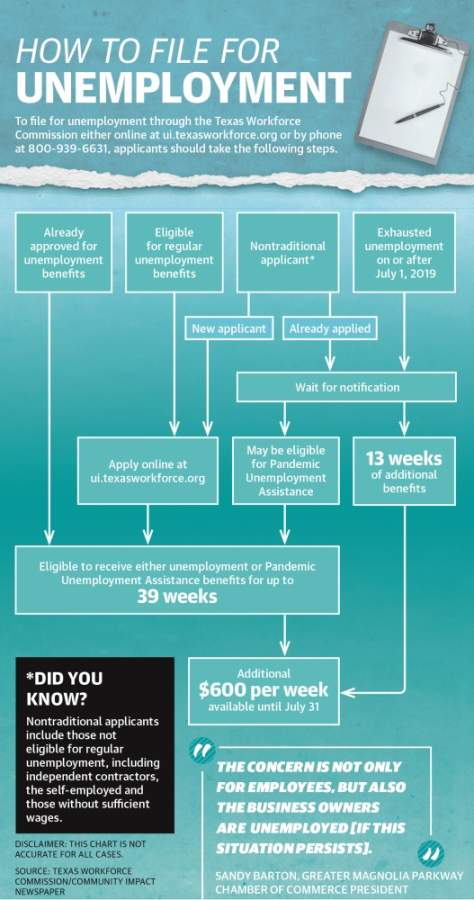 Barton said the PPP has been the loan of choice for business owners, but loans are not always ideal.
"[Local businesses] don't feel comfortable carrying additional debt," she said. "Businesses might not have been financially set before and don't want to take on more debt."
In Harris County—in partnership with the Houston-Galveston Area Council—the county launched a $10 million Small Business Economic Assistance Loans Program on April 9. However, just four days later the application process was paused indefinitely due to an overwhelming number of applications.
Although Gov. Greg Abbott began a phased reopening of the state• April 20, Abbott said in an April 27 press conference that some businesses could not be allowed to operate until at least mid-May. Abbott's plan has included retailers offering to-go services beginning April 24; retailers, restaurants, movie theaters and malls opening with 25% occupancy May 1; and occupancy increasing alongside more businesses tentatively reopening in mid-May.
"Everybody is just excited to see it slowly starting to open, and everybody needed that little sense of hope," Violette said April 27.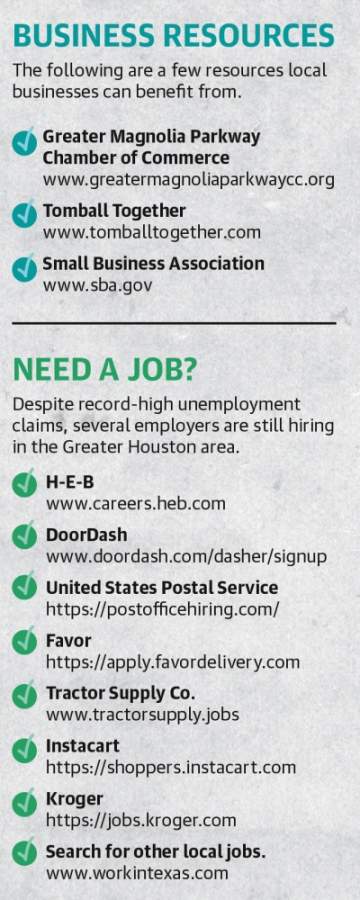 Looking beyond
In addition to small businesses, Violette said this crisis will affect entire cities as sales tax revenue is likely to be lower than budgeted.
Revenue is allocated by the Texas comptroller's office at the beginning of each month for two months prior. The latest sales tax payments are expected to be distributed May 8, showing March totals, according to the comptroller.
"We are going to face some economic consequences because of [the pandemic]," Tomball City Manager Rob Hauck said. "We are already taking action to protect our financial situation ... by making reductions in areas of our budget immediately."
Magnolia City Administrator Don Doering said April 14 he has not yet seen a significant change in sales tax.
"We are concerned but hopefully optimistic that things are going to loosen up and bounce back up," he said.
Anna Lotz, Danica Smithwick, Adriana Rezal, Emma Whalen and Hannah Zedaker contributed to this report.