Single-family home construction is booming in the Magnolia area with more than 18,000 lots for future homes identified across the three ZIP codes, according to first-quarter 2021 data from Metrostudy, a residential market research consulting company.
With new and proposed communities ranging from nearly 100 homes to a few thousand homes each, data shows a recent development boom in Magnolia, largely spurred by the completion of the Hwy. 249 extension through Magnolia earlier this year, developers said.
"[Hwy. 249] opened up easy access to thousands of acres that were previously not accessible to housing and mixed uses," said Sam Yager III, executive vice present of Sam Yager Inc., developer of Audubon, in a statement.
Audubon is a 3,000-acre master-planned community anticipated to include approximately 4,200 homes at Hwy. 249 and FM 1488, the first model homes of which opened in April,
Community Impact Newspaper
previously reported.
From the first quarter of 2020 to the first quarter of 2021, the number of lots planned for future homes in ZIP code 77355 increased by more than 6,000, and quarterly home construction nearly tripled in ZIP code 77354.
Construction is ongoing at communities such as Creekside Court, which will feature 97 homes on Carraway Lane, and Mustang Ridge, a 226-lot community near Magnolia West High School. Larger communities, such as Magnolia Springs, a 1,900-home master-planned community by Signorelli Co., are still to come,
Community Impact Newspaper
previously reported.
However, Magnolia Mayor Todd Kana said the growth brings infrastructure challenges for the city.
"I've been here my whole life, and it's kind of strange and unbelievable to see," Kana said. "To sit back and look at all the different developments and all the houses that are most likely going to be here 10 years from now—for someone born and raised here, it's just unbelievable."
Magnolia's attraction
As new communities continue popping up, developers said the area's environment makes it an attractive place to build homes.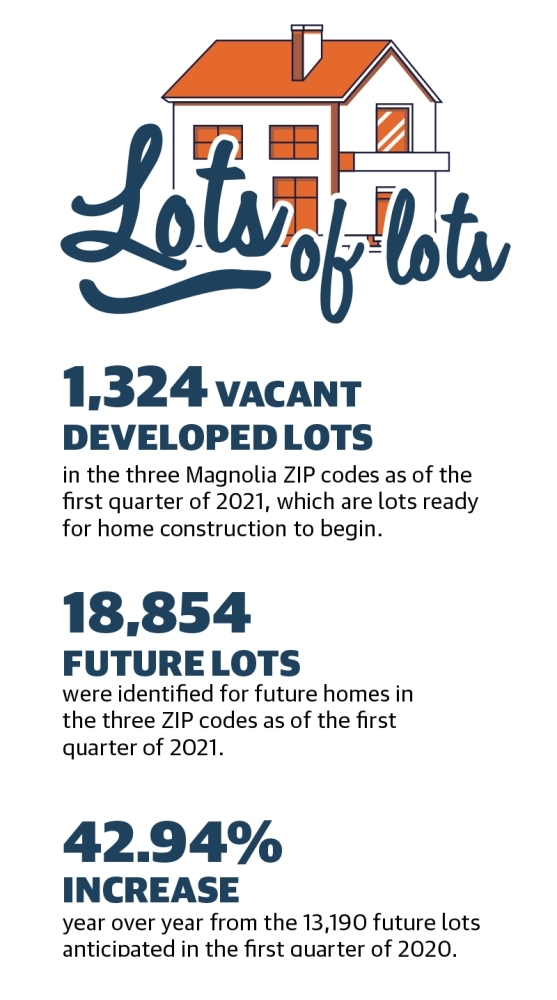 High Meadow Development Co. has been constructing homes for 50 years in the Magnolia area. That includes The Preserve on Alford Road, a new pocket community for which roads are being laid, said Derrick Witte, director of marketing for the company. He said Magnolia offers a "unique product" with open spaces and wooded areas while still being relatively close to the city of Houston.
"One of the phrases Jack Frey, our original founder, used to say was, '[Magnolia] is where the city meets the country,'" Witte said.
With the extension of Hwy. 249 easing the commute to and from Magnolia, Steve Sellers, president of the Texas land division for Empire Continental Land, said the tollway has opened up the area for growth. Empire Continental Land is planning a 221-acre community with close to 800 homes at FM 1488 and Iron Ore Road; construction is slated to start next summer, Sellers said.
Sellers said he believes the COVID-19 pandemic and telecommute opportunities have also motivated residents to move to more suburban areas such as Magnolia.
"The idea of moving farther out appeals to people when they don't have the same commuting issues we might have had before and opportunities to work remotely," he said.
Lawrence Dean, Houston regional director for Zonda, which provides real estate data for Metrostudy, said he attributes Magnolia's sudden growth to its connection with Hwy. 249 and the availability of several multithousand-acre tracts of land.
"This was an area destined to see growth," Dean said. "We just needed better transportation infrastructure to be able to get there more efficiently."
Meeting demand
With prospective homebuyers eager for homes in Magnolia, there are not enough lots or homes to satisfy demand, said Matt Sneller, owner of Sneller Custom Homes, which builds and remodels in the Magnolia area.
•"[Developers] can't keep enough lots on the ground," Sneller said. "A lot of the builders are actually running out of inventory and actually have to slow down sales to kind of maintain a more level sales funnel."
Victoria Lewis, a real estate agent in the Magnolia area, said she has worked with prospective homebuyers who have put 10-11 offers on a home and not had an offer approved because of the increased demand and low supply.
"Eight years ago, we could negotiate $50,000 off the sales price, and now people are offering almost $50,000 over," Lewis said.
While there is a large demand for single-family homes in Magnolia, some community leaders said a lack of housing options remains. Shirley Jensen, community relations director for Society of Samaritans, a Magnolia-based emergency assistance nonprofit, said the residential development falls short in supplying more affordable housing.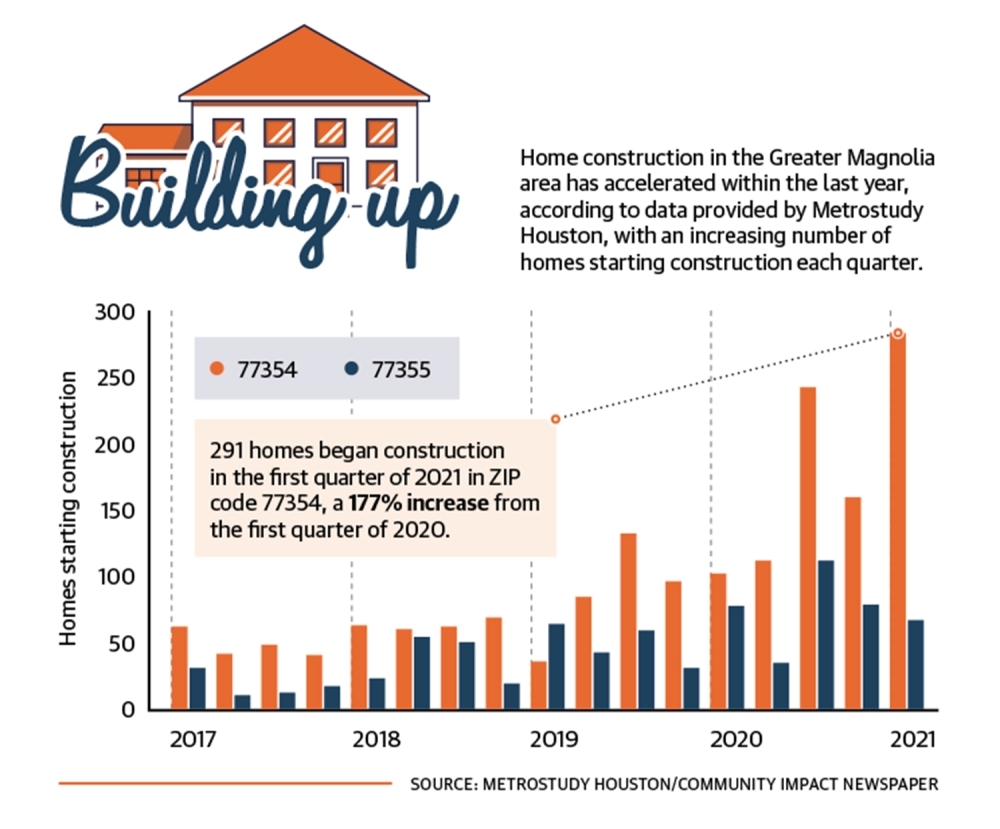 "Our people can't afford a home," Jensen said. "They can barely afford the apartments that are available in Magnolia right now."
While home prices have not been announced for some new communities, home prices are anticipated in the low $200,000s for Creekside Court and up to $700,000 within parts of Audubon,
Community Impact Newspaper
previously reported.
Future infrastructure
With construction started on more than 1,100 homes in the first quarter of 2021 and more than 18,000 lots identified for future homes in Magnolia, according to Metrostudy, the area is just beginning to see its building boom, Dean said.
With this growth comes infrastructure challenges, Kana said.
He said the city has been meeting with developers and adding water infrastructure, including increasing capacity for wastewater treatment and planning another water well.
"We're continuing to work with the city on planning for future utility infrastructure to try and provide a path for the city to continue to be the water and sewer supplier for Audubon," Yager said. "It's an ongoing, active conversation, which will require additional written agreements between the city and Audubon's municipal utility districts that we're hopeful will support the city's needs [and] goals as well as Audubon's."
Kana said the city is funding some of the projects by having developers prepay impact fees—fees assessed for part of the city's water or wastewater capacity—allowing a developer to buy into the city's systems. The city has also allowed multiple in-city MUDs, which puts the responsibility of installing water and sewer pipes on developers while also giving them an avenue to recoup costs, Kana said.
"There's a fine line in making sure we're prepared and expanding but also not doing that on the backs of the small groups of existing [residents]," Kana said. "The country atmosphere as you see it may change, but I believe we will still be Magnolia."