Editor's note: This story previously stated Segment 1 of the Texas Department of Transportation's Hwy. 249 extension spanned to FM 1774 in Todd Mission instead of Plantersville.
While Hwy. 249 has taken shape in Tomball and Magnolia, a regional economic development group has been working behind the scenes to attract development to the corridor from Houston to Waco.
When fully complete, Hwy. 249 will stretch from Houston to Navasota with Hwy. 6 continuing on to Waco. As the two highways will essentially connect the Texas Medical Center—the largest in the world—with Baylor University in Waco, the Central East Texas Alliance has dubbed this stretch the "Texas Biomedical Corridor," CETA President Johnny McNally said.
"Texas A&M [University] is a huge hub right in the middle of that route," McNally said. "We may not have the university in our communities that's kicking off the research and such, but we have other things that can support that effort."
The CETA's mission includes rural economic development across its member area, which ranges from the Greater Tomball Area Chamber of Commerce to the city of Marlin, CETA Treasurer Tana Ross said. While the organization's heart is rural economic development, Ross said, CETA shifted its focus in 2019 from the I-45 corridor to the biomedical corridor following membership changes.
The biomedical field ranges from clean air and water solutions to personal care and vaccine development, McNally said. Tomball and the surrounding area is home to multiple biomedical businesses already, including DM Clinical Research.
"We've had 15 years of business in Tomball," said Elizabeth Hoff, executive director of business development and strategy for DM Clinic Research. "We are committed to growing our clinical operations within Tomball."
A booming industry
While Segment 2 of the Hwy. 249 project is still under development, the final stretch of the $486.4 million Segment 1 opened to drivers March 26 from FM 1488 to FM 1774 in Plantersville.
"I think one thing it's going to bring [is] the proper developments that we've been needing over in this part of the county," Montgomery County Precinct 2 Commissioner Charlie Riley said. "It just opens up this whole part of the county, and really it's going to change ... the whole appearance of Montgomery County with one road."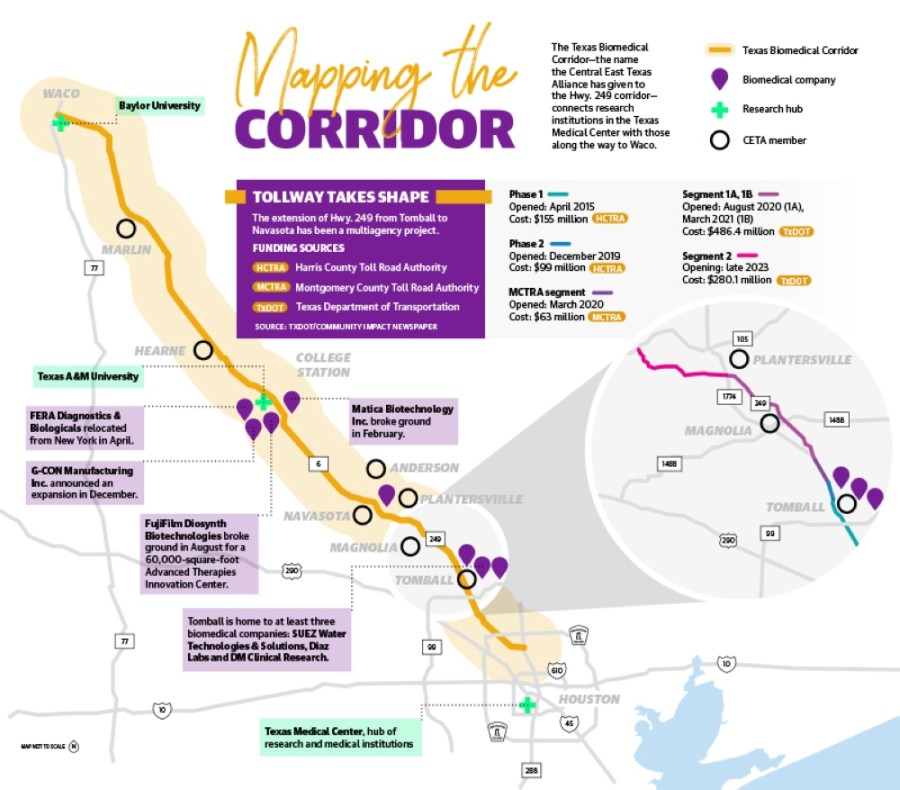 The improved mobility and available land paired with the Houston region's growth in the life sciences industry—in which the biomedical field is included—position the corridor well for biomedical companies, said Bruce Hillegeist, the president of the Tomball chamber and the CETA secretary.
"If you think about all the great things that have come from our Houston, it really is a ripple effect for us here," he said. "We like to think regionally because what's good for Waco is good for Tomball."
Susan Davenport, the chief economic development officer for the Greater Houston Partnership, said the GHP's 12-county reach has more than 1,750 life sciences companies, health care facilities and research institutes employing about 320,000 workers—a greater footprint than that of Houston's energy industry.
"[The Texas Medical Center] is an asset we all share," she said.
Further, Davenport said the GHP has identified about $735 million in potential life sciences projects it hopes to attract to Houston. The GHP projects about 6,000-7,000 jobs will be created in 2021 within Houston's health care and social services sector.
"We have the infrastructure in place for growth and then we have the talent to go along with that and the space," said Torrey Adams, the GHP's senior director of life sciences. "That gives the Houston region very much of a leg up in terms of being able to embrace growth in the life sciences arena."
Anne Tanabe, CEO of BioHouston—a Texas Medical Center-based nonprofit made up of research institutions and product development companies—said the medical center and the formation of the Cancer Prevention & Research Institute in Texas have caused Houston to become a natural incubator of life sciences.
According to its website, the CPRIT is a cancer research and prevention fund awarding grants for cancer research in Texas that voters created in 2007 as a $3 billion fund. Voters approved increasing the fund in November 2019 to a $6 million endeavor.
"I'd say the future is very bright for what we call life sciences in the Houston region," Tanabe said. "A program like [CPRIT] really doesn't exist anywhere else. ... Now you're starting to see [the] Houston region become a hub for biologics manufacturing. ... All of these manufacturing companies are helping to bring jobs as well and help bolster the overall community."
Attracting companies
Prior to the COVID-19 pandemic, the volunteer-run CETA had planned to attend trade shows and visit companies in person, McNally said.
"If we pool some resources, we can get the word out in a lot bigger way than all of us trying to do a little bit here and there," he said.
While COVID-19 stalled the CETA's efforts temporarily, Ross said, the organization has partnered with brokers, health care providers and a consultant to identify needs along the corridor, potential growth in biomedical and available spaces for companies.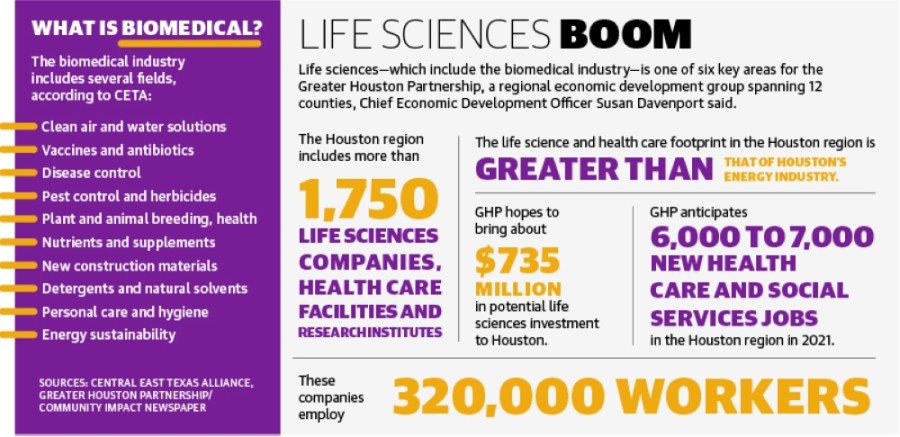 Ross said Magnolia identified small manufacturing and distribution as its biomedical concentration during an October 2019 CETA meeting.
While CETA officials hope to attract new biomedical companies, there are several already on the books. Hillegeist said there are at least three companies in Tomball, including SUEZ Water Technologies & Solutions, Diaz Labs and DM Clinical Research.
"Fifteen years ago, [our founder] thought, 'There are people within Tomball who don't necessarily want to drive to the Medical Center, and they should have early access to very meaningful therapeutic drugs and vaccines,'" Hoff said. "He strategically placed it."
Hoff said DM Clinical Research was awarded the Highly Commended Award at the World Vaccine Congress in early May for the best trial site. The firm has enrolled over 3,500 participants in its COVID-19 trials with about 50% coming from Tomball, she said.
To the east, The Woodlands-based VGXI, a manufacturer of plasmid DNA, broke ground in November in Conroe for a 240,000-square-foot production facility,
Community Impact Newspaper
reported.
To the north, Matica Biotechnology Inc., a company specializing in cell and gene therapies, broke ground in College Station in February, and FERA Diagnostics & Biologicals—an animal diagnostic and biological product company—relocated from New York to College Station in April, the companies announced.
Finishing the tollway
With thousands of homes and commercial development coming along Hwy. 249, Riley said the Montgomery County Toll Road Authority's 3-mile portion in Pinehurst is already outpacing projections. MCTRA has recorded nearly 12 million transactions since opening in March 2020—which includes months when stay-home orders were in effect, he said.
In comparison, a February 2018 traffic and revenue study by engineering firm CDM Smith estimated the roadway would see 4.4 million transactions in 2020 and more than 13.6 million transactions in 2030.
The Harris County Toll Road Authority shows the number of vehicles traveling along the tollway in Tomball increased more than 23% from fiscal years 2017-21, according to unofficial estimates.
Sam Yager—executive vice president of Sam Yager Inc., developer of the master-planned community Audubon taking shape at Hwy. 249 and FM 1488 in Magnolia—said the interest in Audubon has ramped up since the tollway's opening in March.
"I would certainly say there has been an incredible increase in interest in the project and really the entire corridor, both from the building community and the commercial community," he said.
Hwy. 249 construction is anticipated to culminate in late 2023 when the final $280.1 million segment opens from Plantersville to Navasota, according to the Texas Department of Transportation.
"Satellite communities around us have really come to life, ... so I think you're seeing sort of this synergistic event that is created around this incredible access and mobility that is connecting essentially College Station and the north part of Houston," Yager said.