Editor's note: The city of Tomball announced April 2 on its Facebook page that the annual Rails & Tails Mudbug Festival has been cancelled for May 2 amid precautionary measures to prevent the spread of the new coronavirus disease.
Scott Moore said his businesses in Old Town Tomball saw sales drop just one day into Harris County's restrictions on restaurants, which were implemented to slow the spread of the coronavirus. Moore is the co-owner of Tejas Chocolate and Barbecue, Tejas Burger Joint and Tejas To Go Market.
A Harris County order mandating all bars close and restaurants offer only takeout took effect March 17, followed by Gov. Greg Abbott's executive order effective March 20-April 3 mandating the same across the state.
"It's a serious deal that we're just trying to survive," Moore said in a March 17 interview. "If it's a prolonged period of time, people will have to cut their cost, and that will be staff; people will have to get laid off. ... I don't care if we make money during this time period; all I want to do is pay our bills and cover our payroll."
Citing nationwide effects of the coronavirus, the U.S. Department of Labor announced on March 26 jobless claims spiked to a record 3.28 million claims for the week ending March 21—an increase of 3 million from the previous week. Initial claims in Texas alone totaled more than 139,000, an increase of 862% from approximately 16,000 claims the previous week.
While many local restaurants remained open for takeout in Tomball and Magnolia as of publication, multiple restaurants and businesses deemed nonessential—such as salons, gyms and some retailers—had temporarily closed to comply with Harris and Montgomery counties' orders issued in late March urging nonessential businesses to close through April.
"This is a whole new challenge for small businesses. It's terrifying when you take the leap of faith to open a business and you worry of the many challenges," said Mark McKay, owner of Circus Strength Academy in Magnolia. "Never would I have thought I would need to stop serving my tribe due to a mandated shut down."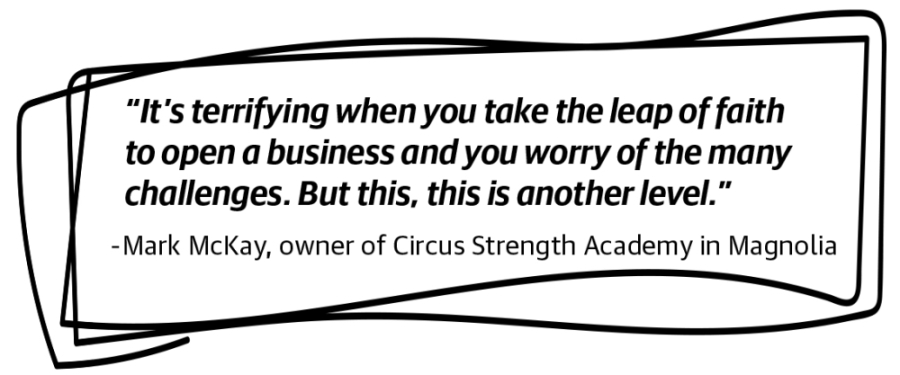 The first cases of the coronavirus were identified in Harris County on March 5 and in Montgomery County on March 10 with the counties and city of Houston surpassing 870 cases as of publication.
The pandemic has also caused school facilities to close, graduation ceremonies to be postponed and local nonprofits to see heightened needs.
"As a result of COVID-19, TOMAGWA is facing a sudden and unexpected shock as it serves our most vulnerable populations including the homeless, the working poor and the unemployed," said Timika Simmons, CEO of TOMAGWA HealthCare Ministries, a nonprofit serving the uninsured and low-income communities in Tomball, Magnolia and Waller, on March 18. "TOMAGWA is struggling to keep the community safe while protecting its staff and facilities; however, our calling will not allow us to quit."
Strained nonprofits
As TOMAGWA's patient services moved to telehealth and house calls through March 31, Simmons said substantial decreases in donations, volunteers and patient contributions as well as a scarcity of supplies had severely drained the organization's resources.
Leaders of Magnolia-based Society of Samaritans and Tomball Emergency Assistance Ministries said temporary closures of resale shops and few volunteers available also left the nonprofits with little resources amid growing community needs.
Additionally, TEAM's annual fundraiser March 20 that was canceled due to coronavirus measures was estimated to otherwise have raised 15% of the nonprofit's annual client assistance budget.
"[Resale revenue] go to paying all of our bills, pay for the facility, insurance, utilities, the few salaries that we pay. Of course, as those revenues have declined, that's going to be a challenge for us as well," TEAM Executive Director Barry Hart said March 18.
TEAM temporarily suspended its financial assistance services March 19 to focus on food assistance. SOS, too, has adapted to increased community needs amid school closures, layoffs and a senior population vulnerable to the coronavirus, Executive Director Shirley Jensen said.
SOS shifted its food pantry to a drive-thru setup where community members can come once a week, she said. According to the nonprofit's Facebook page March 24, SOS had helped more than 2,120 individuals in the previous seven days compared with its usual intake of 700 individuals in seven days.
"When we had to close the resale shop down, that's going to be a financial burden for the ministry because those funds are in turn used to purchase that food [from the food bank]," Assistant Director Becky Conner said March 18.
Schools pick up remotely
After extending their spring breaks, Tomball and Magnolia ISDs moved to remote learning March 23. Originally slated to be closed through April 10, Abbott issued an executive order March 31 in effect through April 30 that calls for schools to remain closed until May 4.
"As we get later and later the likelihood is challenging to bring kids back for two weeks, three weeks, whatever that might look like," TISD Superintendent Martha Salazar-Zamora said during a March 30 teleconference.
During the closure, MISD officials distributed 4,200 Chromebooks for students to temporarily use, Communications Director Denise Meyers said in an email.
Salazar-Zamora said March 30 the district would distribute about 650 devices to students without one.
During a March 23 teleconference, she said TISD's remote learning primarily involves students getting an assignment, working on a project independently offline and then discussing remotely instead of working in an interactive classroom setting.
Salazar-Zamora also said March 30 no grades were being taken until the third week of remote learning—and grading expectations had not yet been finalized—but staff is expected to monitor virtual attendance.
"We certainly are going to ensure that students aren't hurt in the process. We don't want this to be a hindrance as far as grading," she said March 23.
Although the state had not said as of press time whether makeup days will be needed, Abbott issued a proclamation March 16 waiving the State of Texas Assessments of Academic Readiness requirements for districts during the 2019-20 year. This means students in Tomball and Magnolia ISDs will not be taking STAAR tests this year, district officials said.
Additionally, graduation ceremonies have been delayed. TISD graduations will not be held May 30 at Texas A&M University's Reed Arena, as previously scheduled, Salazar-Zamora announced March 25.
"It might be the old-school traditional graduation at our stadium; it might be something different than what we've had, and it may be far later. But I'm not against even trying to do something as late as summer or end of summer depending on the timing," Salazar-Zamora said March 23.
Lone Star College System announced March 19 it had canceled graduation ceremonies previously scheduled for May as well and announced March 31 campuses will be closed until at least April 30 with remote courses resuming April 13.
MISD pushed its graduation ceremonies to May 30, the district announced March 26. Previously scheduled for Reed Arena, the ceremonies will now be held at the Cynthia Woods Mitchell Pavilion.
"Many [seniors] have spent years preparing for these opportunities and cannot get the time back. We are planning alternative ways to honor our seniors and their accomplishments, even though [they are] missing their activities," said Anita Hebert, MISD assistant superintendent for curriculum, in an email.
Businesses, cities take a hit
Prior to county restrictions limiting building occupancy and dine-in services, the Tomball and Magnolia area saw many events canceled, including the 20th annual Tomball German Heritage Festival. Slated to bring more than 70,000 people to Tomball, the festival was canceled March 11 as a precautionary measure, officials said.
Cancellations of Tomball's Honky Tonk Chili Challenge and Magnolia's inaugural Spring Fest followed.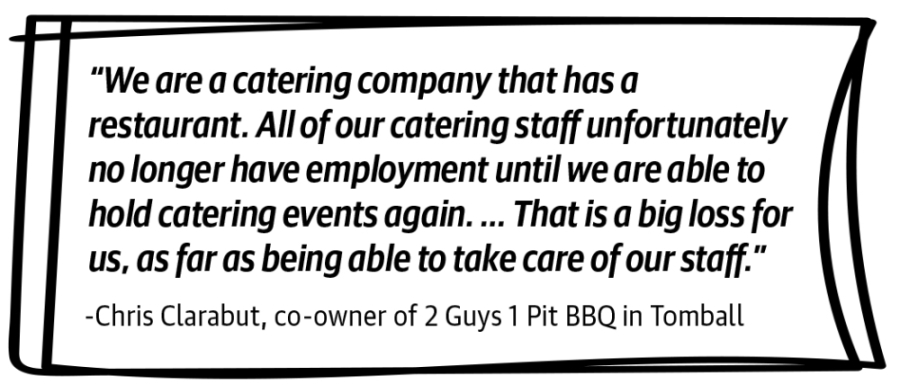 "[The German Festival is] a real generator of economic growth in the community. It leaves behind a lot of money outside of just the vendors along Market Street," said Mike Baxter, director of marketing and tourism for the city of Tomball. "Tourism in general has that trickle-down effect."
Baxter said the city would decide April 1—after press time—whether to hold the Rails & Tails Mudbug Festival on May 2 and decide June 1 whether to hold the July 4th celebration.
As of press time, the cities of Magnolia and Tomball are under local disaster declarations until April 15 and May 20, respectively, which primarily allows the cities to recover disaster-related expenses, city leaders said. The disaster declarations could be renewed at council members' discretion.
Tomball City Manager Rob Hauck said although the city has never battled a pandemic, the city has healthy budget reserves—about 50%-60% of its annual general fund expenses—and plans for unintended circumstances.
"There's a negative impact initially, but we will get past that. Anything that affects our city's businesses, our city's residents has the potential to affect us," he said. "We are a sales tax-dependent city, and I do expect to see some reduction in sales tax revenue. ... We are fortunate that we have very healthy reserves."
Magnolia Mayor Todd Kana said regardless of when restrictions are lifted on businesses and social gatherings, Magnolia will see long-term effects of the coronavirus outbreak.
"All retail suffers from the recommendation for people to stay at home. I fear the damage to some businesses could be permanent," he said in an email. "We will feel the [effect] of this for some time, even once the restrictions are removed. We as a city will do everything possible to help our businesses rebound from this. If you have the opportunity to support a local business, please do so."
Dylan Sherman contributed to this report.