After five years at Karbach Brewing Co. in Houston, Chris Juergen's dream to open a brewery is about to become a reality.
Juergen, a Tomball High School graduate, and his business partner Josh Schwaiger plan to open their brewery, Paradigm Brewing, at the Tomball Business and Technology Park in October or November, Juergen said.
Juergen is not the only craft beer brewer paving his own path, though.
Between 2013 and 2021, 55 breweries have opened in the Greater Houston area, a 344% increase, according to a study from NAI Partners, a commercial real estate firm in Texas.
In Tomball, Bearded Fox Brewing Co., located on Spring Cypress Road, sold its first keg in 2017, and Fire Ant Brewpub, located on Market Street, opened in 2018.
"The numbers tell the story," Juergen said. "More and more people are embracing craft [beer]."
Charles Vallhonrat, executive director of the Texas Craft Brewers Guild, said he credits the growth to state legislation passed in 2013, allowing brewpubs to double their production and sell directly to distributors and breweries to sell directly to retailers.
"2013 was a really big year for Texas," Vallhonrat said. "Now, suddenly I could get brewpub beer outside of a brewpub, so that became a very attractive model and license for a lot of new breweries."
Under Texas licensing laws, breweries can produce an unlimited amount of beer and can distribute across the country, while brewpubs are limited to 10,000 barrels of beer annually and need an additional permit to distribute out of state.
Despite multiple brewers describing the industry as collaborative, the Houston market may be approaching a tipping point, said Trevor Brown, owner of Lone Pint Brewery, the first brewery to open in the Magnolia and Tomball area in 2011.
"The more on the market, the better as far as for the consumer [because] they'll have more choices, but at some point, it's going to become saturated, which we may see right now," Brown said.
Legislative changes
Legislation passed in 2013—Senate bills 515-518—allowed brewpubs to double their production from 5,000 barrels to 10,000 barrels annually and sell their products directly to distributors. The package also allowed breweries to sell their brews for consumption on their premises, the bills read.
"It created the taproom culture that we have today, [and] it lowered the barrier of entry to the market," Vallhonrat said. "With the taproom model, I don't have to have as much infrastructure [to] still be able to sell a good volume of beer."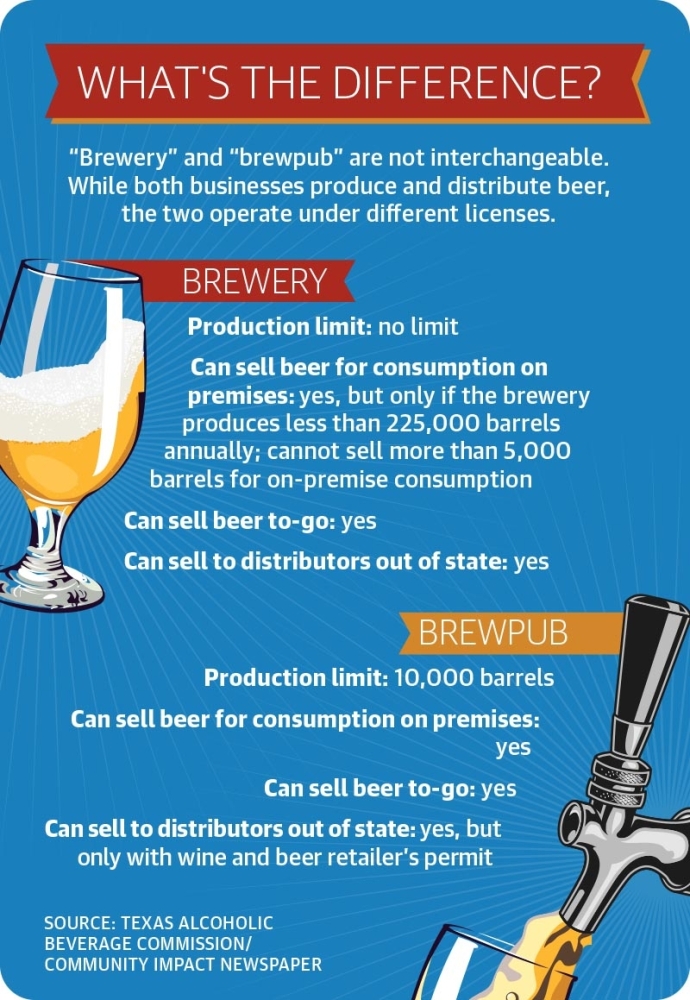 In 2019, the Texas Legislature passed House Bill 1525, which allows breweries to sell beer to go as opposed to only allowing customers to consume a brewery's beer on the premises.
"It was quite game changing," said Marcus Garcia, owner of Bearded Fox Brewing Co. "That really opened the door to getting more people [in] and more sales out."
Vallhonrat said he believes the 2019 beer-to-go law may have saved the brewery industry in Texas during the COVID-19 pandemic.
"Without that ability to sell beer to-go we would have seen [breweries] closed, and if brewpubs didn't have that we would have definitely seen them close as well," Vallhonrat said.
The Legislature continued to pass beer and brewery legislation in the 2021 regular session, including HB 1518, which will allow alcohol to be sold starting at 10 a.m. on Sundays instead of noon. The change takes effect Sept. 1.
Vallhonrat said legislation has not always been friendly to breweries, though. For example, a bill passed in 2013 requires breweries to give up their assets and brand value for free to work with a distributor, and a law passed in 2017 made it more difficult for larger breweries to run a taproom, Vallhonrat said.
"It's definitely a much friendlier space than it was six, eight, 10 years ago," Juergen said. "I think we still have a long way to go to continue to modernize our alcohol laws in the state."
Growth in the suburbs
The growth of the brewery scene in Houston has mirrored trends in other areas of the state, such as North Texas and Austin, Vallhonrat said. As rents are more affordable and there is less competition with other breweries, the brewery scene is growing in rural areas, Vallhonrat said.
Juergen and Schwaiger said they chose to open Paradigm Brewing in Tomball because of its uniqueness, and Juergen was born and raised in Tomball.
"We purposefully bought 5 acres of land to be able to have a nice outdoor area that we could do games and have families and have dogs," Schwaiger said. "There's nothing in the city of Houston or the surrounding areas that's quite like this."
Bruce Kissinger, who opened Fire Ant on Market Street in 2018, said he believes Old Town Tomball needed a brewpub given its German roots. He said he has been amazed by how many people enjoy his beer and continue coming back.
"People in Tomball have supported us since day one," Kissinger said.
In Magnolia, Sandy Barton, president of the Greater Magnolia Parkway Chamber of Commerce, said Lone Pint Brewery is actively involved in the community. She said the brewery also has made Magnolia a destination for craft beer fans.
"[Lone Pint Brewery] brings people from outside the community and brings awareness to our community," Barton said. "They bring a lot of people to our community who would never come out this way otherwise."
A crowded industry
Paradigm Brewing is anticipated to bring added revenue and jobs to Tomball once the brewery opens this fall. The brewery is expected to create 55 jobs and generate about $95 million in taxable sales from sales tax, employees and other sources over the next 10 years, said Kelly Violette, executive director of the Tomball Economic Development Corp.
"It'll be huge for Tomball not just having a production brewery, but also as another tourism-generating use in the community," Violette said. "Being a part of that [craft beer] scene and having our own unique character with that is going to have a tremendous impact."
Paradigm's location will include a 2,000-square-foot outdoor beer garden and a 2,800-square-foot restaurant, Juergen said. The 10,000-square-foot facility will produce 12-15 unique beers.
"We're not here to be this late-night bar, but we want to be a cornerstone in the community," Schwaiger said.
With NAI data showing 19 breweries planning to open in the Greater Houston area, Garcia said he believes the craft beer market is becoming crowded.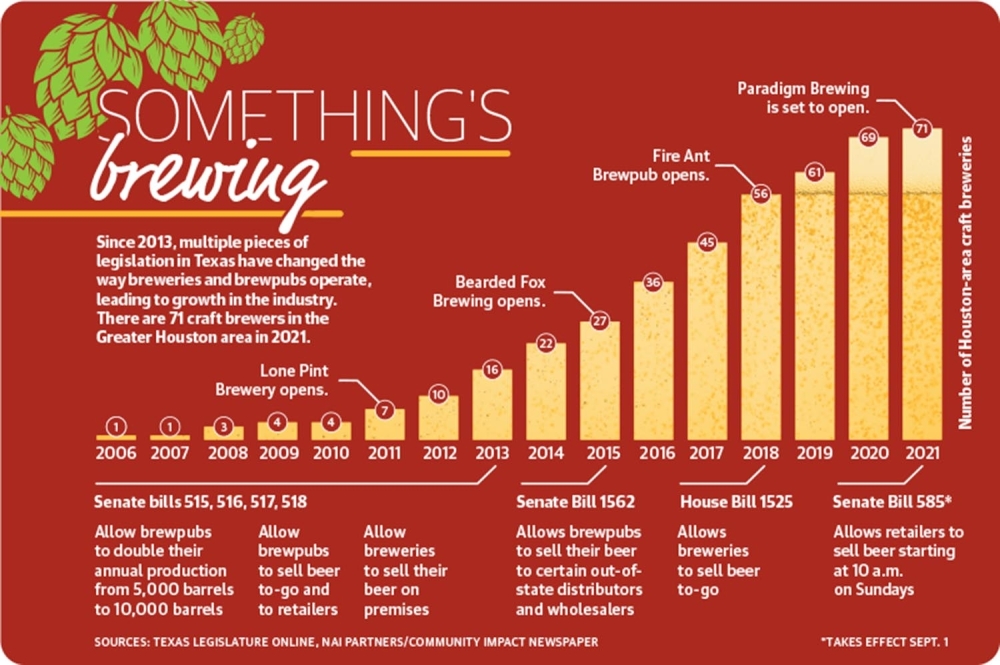 More beer on the market also means less space for each individual brewery to have their products in taps or on walls in bars, Brown said. He said he believes it will also become a challenge to work with distributors, as they will soon reach their limits on how many breweries they can work with.
"At some point all the distributors are going to have enough brands to where they don't want any more brands and all the bars just won't have room to put more than one of your beers on there," Brown said.
However, Kissinger said he believes more breweries and brewpubs make the industry better.
"It develops people's taste for [craft beer]," Kissinger said. "I don't think we could have too many [breweries] right now."