Señor Burrito Co., a food truck stationed in Tomball, is offering new hires $16 an hour—more than twice the state's minimum wage; yet, owners Miguel Camacho and Alejandra Perez-Camacho said they are struggling to find workers.
"[We will] schedule an interview, and [they] just never show up—and that's happened dozens of times. It's incredible," Camacho said. "We've gone up to offering $16 an hour. We are just a very small business; we're a food truck. ... We're still not able to find someone to fill those positions."
The husband and wife team said they employ three high school students. With few workers, they have had to choose between the food truck and providing catering service, Perez-Camacho said.
"We've had to turn down thousands and thousands of dollars of [catering] business just because we don't have the people to help us," Camacho said. "It's more than money to us. ... It's about the expectation our community has of us being open."
The food truck's situation mirrors other Tomball and Magnolia businesses as well as employers across the state and nation.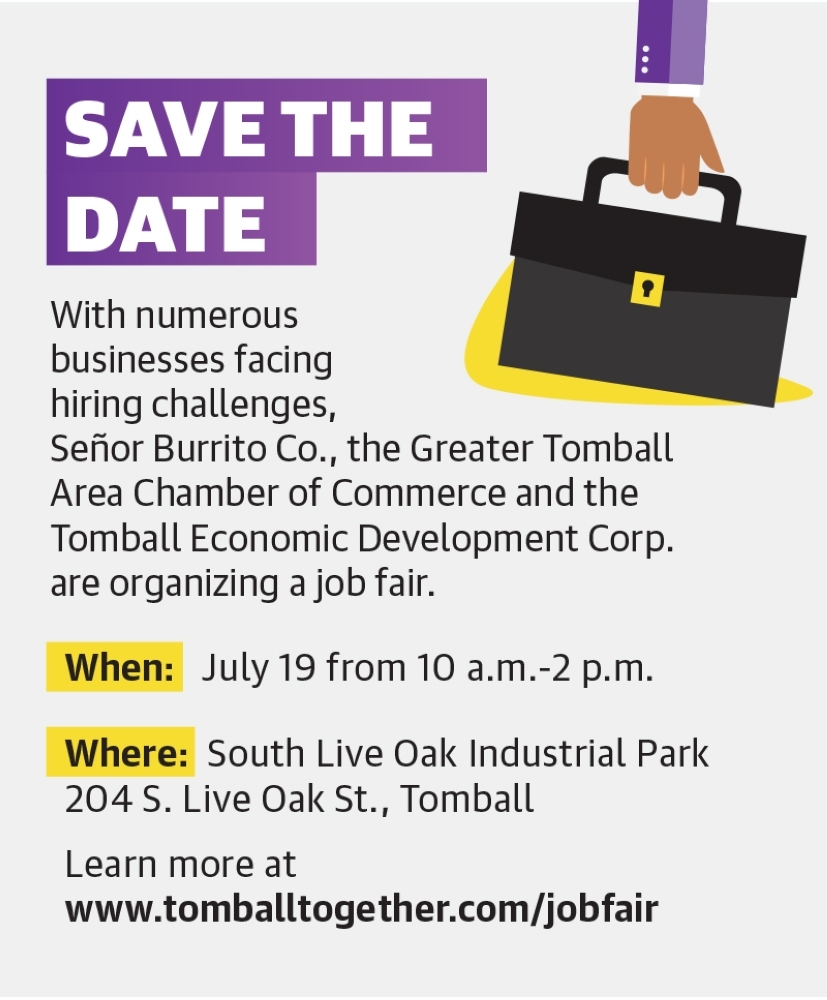 As of April, Texas' unemployment rate was 6.7%, compared to 3.5% in 2019, according to the U.S. Bureau of Labor Statistics. Unemployment rates in the Houston-The Woodlands-Sugar Land area were 7.1% in April and 3.4% in 2019.
As of June 23, there were 889,021 job openings in Texas, according to Work in Texas, a Texas Workforce Solutions website.
Many employers and economic leaders attributed the hiring situation to federal pandemic unemployment payments they claim incentivize individuals to not work—benefits that come to an end in Texas on June 26.
"I think that the benefits that were put in place, especially for those that didn't have a lot of stability in their job, almost incentivized people to stay home," said Kelly Violette, executive director of the Tomball Economic Development Corp., in June. "This month will be an eye opener."
However, others said pointing the blame at unemployment benefits is mischaracterizing unemployed Texans as lazy and unwilling to work. Jonathan Lewis, senior policy analyst with Every Texan, a nonprofit that advocates to improve equity in health care, education and jobs, said he believes factors such as child day care, low wages and a lack of jobs that match employees' skills can turn away potential job seekers.
"This characterization that workers are lazy is pretty damning," he said. "If it's just a $300 benefit that's holding people back from accepting a job, [it's] a pretty sad state of affairs."
Unemployment payouts
In March 2020, the federal Coronavirus Aid, Relief and Economic Security Act established the Pandemic Unemployment Assistance program, which temporarily expanded unemployment benefit eligibility and provided an additional $300 a week.
On May 17, Gov. Greg Abbott announced Texas will opt out of further federal unemployment payouts beginning June 26, after publication, citing an abundance of jobs as well as fraudulent unemployment claims.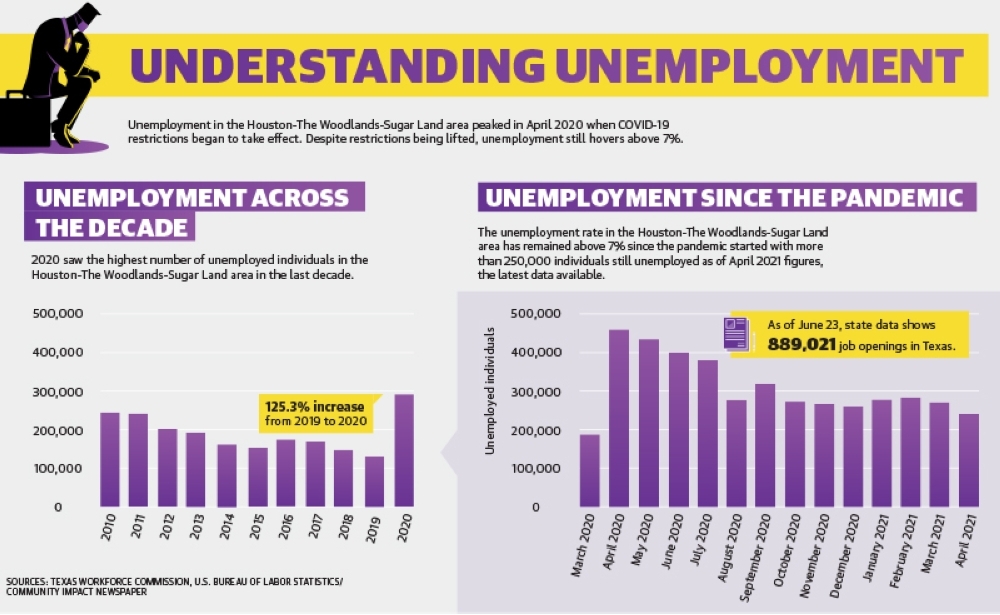 "I think when the extra unemployment funds [end] ... I think that will help," North Houston Association President Marlisa Briggs said. "Honestly, I think it's really just a bottom-line situation where it just makes sense as a worker that, 'Why would I go do this job if I can stay at home?'"
The unemployment assistance program temporarily expanded unemployment benefit eligibility and was available to claimants who lost their jobs because of the pandemic. To remain eligible, claimants must search for work according to the commission's guidelines, such as completing one to three work searches per week and applying for work. Montgomery and Harris counties require at least three searches to remain eligible.
Meanwhile, local business owners said they have upped wages with little result in attracting employees.
"My payment increased a lot from $9 to $15 per hour and not even with that, they don't want to work," said Felipe Gurrusquieta, owner of Los Arcos Mexican Restaurant in Tomball. "A lot of people [have] taken advantage of the benefits because they don't want to work."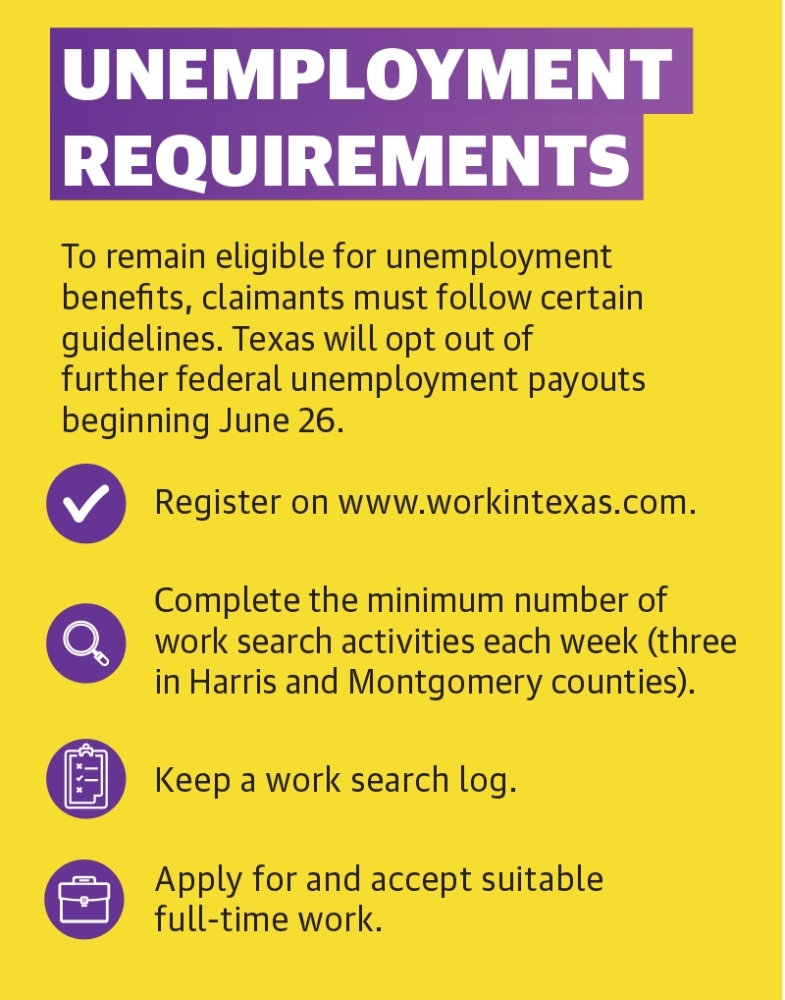 Turnkey Industries Sales Manager Dan Belore said the Magnolia-based company, which designs and manufactures custom trailers for oil fields, motorsports and government use, has had to increase shift lengths to 12 hours each to adapt. He said the company can usually fulfill orders in 10 to 12 weeks but is booked through the end of the year.
"I guess I don't know a business that's not hiring," he said. "We've experienced quite a surge in sales, and things are good business wise, but we don't have enough people to build the stuff we've got sold."
Opting out
In his statement about opting out of the unemployment assistance program, Abbott said the state should help unemployed Texans get jobs rather than paying unemployment benefits.
According to the Texas Workforce Commission, there were nearly 60% more jobs open in Texas in May than there were in February 2020, the month before the pandemic hit Texas.
"The Texas economy is booming, and employers are hiring," Abbott said May 17. "The number of job openings in Texas is almost identical to the number of Texans who are receiving unemployment benefits.
However, Lewis likened cutting off federal benefits to "shooting yourself in the foot."
"It doesn't serve the Texas economy to force people into lower-paying jobs than what they were earning before," he said.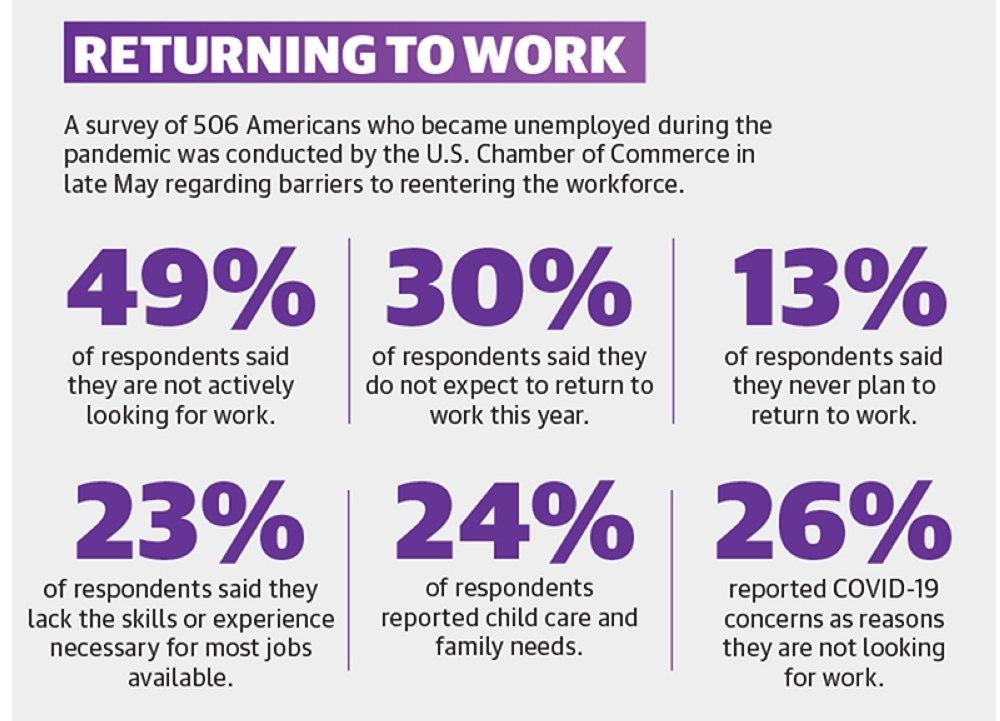 Lewis said a lack of affordable child care and matching skill sets as well as inadequate wages are all barriers to entering the workforce. Texas' minimum wage has remained at $7.25 since at least 2010 despite the national average growing from $7.41 to $9.21, according to the Labor Law Center.
Sandy Barton, president of the Greater Magnolia Parkway Chamber of Commerce, said finding child care in Magnolia has been a challenge for residents, following a wave of closures stemming from the pandemic.
"The cost of day care has increased so much that a lot of these people cannot afford to put two children in day care and go to work. That's going to cause a real strain on the growth of our economy," Barton said. "I think that all of us as small business employers are going to be challenged to find new ways to engage, attract and retain employees into the future. ... While I understand that some people who will lose the additional federal subsidy ... are going to be hard hit, ... we need those workers in the workforce in order to keep our small businesses running."
Brooke Ontiveros contributed to this report.