Established in October 1940, Tomball's
Veterans of Foreign Wars Post 2427
has hit hard times, having been forced to shutter in July after the state required all bars to close amid the coronavirus pandemic.
Because more than 50% of the post's revenue comes from its sale of alcohol, its license with the Texas Alcoholic Beverage Commission classifies the organization as a bar, said Stephen Biehl, commander of the Texas VFW District 4, which includes the Tomball post on Alice Road.
"The fact that we are treated as a bar is hurting the mission of the VFW," Biehl said Sept. 17. "We are a canteen in our post home. We're not a bar, and having us classified as that prevents us from accomplishing these other vital services that we provide to the community."
With these closures creating a roadblock to the post's main sources of revenue, the post is now in danger of being closed permanently.
On Oct. 7, Governor Greg Abbott announced Texas bars may reopen at 50% capacity in qualifying counties; however, county officials have to opt in. Harris County Judge Lina Hidalgo released a statement that same day stating her intention to keep bars closed.
"The data guiding county decision-making tells us we are doing much better than we were a few months ago, but we are still at the highest level," Hidalgo said in a statement. "Indoor, maskless gatherings should not be taking place right now, and this applies to bars, as well."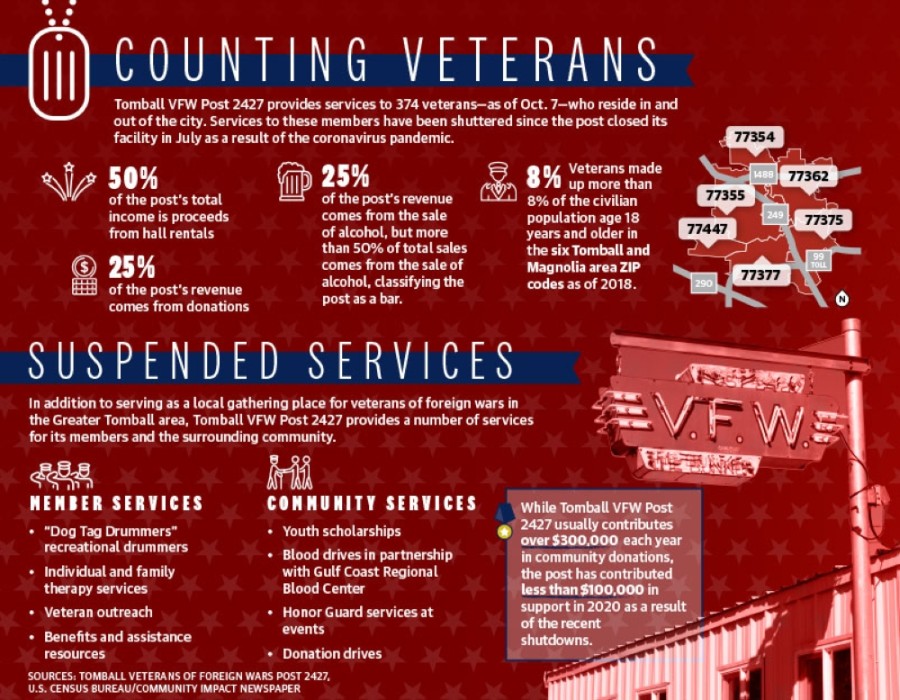 As a result, Quartermaster Fred Kelly said Oct. 15 the Tomball post is about 120 days away from having to close permanently. Meanwhile, state-level VFW representatives said in an Oct. 7 press release they hope to see the bar classification of VFW posts changed in the upcoming legislative session to prevent a similar situation from occurring in the future.
"By classifying the close to 300 VFW posts [in Texas] as bars, the state of Texas put our vital veterans' organizations at risk of permanent closure due to a loss of revenue," said Dan West, Texas' VFW state adjutant and quartermaster, in the release.
Shuttered services
Bars and other businesses were first closed in late March after Abbott restricted social gatherings to slow the spread of the coronavirus. In May, Abbott began to reopen Texas by allowing bars to open and operate at 25% capacity. However, in late June, the governor again ordered bars to shut down as coronavirus cases rose.
Many VFW posts have since been subject to financial strain as a result of the closures, West said in an Oct. 5 interview.
"We still have bills to pay, and we haven't had the income from those bills, and a lot of our posts have depleted their savings," West said. "Day by day, I get more and more calls from VFW posts that have said, 'Hey, I've gone six months now; I can't go any further.'"
Services geared toward veterans also came to a pause for many VFWs across the state. For Tomball VFW Post 2427, services such as the "Dog Tag Drummers" recreational drummers circle as well as individual and family therapy services, which Biehl said many of the post's members take advantage of, have stopped since the summer.
Leo Scott, an 84-year-old lifetime member and former quartermaster of VFW Post 2427, said these services are essential for veterans.
"It's our home, and when they shut down our home, it puts us out on the street, and we can't do these things anymore," Scott said. "I cannot picture Tomball without a VFW."
Despite slow membership growth in recent years, Kelly said the Tomball post attracts members within a 100-mile radius. According to 2018 5-year estimates from the U.S. Census Bureau, almost 9,000 veterans reside in ZIP codes 77354, 77355, 77362, 77375 and 77377 in Tomball and Magnolia.
In addition to being a service provider and place of refuge for the community's veterans, Biehl said, the organization supports the surrounding community through programs such as youth scholarships.
"VFW posts are a multiuse facility; they're just not a place to go purchase alcohol at," West said. "They're an integral part of the community; they provide a lot of community service, a lot of community support. And part of how they keep the finances—to keep the lights on, they'll have a [bar]."
Biehl said the post usually contributes over $300,000 in community donations annually, but this year the post is under $100,000 in contributions.
According to Bruce Hillegeist, president of the Greater Tomball Area Chamber of Commerce, the post has served as a gathering place for not only veterans, but for the community as a whole over its many years in Tomball.
"I can remember as a child the VFW [Post 2427] was really the place to go," Hillegeist said. "They had barbecues; they were the center of the community. It was where families gathered."
Hitting hard times
According to Kelly, the post has found itself in a tight spot following a slew of event cancellations since closing. Kelly said events that would normally bring revenue to the organization, from fundraisers to weddings, have been canceled.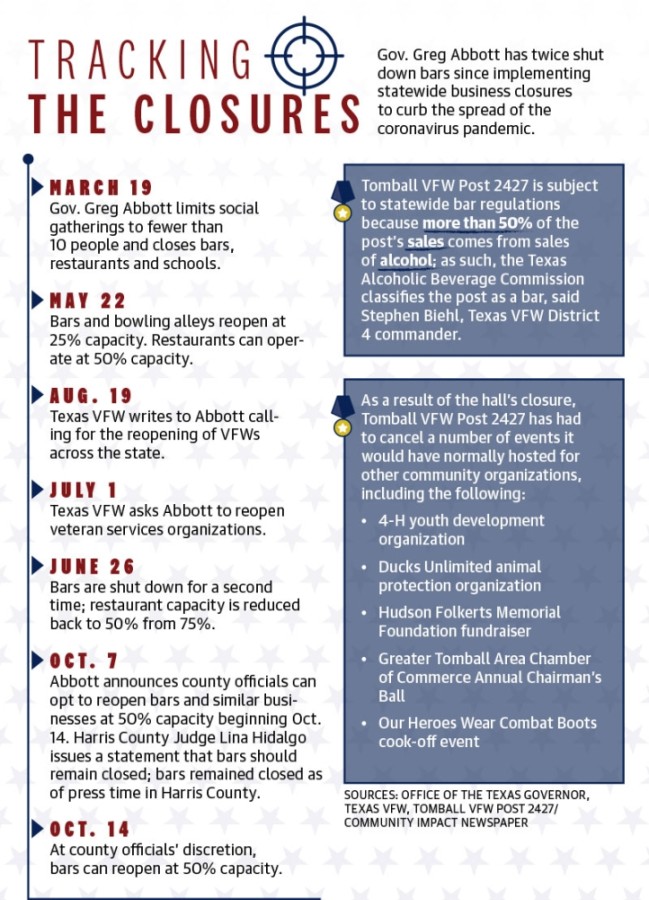 "We haven't had any entertainment [events]—no bands, dances, anything—because we're essentially dead in the water," Kelly said Sept. 17.
Although over 50% of sales come from alcohol, classifying the post as a bar, Kelly said the post's total revenue has been particularly affected by the closures, as the majority of income typically comes from proceeds from hall rentals and donations.
Post 2427 Commander Sean Ellis said the post has had to tap into its savings to manage monthly expenses and maintain the facility.
"We're really trying to look at the community and say, 'If you have your opportunity to make a donation, we will definitely take it at this point,'" Ellis said Sept. 17.
West said current options available to closed posts are to either suspend, surrender or convert their TABC licenses to sell alcohol; however, surrendering their licenses might cause issues down the road when reapplying for the license.
According to Biehl, suspending Post 2427's license to sell alcohol could further put the post into financial strain.
"The problem is that our fundraisers that we hold— ... dances, any hall rentals for wedding receptions, that sort of thing—nobody's really interested in renting the facility dry, frankly," Biehl said. "We don't make any money off of our ticket sales when we host a dance. Any money that the post makes comes from the sale of beer at that dance."
Another option available to the post would be to convert its TABC alcohol license to be classified as a restaurant; however, that would come at a minimum cost of almost $800, which Biehl said the post cannot pay at this time.
"If we're already looking at maybe being able to make it to the end of the year just paying our bills, where am I going to come up with $11,000 to convert my kitchen to make it into a restaurant so that I can reopen?" he said.
Rallying together
Tomball VFW Post 2427 celebrated its 80th anniversary in October.
"We've become a cornerstone of the community," Biehl said. "This building has been here since 1973. The post has been here since 1940. We're a piece of Tomball [and] the Tomball area."
Despite the temporary closure of its facility, the post has continued to serve the community with blood drives and as honor guards to local ceremonies, according to Hillegeist.
"Until restrictions are lifted, ... the types of events and the number of events that we could host, that would even be interested in coming to us to be hosted are going to be diminished as well," Biehl said Sept. 17.
Biehl said he believes hall rentals for events put on by the public will be the most effective way to get the post back on its feet should it be able to reopen. In addition to collecting donations to try to stay afloat, the post has participated in joint fundraising events with other community organizations, such as the Tomball Rotary Club.
Biehl said he hopes to see changes to how veterans services organizations such as the VFW are classified in future legislative sessions.
"Our stance hasn't changed, because regardless of whether the governor has permitted the opening of bars or not, ... it still doesn't change the fact that he's classified our veteran service organization as bars, and we're not bars," he said.