Bridget Gould started Terrarium, a store selling unique indoor and patio plants, in February 2019, wanting to bring something different to the Tomball area, she said.
"I think plants are trending in home decor," she said. "I've always loved plants and spent a lot of time in my flower beds and home garden."
Gould said that prior to opening the store, she had been diagnosed with cancer, and plants became her aftercare therapy.
"I spent a lot of time collecting interesting varieties and working on my greenhouse," she said. "That is when it really hit me, and I felt that would be a great business to bring to this area."
Gould said Terrarium focuses on offering indoor plants, while many other stores sell the outdoor varieties.
"We wanted to specialize in things that you don't find everywhere," she said. "There are a lot of people nowadays that collect a range of plants, or they may pick a particular type and want to get every look, color, shape and size."
To make sure there is something new every week, Gould said she imports plants from out of the country to keep the supply interesting.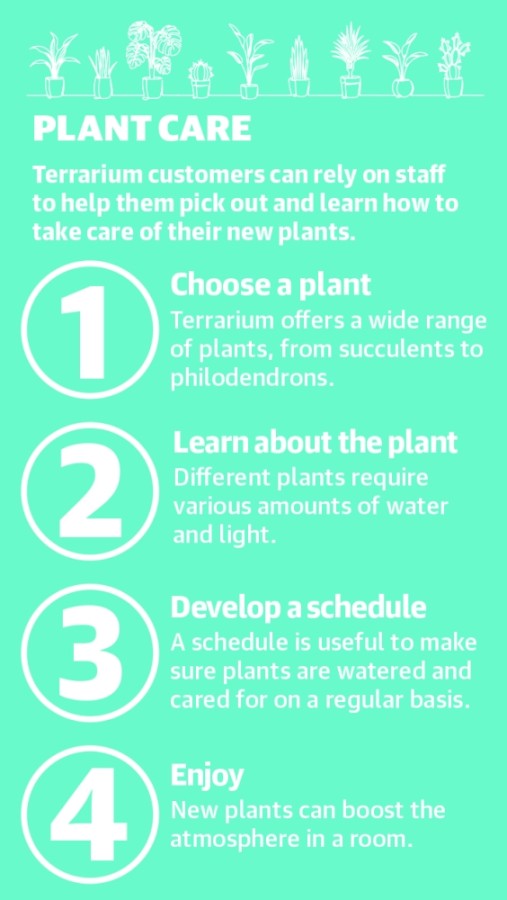 Gould said most of Terrarium's business comes from word of mouth.
"We have a great community of people that like to come in on a regular basis," she said. "I've come to find down here in Tomball that everyone is very supportive of other businesses."
Community support has been important for Terrarium since the coronavirus pandemic forced the business to change how it operates, Gould said.
"It was a new experience going through the whole—'How do we handle allowing people to come pick things up and not have contact with anybody?'" she said.
Gould started an online store for Terrarium and added curbside pickup so the business could continue to operate during the pandemic. She said she also had to suspend the Terrarium Bar—a build-your-own terrarium activity at the store—as it involves multiple people in a small space and people touching various containers.
However, Gould said the Terrarium Bar will resume when health and safety guidelines allow the store to accommodate more people.
As more people are working from home during the pandemic, Gould said she has seen business increase.
"People are looking for things, especially with COVID[-19], to help keep their homes interesting and feel happy," she said.