Fall is usually a busy time for Tomball and Magnolia, with festivals bringing in thousands of guests, but limits on outdoor gatherings this year due to the coronavirus pandemic have changed the scene.
Tomball's festival season came to a halt in March, and the Texas Renaissance Festival, just north of Magnolia, has limited attendance and implemented other measures, including social distancing and face covering requirements.
Without festivals to bring in new customers, business owners in Old Town Tomball are working together to stay afloat.
"The festivals are wonderful for business in Old Town Tomball. They bring so much foot traffic to the community," said Brooke Manning, owner of The Craft Chicks on Market Street. "We'll get people from Houston, Spring, Kingwood, Humble—so we get an influx of people in to see what's going on in our community. ... They come back again and again with their friends and their family, and so, there's a little breakdown by that not happening by canceling all the festivals."
The city of Tomball saw sales tax collections decrease by 7.19% year over year from March through July—allocated in May through September—according to monthly data from the Texas Comptroller of Public Accounts.
As of publication, all city-organized festivals—excluding the Tomball German Fest Christmas Market and the Tomball Holiday Parade, which are put on by the Tomball Sister City Organization and Greater Tomball Area Chamber of Commerce, respectively—have been canceled through year's end. A decision regarding the Christmas market and the parade will be made Oct. 1, according to information from festival entities.
"From the very start, these festivals were created initially to just be a marketing tool to bring people to Tomball who may never have been here before so they'll see the really great things that we have here in town," said Mike Baxter, Tomball director of marketing and tourism. "And maybe they won't spend money in town on that particular weekend, but they'll make a point to come back at a later time."
Planning festivals
City data shows Tomball's signature festivals have attracted an average of 59,000 total attendees each year since 2015, and the Texas Renaissance Festival alone attracts more than 400,000 patrons each fall,
Community Impact Newspaper
previously reported.
As a precaution, in March, Tomball canceled its annual Honky Tonk Chili Challenge as well as the Tomball German Heritage Festival, which attracts thousands of people in one weekend. The city's July 4 fireworks were held in a drive-in format, but an Aug. 14 announcement canceled all eight city events remaining in 2020, including GroovFest, Zomball in Tomball, the Freight Train Food Truck Festival and the city Christmas tree lighting.
As reasons for the season cancellation, the release cited the ongoing threat of COVID-19 and the uncertainty as to when Harris County officials will lift guidelines limiting large gatherings. Additionally, Baxter said booking entertainment, vendors, tables and chairs requires planning to hold the festivals well in advance.
According to Harris County's reopening strategy, all indoor and outdoor gatherings are not to be held while the county is at Level 1 risk status for COVID-19 transmission—the most severe status. As of press time, the county remained at Level 1, where it has been since June 26.
"We just had to make the decision that was best for the city and for those who would have attended the event, and it's based on things like the uncertainty of what Harris County is going to mandate," Baxter said.
However, just a few miles north, some festivals outside Harris County were still slated to continue on schedule this fall as of press time—including Magnolia's Stroll Thru the Renaissance, the Texas Renaissance Festival, the Conroe Cajun Catfish Festival, and the Greater Magnolia Parkway Chamber of Commerce's Parade of Lights.
"If we were 3 miles north of here, then we could be putting these festivals on this fall. But the uncertainty of the whole thing, not knowing how long these limitations on groups of more than 10 and things—that's a big element in this," Baxter said.
Festivals adapt
While the city may not hold its usual festivals this year, Baxter said some events—including the Tomball Bluegrass Festival, Depot Day and the tree lighting—may be still put on virtually. GroovFest was displayed as a livestreamed concert in September.
Additionally, Baxter has created short history videos online and has plans to enhance the city's radio programming on 95.3 FM, including airing festival performers, he said.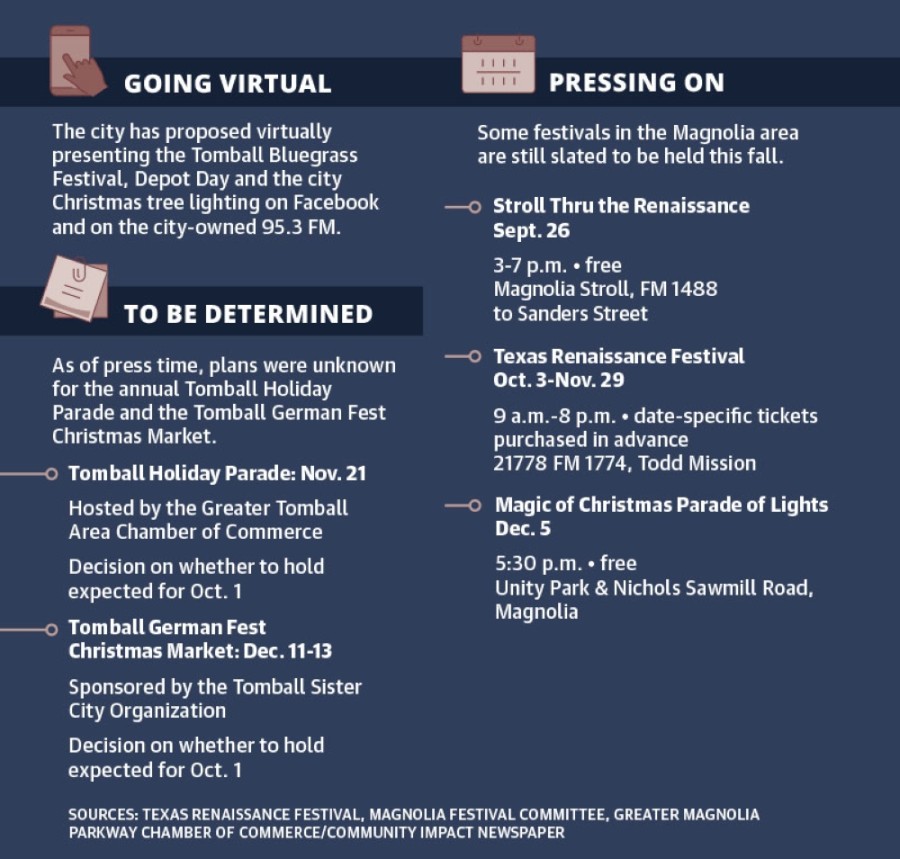 "It's giving us new direction that we can pursue that, in the past, we really didn't have time for, because we're so concentrated on promoting festivals and events and then promoting Tomball as a community," he said. "Now, we're concentrating more on Tomball as the community."
Should restrictions be lifted in time, Baxter said the city's tree lighting could be held in person in November.
Although festivals were postponed this spring in Magnolia, the GMPCC's Parade of Lights is set for Dec. 5, with masks and social distancing encouraged, President Sandy Barton said.
"Our community is eager to move forward with business and reconnecting, understanding the need to be safe," she said in an email. "We have been very fortunate that our members and community recognize the need to be safe, and when we gather, we feel we are doing that safely within guidelines."
Further, the Texas Renaissance Festival is gearing up for its 46th season with face masks, mask break areas, date-specific tickets, no at-gate general admission tickets and attendance monitoring via newly installed electronic people counters. Daily attendance will be limited to 22,500 guests, according to festival information.
"That the Texas Renaissance Festival would be open is huge to us," said John Ashley, president of Ashley Nostalgia, an old-time photo and costume company and a TRF vendor. "I'm not sure that I can say that we would be put out of business, but it would certainly get us much closer to [closing] if we didn't have something like TRF opening where we can at least get a little trickle of cash-flow in."
Businesses face challenges
In support, TRF officials allowed vendors to opt out this season and forward their contracts to 2021, Vendor Manager Jennifer Pierce said. About 15% of the 400-plus vendors did so.
"It was just an option that TRF felt needed to be given, especially considering the circumstances are certainly different this season," she said.
While festivals may not happen this fall, Baxter said the upside is that the nearly yearlong cancellation comes nine years into Tomball's festival program, which launched in 2012.
"The impact would have been a lot greater eight or nine years ago if this happened," he said. "[New] people may not be coming up here this year, but ones who already know—which is a substantial number of people—will still be shopping here."
•Michael Pierce, co-owner of Cloud Chief & Co. on West Main Street, said he enjoys the festivals and the exposure they give businesses. However, he said he expects business traffic to remain steady or even increase without festivals, which he believes pull customers away from Main Street.
"Actually, the festival nights are our slowest business nights—the festivals of any kind hurt our business," he said.
Business owners on Market Street, which abuts the festival area, said events broaden their customer base.
"We love our regulars, but we're always looking for the new folks to come ... and see what we have to offer," said Jay Stone, head chef of Fire Ant Brewpub on Market Street.
A
study
of major businesses in the Greater Tomball area by The Retail Coach showed that monthly visits dropped by as much as 83% for some sectors from the first quarter of 2019 to the first quarter of 2020.
As the business community diversifies in Old Town, Candice Gold—owner of Wildflower Bridal, which held a soft opening Sept. 10 on West Main Street—said she believes more guests will organically find their way. As the owner of the city's only bridal shop, she said she hopes to promote neighboring businesses, such as catering, beauty and floral services.
"I am sad we're not going to see what it's like to go through true festivals and German [Festival] and everything else, but there's always next year," she said.
By working together to draw customers and promote other's products, Manning said she believes businesses will endure.
"I do think that Old Town Tomball is still going to thrive. The businesses down there—we have really worked together," she said.
Adriana Rezal contributed to this report.