Various people gathered at organized peaceful protests in The Woodlands on June 3 and 4 to bring awareness to racial injustice following the death of George Floyd. Floyd died while in the custody of the Minneapolis Police Department on May 25.
The first protest, organized by Hailey Rodee, the founder of youth society For A New Tomorrow and a student at The Woodlands High School, took place at the North Shore Bridge, located at 2505 Lake Woodlands Drive.
"Even in The Woodlands, we hear you, we see you, and we love you," Rodee said. "People are here to support you in The Woodlands and suburbs around the nation like ours. This is an issue we need to deal with as a country, and I am proud to deal with as a young person who is grateful to grow up in a nation like the United States and have it be changeable by people like myself."
Rodee said she was in contact with the Montgomery County Sheriff's Office prior to the protest. She said the department was cordial to protestors and that they said they would not intervene unless things got out of hand.
Despite inclement weather, protestors at the June 3 event marched back and forth across the North Shore Bridge to distance themselves from surrounding businesses and maintain the structure of the procession.
Various demonstrators at the march said they hoped to bring attention to various issues surrounding race and inequality in The Woodlands area. Avery Robertson and Allyson Brandenburg braved pouring rain at the intersection of Lakeside Boulevard and Lake Woodlands Drive. They said they attended the event to bring attention to the voices of the area's black community and to unite residents.
"I came to try to make a point—get it across—because The Woodlands is a very bubbled area, and so we don't really stand up for anything. We all just kind of push it aside," Robertson said. "This is a very white-ish community. We still need to be representing the black community in this and not be pushing them down."
Brandenburg said she was focused on accountability and solidarity.
"I want to see accountability in our law enforcement; I want to see accountability in our community leaders [and] accountability in our community as a group because I think it's very singular, and I think we're not very united in that way. I think there could be more unison," she said. "We all bleed the same blood, we all come from the same place, and we're here to support our brothers and sisters."
Alex Gomez, a protestor marching along the Lake Woodlands Drive bridge, said he hoped the march could bring attention to those who have been killed by law enforcement or are unjustly incarcerated.
"We need to address certain inherent biases that we have in the judicial system. I feel like it's ridiculous that this many lives are being lost to the police [and] mass incarceration. I feel like it's just been too many people that we've been losing," he said. "It's not just a question of black, white, Latino—it does not matter. It just matters that we're losing people and just for seemingly no reason. I'm hoping [for] new laws and different allocation of funding."
A group of mostly young demonstrators also gathered in The Woodlands on June 4, holding various signs and chanting at passing cars from Town Green Park on Lake Robbins Drive. Organizer Oponello Irving, a 2019 graduate of Oak Ridge High School, said the idea for the event spread across students at several area schools and was inspired by the racism she said she and her friends have seen through their educations.
"I put it together, especially in this area, because white silence equals violence. ... It's not happening in their faces, especially around here, but if we all start to protest, then they'll understand that this is a serious problem in our community," Irving said. "[In] high schools around this area, there are children who are being bullied daily based on their race and stuff like that, so I just want to wake up the community."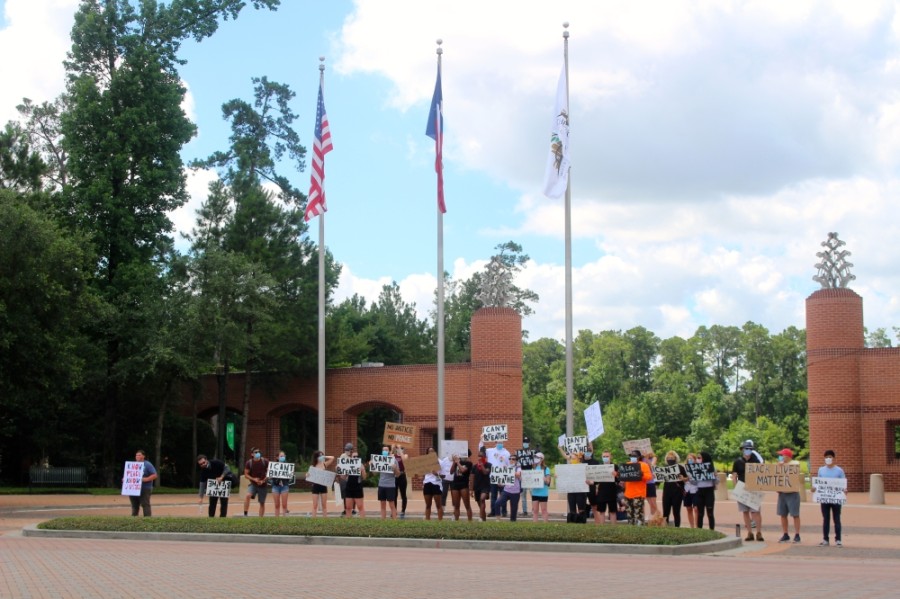 Irving said she hopes her demonstration and others in the area can inspire students and their parents to candidly address the issue.
"There's going to be a lot of eyes opening, and I hope that parents talk to their children and ask them, 'Is this happening in your school? Are there people who are bullying other people based on the color of their skin?' [I hope parents] call them out and [say], 'I hope you're not doing this. I hope you're not part of the problem,'" Irving said. "I hope that parents wake up and realize that it's not over yet. Racism still exists, and protest by protest, we're getting there—closer and closer."