As the health care industry around The Woodlands continues to grow as the largest source of nonretail employment in the region, area hospitals are looking to fill positions created as they expand.
However, hospital officials have noted there are issues of burnout among nursing staff caused by the coronavirus pandemic. Hospitals are attempting to come up with ways to help and retain their staff.
Area hospitals are also attempting to fill positions created by a nursing shortage that began before the pandemic.
According to projections from the Texas Department of State Health Services, the demand for registered nurses in the Gulf Coast region could increase over the next 10 years. The most recent nursing trend data from 2019 indicates around 97,833 registered nurses will be in demand by 2032, but only 76,426 will be available.
The pandemic has increased stress within the profession, said Ellen Pitcher, vice president of patient care services for CHI St. Luke's The Woodlands Hospital.
"Last year the World Health Organization dedicated the Year of the Nurse, and [we] were so excited ... [but] we decided we never want another one."
Addressing burnout
Pitcher said one cause of burnout for nurses throughout the pandemic has been a fear of the unknown.
"There was so much in the media, so much coming out of the [Centers for Disease Control and Prevention] that ... we had to manage—the fear of getting sick and who was going to take care of the patients and the fear of taking the virus home to our family," Pitcher said.
Despite wellness initiatives, Pitcher said there are nurses across the industry that have been experiencing post-traumatic stress disorder.
"We still have nurses who have PTSD; we have some who have left ... critical care nurses saying they cannot do it anymore," Pitcher said.
American Medical Association President Susan Bailey said the coronavirus pandemic exacerbated the ongoing shortage of nurses and doctors. Bailey said around 4,000 health care workers have died from COVID-19.
As many as 8%-9% of private practices might close as a result of the pandemic, she said.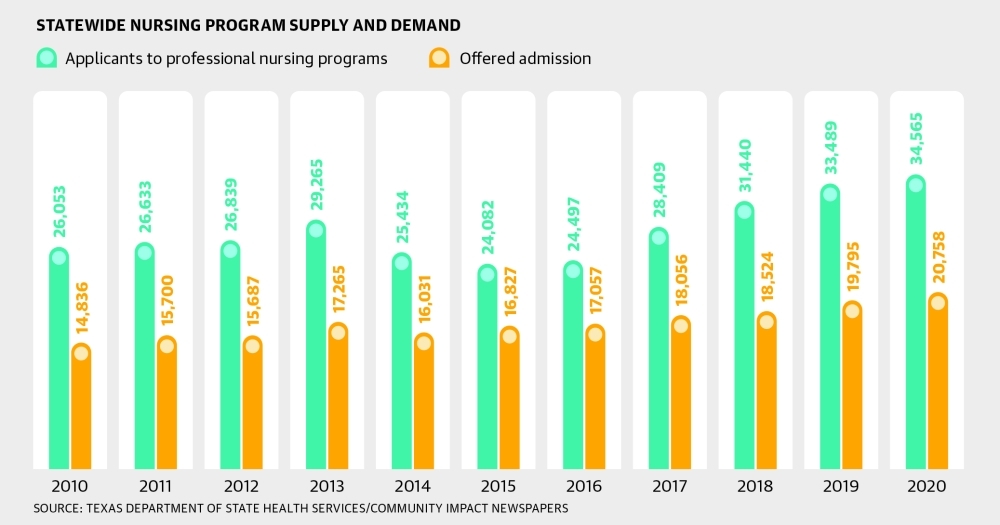 Kerrie Guerrero, chief nursing officer for Houston Methodist The Woodlands Hospital, said Houston Methodist is looking to bring a better life balance for its staff with measures such as opening a day care on property for its staff.
Meanwhile, Justin Kendrick, senior vice president and CEO of Memorial Hermann The Woodlands Medical Center, said the hospital offered several initiatives throughout the pandemic to aid employee retention.
"We have offered multiple COVID[-19] relief payments to employees, pay protection. We have instituted and given a mental health day to every single employee to use to recharge themselves," Kendrick said.
Expanding amid shortages
The health care industry made up around 28% of nonretail jobs among employers with 100 or more employees in The Woodlands area in 2020, according to The Woodlands Area Economic Development Partnership. With growth continuing, area hospitals are expanding and trying to bring in more staff.
Both Memorial Hermann and Houston Methodist are adding new towers to their respective properties in The Woodlands, which will bring a total of around 260 new beds for patients as well as more jobs. According to Guerrero, the new tower under construction at Houston Methodist will add around 300 jobs when it opens in January 2022."We are growing to meet the needs of the community," Guerrero said. "For the last year ... it has been challenging coming through the pandemic on top of an exciting time when we are expanding."
Kendrick said Memorial Hermann's new south tower will begin to open this December with the remainder opening completely by May 2022. The new tower is the result of five years of planning, he said.

"The pandemic might have thrown a wrench into things, ... but it doesn't change the overall trajectory," Kendrick said. "We are grateful we live in a community that is so economically diverse we can even, despite a pandemic ... still be in a community and a region that has tremendous upward trajectory."
However, a struggle the industry is facing as a whole is a nursing shortage, which Guerrero said has persisted nationwide for years now.
"Some of it is clinical resources. Within the nursing schools, they have to have teaching-to-student ratios, so they cannot just accept 500 nursing students," Guerrero said.
Kendrick said Memorial Hermann has been trying a multipronged approach to address nursing shortages by partnering with learning institutions such as the Lone Star College System to create a direct connection between students and employers.
"We take nurses in their first jobs and have a detailed ... program where we partner them with more experienced nurses," Kendrick said.
Education ties
To help address the shortage of nurses, area educators are accepting as many qualifying medical students as they have room for.
Bailey said applications to medical and nursing schools are at an all-time high, but the major bottleneck comes from residency training.
"When you do your three years to become a family physician or five years to become an obstetrician gynecologist—there aren't enough of those spots to go around," Bailey said. "One of the reasons is that Medicare has a cap on the number of residencies it will subsidize. That cap has been the same for years, while the number of medical students and the number of patients in the United States has expanded dramatically."
At Lone Star College System, the need for health care practitioners has skyrocketed during the pandemic, according to Valerie Jones, associate vice chancellor of academic affairs.
"The need for health care professionals won't disappear once the virus has been contained," Jones said. "Demand is projected to increase for health care workers and health care programs in the coming years. Before the pandemic, health care jobs were projected to grow 14% between 2018 and 2028, according to the [U.S.] Bureau of Labor Statistics."
Jones added the demand for health care occupations is around three times the average growth rate for all other occupations. According to the BLS, the average growth rate for industries is around 4% over 10 years, while the health care industry is anticipated to grow around 15%.
Lone Star College-Montgomery began offering a Bachelor of Science in nursing program in 2020, and the first cohort will graduate in August with 24 students. Jones said the program takes place over 12 months.
Charles Henley, dean for Sam Houston State University's College of Osteopathic Medicine, which focuses on training students to be primary care physicians, said there has been a rapid expansion in medical school students at the college by around 130% from 2015 to 2020.
"The idea was that Texas faced a very significant shortage of physicians who were practicing as primary care in rural and underserved areas," Henley said. "We live here; we have partners next door to us. Conroe General [Hospital] is a good partner for us; they are going to be a great resource."Henley said across the state, between 7,000 and 8,000 students apply through the Texas Medical and Dental Application Service for medical school. SHSU gets around 4,000 applicants through TMDAS, but only around 600 are interviewed.
According to a 2020 survey from the Texas Department of State Health Services, of 34,565 qualified nursing applicants in 2020, 20,758 were offered admission.
Jones said LSCS uses advisory councils to get a better understanding of what is needed for the workforce.
Henley said he is optimistic about the future of health care in Montgomery County.
"It is a very healthy place to be in terms of academic medicine and turning out professionals that are going to practice," Henley said.
Vanessa Holt, Danica Lloyd and Matt Stephens contributed to this report.