As "now hiring" signs pop up in storefronts around The Woodlands, some employers said they are struggling to acquire and retain employees this year. However, students out of school for the summer are beginning to step in and fill open positions.
Heather McKeon, chief marketing officer for Gringo's Tex-Mex restaurant located at Woodlands Parkway and FM 2978, said Gringo's does not actively recruit younger employees, but it will hire the available workforce to fill a position.
"At The Woodlands location specifically, we still have 20 positions available," McKeon said in June. "If they had 20 qualified candidates that walked through the door, they would be hired."
The U.S. Bureau of Labor Statistics reported with data from the Citizen Population Survey that the youth labor force—16- to 24-year-olds working or actively looking for work—grows sharply between April and July each year. During these months, large numbers of high school and college students typically take summer jobs.
While there are a number of contributing factors as to why adults are not taking hospitality and food service positions in The Woodlands, some employers said high school and college students home for the summer are helping take the pressure off the local businesses in need of employees.
"We are open 100% even though our employment and our teams are only at about 60%-70% on a good time," McKeon said. "We are very busy, so the team, whether [a part of the] younger generation or not, they are making great money."
Youth employment
Greg and Jordan Witkop, owners of the candy store Jordan's Sweet Shoppe located at Creekside Park Village Green, said unlike some businesses struggling to fill positions, they frequently find themselves having to turn away interested applicants. "We probably get, on any [given] week, two to three inquiries as to whether or not we have openings," Greg Witkop said. "We have a constant knock at the door, 'Are you hiring?' It's constant."
The couple credits the abundant employment interest to their unique hiring market: local teenagers. "We have always hired only kids," Greg Witkop said. "And we've never been dissatisfied with it. ... We've never been in a place where I wish[ed] we had some more employees."
The U.S. Census Bureau reported on average in 2019, 15- to 19-year-olds represent 7.4% of the population in The Woodlands, compared to 7.2% of Texas and 6.5% of the U.S. population.
Although the BLS reported teenagers—ages 16 to 19, in its report—had a 30% unemployment rate nationally in May 2020, in May this year that unemployment rate was 9.5%, making it the largest drop in unemployment in that time period across any age, gender or ethnicity group.
BLS data released in June reported teen unemployment rates are at their lowest level since 1953, and the number of teens in work has reached the highest rate since 2008.
However, as businesses get ready to lose a portion of their student workforce to in-person schools this fall, some employers said the end of additional federal unemployment benefits in Texas could push prospective adult workers back through their doors.
On May 17, Texas opted out of all federal unemployment payouts provided by the Coronavirus Aid, Relief and Economic Security Act in 2020, which provided the additional $300 a week on top of the regular unemployment payouts. Those payments ended June 26.
"Ultimately, I'd rather have a positive outlook on what's going to happen in terms of employment," McKeon said in early June. "I think that the change that's going to happen on [June 26] is going to have a positive spin for all industries, and that slowly and surely the people who have wanted to stay home are only going to have so much longer. "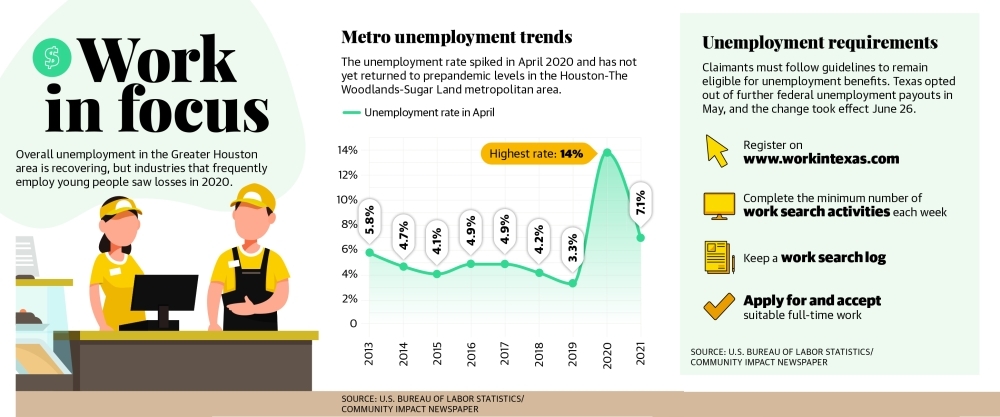 Unemployment benefits
While many adults laid off from jobs in 2020 received enhanced unemployment benefits, students or graduates seeking employment for the first time are exempt from receiving any type of government-issued unemployment benefit. According to the Texas Workforce Commission, to receive unemployment benefits, an applicant must provide proof of previous wages and actively search for and accept full-time employment.
To qualify for state or federal unemployment benefits, a person must provide proof of previous work in the last year and must be actively seeking and willing to accept full-time work. The BLS reported in July 2016 more than 64% of the youth workforce ages 16-19 is employed for part-time work, not full-time.
In March 2020, Congress passed the CARES Act, which established the Pandemic Unemployment Assistance program. The program temporarily expanded unemployment benefit eligibility to people who are not traditionally covered by unemployment insurance, such as freelancers or gig workers.
The CARES Act also established the Pandemic Emergency Unemployment Compensation, which provided an additional $300 a week on top of the regular unemployment payouts.
As of June 26, Texas residents are no longer receiving the $300 federal unemployment payouts. In addition, Gov. Greg Abbott announced he will withdraw from the PUA entirely.
"The Texas economy is booming, and employers are hiring," Abbott said in a May 17 statement. "The number of job openings in Texas is almost identical to the number of Texans who are receiving unemployment benefits."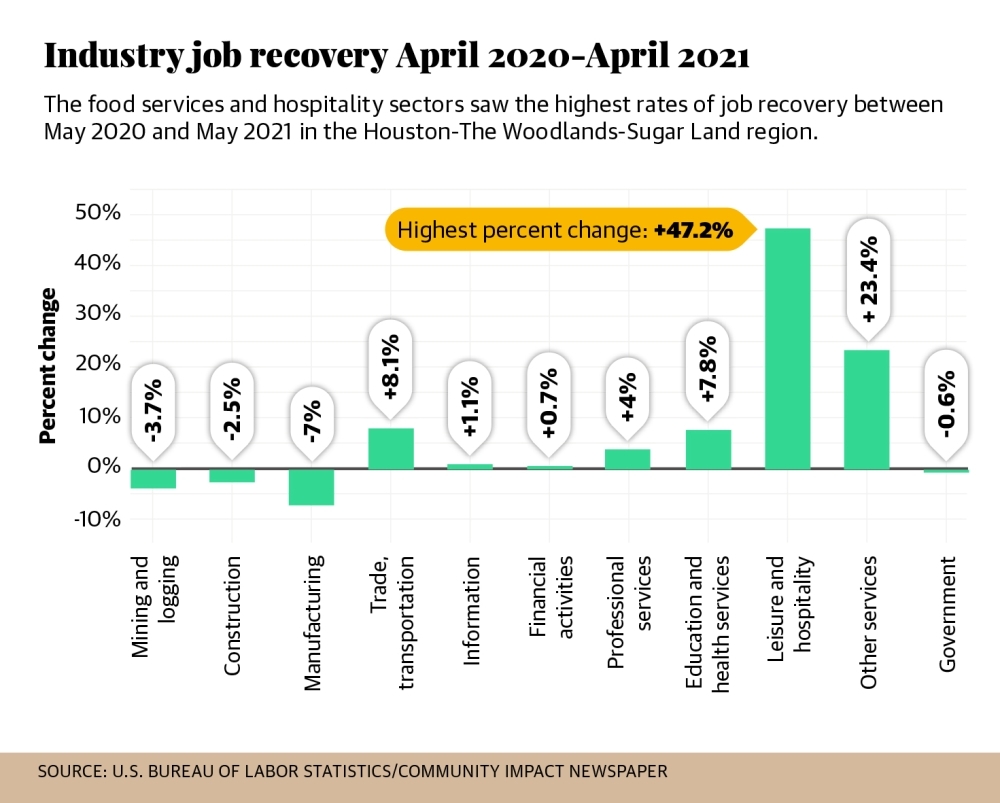 The Texas Workforce Commission reported 364 unemployment claims were filed in Montgomery County during the week ending June 12, a step toward achieving the average prepandemic claims of 253 in June 2019. At its peak during lockdown, 5,929 employment claims were filed in Montgomery County for the week ending April 4, 2020.
While the Texas and Montgomery County unemployment rates in April were less than half of what was reported in April 2020, Jonathan Lewis, senior policy analyst with Every Texan, said there are additional factors preventing Texans from getting back to work.
"I think you've also seen people take this opportunity to reassess, like, 'Well maybe we would like to live closer to family, and this is a good time to do that.' ... It's a pretty sad statement about the state of our affairs if a $300 a week benefit is what's keeping people back from accepting full-time work," Lewis said. While Texas is opting out of the PUA program, regular state unemployment will still be available.
"After June 26, some workers [who are] still relying on the federally supported programs will have to take the plunge, but for many who are unable to take a job for a variety of good reasons, it will be a very difficult summer," said Christian Raschke, associate professor of economics at Sam Houston State University.
Challenges for adult workers
Raschke said the ability to find child care is also a significant issue for many workers trying to get back to work, an obstacle most teenagers do not have to face. "Recovery of the child care sector appears very slow, and employment in child day care services in Texas is still more than 10% down compared to pre-COVID levels," Raschke said. "Workers who rely on affordable child care options have more difficulty returning to work compared to teenagers."
Data provided by the Texas Health and Human Services Commission reported from March 6 to Aug. 7, 2020, a quarter of child care centers in Texas closed permanently or were still closed at the end of the time period observed.
The number of child care deserts—communities where the demand for child care is at least three times greater than the supply of child care— doubled between September 2019 and August 2020. As of February, there were 577 child care deserts in Texas, and 184 of those communities became deserts through August 2020, according to the HHSC.
"The administrative assistant in my department is currently working from home some days of the week because she cannot find child care in her area," Raschke said. "During the time when she is gone, we have student workers sit at her desk and answer the phone." In other sectors, such as hospitality, hiring teenagers is not feasible because year-round, full-time availability is needed.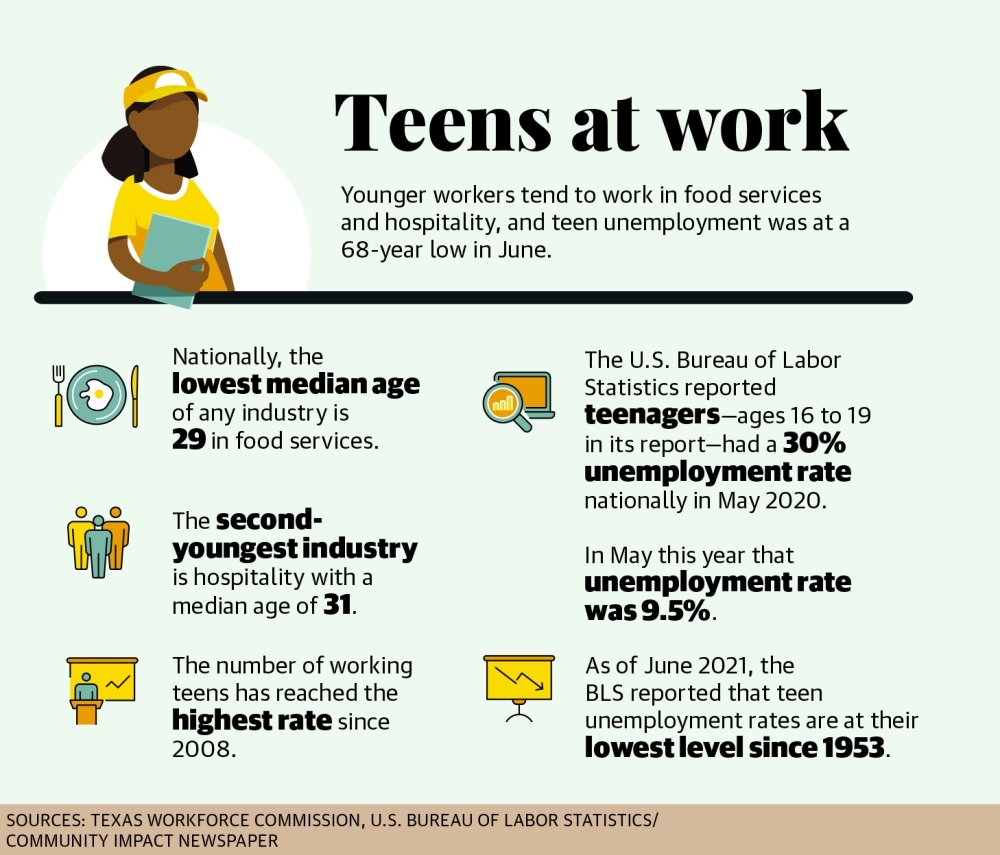 Fred Domenick, general manager of The Woodlands Waterway Marriott Hotel & Convention Center, said the hotel only hires employees older than 18. And while some teens have shown interest during the summer months, he said the hotel seeks out long-term, full-time employees.
"We really get busy in the fall, so when those kids are going back to school is when I need them the most," Domenick said.
According to the BLS, the hospitality and service industry had the largest percentage of employees added to the workforce from April 2020-21 in the Houston-Sugar Land-The Woodlands metropolitan area.In late June, Domenick said roughly 75% of the furloughed employees were back working in the hotel. "There's no question there's a national crisis for restaurant and hospitality workers nationwide, and I would argue that it's even really severe in the Houston market, but currently [this hotel] has been very fortunate in being fairly well-staffed for the volumes that we're doing," Domenick said."
Anna Lotz and Eva Vigh contributed to this report.