Data tracking subsidence, or ground sinking, in the Greater Houston area shows the largest decline since 2016 is centered in western Harris County, according to information presented by the Harris-Galveston Subsidence District in a public hearing on its annual report April 29.
The annual report was presented online in a webinar format. HGSD was created in 1975 for the regulation of groundwater to prevent land subsidence, and it requires a hearing each year, Deputy General Manager Tina Petersen said.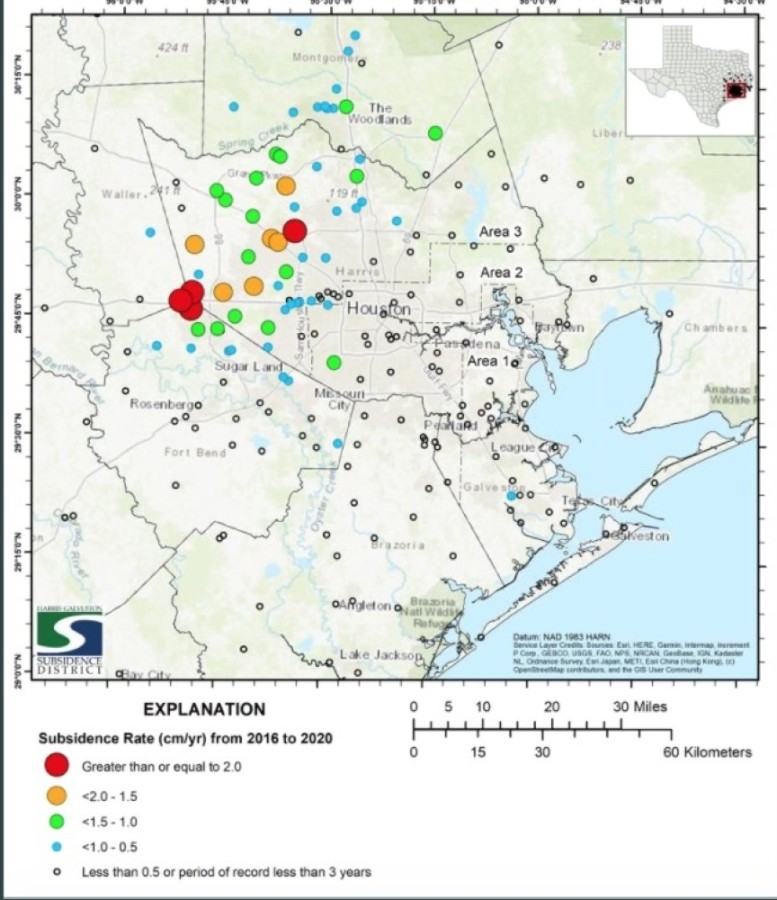 In addition to subsidence measurements for Harris County and the surrounding region, the report presented information on groundwater use and aquifer levels. Aquifers are a series of underground permeable rock layers that provide groundwater for the region. Declines in the aquifer levels related to groundwater withdrawal are tied to increased subsidence, HGSD officials said.
The Greater Houston area is supplied by groundwater from several aquifers, including the Chicot, Evangeline and Jasper aquifers.
Project chief Ashley Greuter said the greatest areas of subsidence measured from 2016-20 include parts of western Harris County and northern Fort Bend County such as Katy as well as Jersey Village. HGSD uses GPS stations to monitor subsidence.
Jason Ramage, a hydrologist with the U.S. Geological Survey, said in 2021 the Chicot-Evangeline aquifer shows heaviest use in areas of western Harris County such as Jersey Village as well as in south central Montgomery County.
About 55% of the changes measured over 409 wells in the Chicot-Evangeline aquifer over one year were declines, he said. Many of these were centered in the Kingwood-Humble area in east Harris County, south central Montgomery County around The Woodlands area and in western Harris County along Beltway 8 and I-10. Those changes were about 10 feet or less for most of the declines, compared to a standard elevation reference point.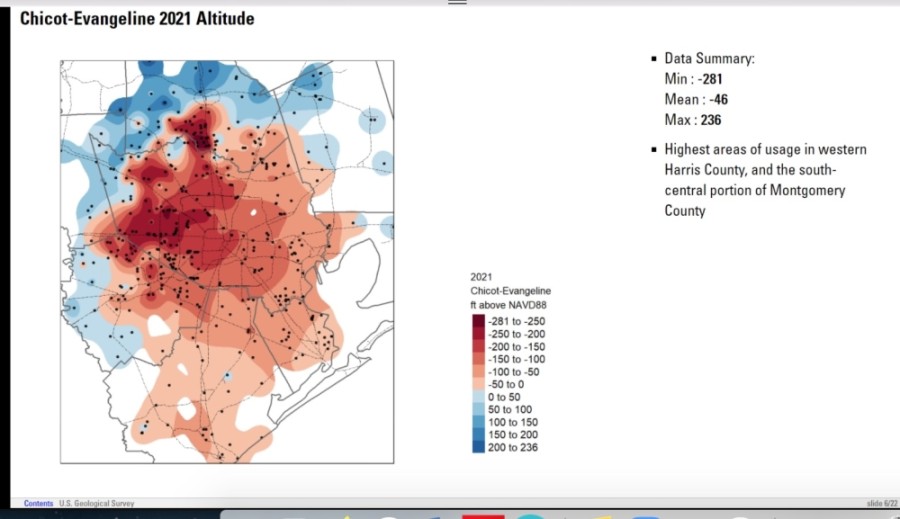 However, looking at 361 wells over a five-year period, 56% of the changes were increases. The greatest declines over that period were still centered in western Harris County, he said. Southern Montgomery County showed slight increases over a five-year time period, Ramage said.
The Chicot-Evangeline water level change since 1990 shows the steepest declines north and west of Houston. Water levels rose in the central Harris County and Houston area. Areas around FM 1960 and Hwy. 6 show the greatest decline, he said.
Greuter said higher rates of subsidence can be seen in areas that have not converted from groundwater to an alternative water supply. In the regulatory areas HGSD covers in Galveston County and southern Harris County, groundwater is only 10% or 20% of the total water mix, Petersen said.
However, Greuter said the regulatory area that covers parts of Harris County including Katy and Jersey Village is still undergoing conversion to an alternate water supply. One monitoring station in Katy showed subsidence of 2.35 centimeters per year since 2018, but a station in Jersey Village operating since 1994 shows 71 centimeters, or 28 inches of subsidence over 26 years, Greuter said.
The Jasper aquifer, which supplies the Montgomery County area, shows a trend of deepening water in the past year, Ramage said. The deepest water levels in south central Montgomery County are along the border with Harris County, with 68.2% of 88 wells showing a one-year decline. Most of those declines were under 10 feet, he said. However, 73.1% of 78 wells measured over five years showed an overall rise, and only 25.6% showed declines.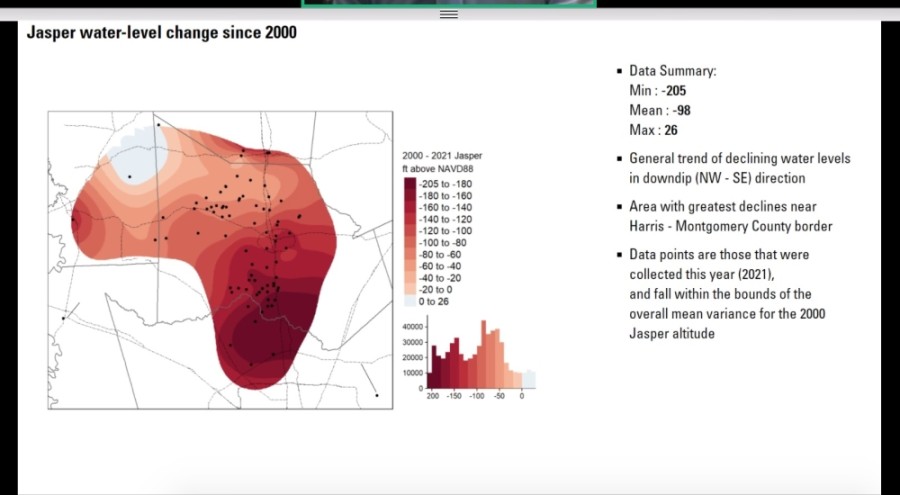 Information about the report can be found at the
Harris-Galveston Subsidence District website
.