The ongoing coronavirus pandemic has created financial uncertainty at the state, county and local levels due to sales tax revenue declining and other funds—which support local transportation projects—dwindling.
Due to oil and gas and sales tax revenue plummeting, state legislators are facing an estimated $4.58 billion budget shortfall when they convene for the 87th Texas legislative session in January.
Officials at the state level said it is unclear how transportation projects across the state, which are already squeezed for revenue, will be funded in the next few years.
"The pandemic has really hurt all of the primary sources for transportation revenue," said Aaron Cox, vice president of the advocacy group Texas Association of Business. "It was really kind of a double-barrel assault."
On the other hand, Fort Bend County voters passed a $218.2 million mobility bond during the Nov. 3 election to fund future transportation projects, and projects funded by the city of Missouri City and the city of Sugar Land continue to progress.
"The overall city strategy is to allow us to be more flexible to adapt to the COVID environment," said Rob Valenzuela, Sugar Land's director of public works. "If everybody had a crystal ball and knew when COVID was going to end and when the economy would come roaring back, then, let's go—but we can't."
A historic drop
Despite recent efforts by voters and lawmakers to improve transportation funding, funding for Texas roads has not kept up with demand, Cox said, and this has been exacerbated by the pandemic.
"Before COVID, ... infrastructure development wasn't keeping pace with our state's population and economic growth," he said. "Our roads and bridges need constant improvement and maintenance. It's an ongoing issue."
Texas voters approved a pair of statewide propositions—Proposition 1 in 2014 and Proposition 7 in 2015—that diverted portions of oil and gas severance taxes, general sales taxes and motor vehicle sales taxes to the State Highway Fund, which is TxDOT's primary source of funding.
However, the SHF is projected to see its state share of revenue fall by 20.44% and its federal income reduced by more than 12% from fiscal year 2020-21, good for an overall 17.11% drop in fund revenue in that time, according to the state comptroller.
Texas Comptroller Glenn Hegar told state officials July 20 to expect a historic drop in state revenue by the end of FY 2020-21, with motor vehicle sales tax revenue and severance tax revenue among the hardest-hit. The highway fund is projected to receive about $1.1 billion in FY 2020-21 based on collections from the previous fiscal year, but next year's amount, which will be based on collections this year, is projected to fall to $620 million, Hegar said.
Local projects
Although the pandemic's effects on statewide transportation funding may not be clear until the Legislature's spring 2021 session or later, road projects in Fort Bend County and across the state remain on schedule; some have even accelerated. Lower traffic due to stay-at-home orders helped crews work faster, said Andrea French, executive director of Transportation Advocacy Group Houston.
"You'll see projects where they weren't supposed to be completed for a year; their timeline has been moved up six months," she said.
Fort Bend County Judge KP George said that as it is one of the fastest-growing communities in the country, the county must work with state and local stakeholders to plan and fund transportation projects for the next several years.
"I encourage our legislators to utilize all tools at their disposal including those for economic stabilization to lessen the impact of these major cuts that will hurt the state of transportation in our state," George said in an email.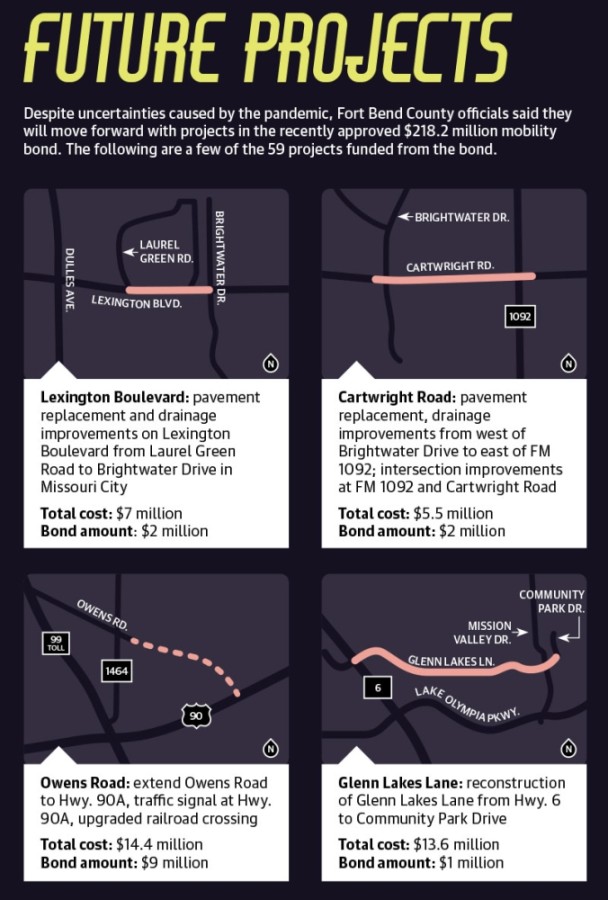 In November, 75% of Fort Bend County voters approved a $218.2 million mobility bond, which will help support 59 total mobility projects, including several in Sugar Land and Missouri City.
Because the county has been conservative in its spending, Ken DeMerchant, Fort Bend County Precinct 4 commissioner, said there is no hesitance in selling the approved bonds.
"I feel like we're in a really good position in the county to be able to do these projects," DeMerchant said.
Shashi Kumar, Missouri City's public works director, said that while projects under the county's 2020 and 2017 mobility bonds have been funded at the county level, Missouri City usually funds 50% of these projects.
"We will be looking at our financial situation as well as our bonding capacity to see if we can issue bonds to fund this obligation of 50% of the construction costs," Kumar said. "So that is something we'll be looking at in the coming months and years to see how we can fund our share to ensure the projects that are identified in the 2020 mobility program get implemented."
Unlike several cities in the Houston area, including neighboring Sugar Land, Missouri City's sales tax revenue is higher in 2020 than it was in 2019, despite the pandemic.
This has enabled the city to continue investing in transportation projects, Kumar said.
Officials with the city of Sugar Land said changes have been made to how the city plans to fund and implement projects voters approved as part of its $90.76 million 2019 bond.
While the city initially planned to increase the tax rate by $0.03 for FY 2020-21, officials opted to increase the rate by $0.0045 instead, City Engineer Jessie Li said. Now, the $0.03 tax increase will be carried out over the next several years.
Because of this, bond projects will be carried out over the next five years instead of the next three. Sugar Land is also working with the community on a mobility master plan, which Li said will guide future transportation projects.
Looking for revenue
Representatives from transportation advocacy groups said they are pushing for long-term solutions to address the funding gridlock on Texas roads.
Transportation Advocacy Group Houston is advocating for several options for new revenue sources, French said. One is to collect a fee from users of alternatively fueled vehicles. The other is to lift the 8.25% cap on sales tax so cities and counties would have the flexibility to raise it.
The third—to either raise or at least index the gas tax rate for inflation—is an idea that has historically been met with pushback, French said.
"There was a time when even more conservative leaders supported it, but now, the word 'tax' has become such a dirty word to use; it gets swept up in those conversations," French said.
While county and local officials indicated transportation projects are moving ahead, many stressed the uncertainties posed by planning during a pandemic.
"In terms of the long-term future, there's a lot of unknown that exists," said Doug Adolph, Sugar Land's communication and community engagement director.
Additional reporting by Shawn Arrajj, Andrew Christman, Andy Li, Anna Lotz, Ben Thompson and Eva Vigh