Since Memorial Hermann Fort Bend Hospital closed in Missouri City in 2006, Missouri City residents have lacked access to a hospital within their city limits.
Despite this, Graig Temple, Fort Bend County EMS chief, said Missouri City patients can be transported to a nearby hospital in 14-20 minutes.
Other areas of Fort Bend County—including Needville, Fulshear and Guy—have average transport times to a hospital closer to 25 or 30 minutes, Temple said.
"There's other areas of Fort Bend County that also experience this—that also don't have hospitals within their jurisdiction—so it's not abnormal," Temple said.
The bigger issue facing Fort Bend County EMS, he said, is the county does not have a hospital with a major trauma designation or better.
Hospitals can apply for a trauma designation by fulfilling the necessary staffing requirements, data tracking, and inspections, said Steven Foster, president of CHI St. Luke's Health-Sugar Land Hospital. In Texas there are 296 trauma-designated facilities, according to the Department of State Health Services.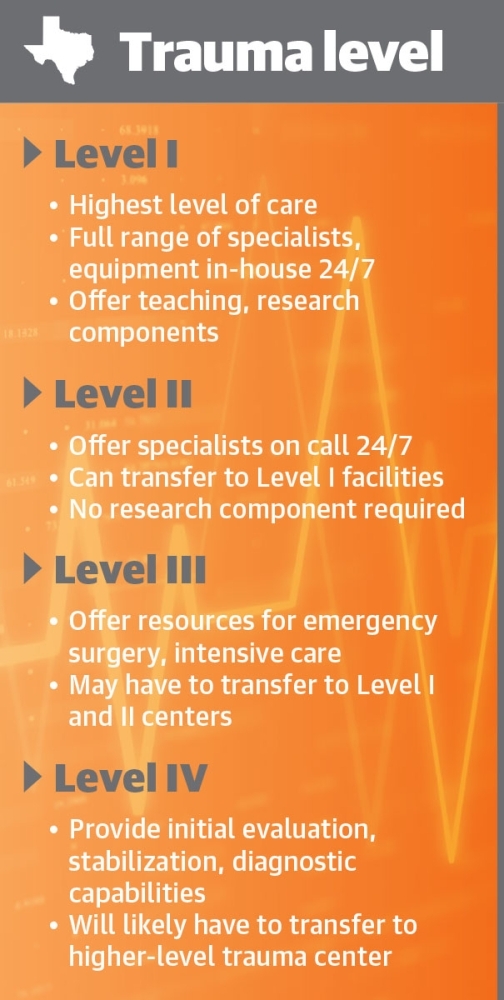 Three area hospitals—Memorial Hermann Sugar Land Hospital, OakBend Medical Center-Williams Way Hospital Campus and OakBend Medical Center-Jackson Street Hospital Campus—have a Level IV trauma level designation.
Additionally, Foster said CHI St. Luke's Sugar Land Hospital hopes to receive its Level IV trauma designation in the next 18 months.
"Trauma has been on our radar for some time as a community need," Foster said. "It is for the best outcome of the patient to have many trauma-level facilities within a county to support any potential issue that comes up for a growing community."
A Level IV trauma designation is classified as basic, according to the DSHS. Level IV is the lowest designation, and Level I—a comprehensive trauma center—is the highest.
There are three Level I hospitals in the Houston area, and all are in the Texas Medical Center. There are no Level II hospitals in or near Fort Bend County—and the closest Level III is Memorial Hermann Katy Hospital.
"[At a Level IV trauma center] what they're going to do is they're going to stabilize you, and then they're going to ship you to a higher-level hospital," Temple said. "Or, if you need surgical interventions, they're going to ship you there to have surgery."
Temple said in the case of an emergency, Fort Bend County EMS would use medical helicopters at local hospitals to transport patients to a higher-level trauma facility.
Fort Bend County EMS is the primary medical responder for most emergencies in the county, and local fire departments will also administer care at the scene. However, the city of Sugar Land has its own EMS department.
Temple said Fort Bend County's rapidly growing population further necessitates a more advanced level of trauma care.
"It's great having the Texas Medical Center next door," Temple said. "It's a short transport, generally. However, it would definitely behoove us to be ahead of the ball by having a trauma center established here within the county."
Furthermore, Temple compared the Fort Bend County region to Montgomery County in North Houston, which has two Level II hospitals.
St. Luke's officials said hospitals typically start as a Level IV facility, and each additional level requires more resources.
"That region looks very similar to a growing Fort Bend County, but they've already took the ball and moved ahead a little bit by having Level II trauma centers, whereas we're stuck with basic trauma centers," Temple said.