Editor's note: This story is part two in a three-part series on how the coronavirus pandemic has affected Sugar Land and Missouri City health care providers.

Although hospitals were open and both treating severe coronavirus patients and providing other emergency care, they still felt the economic effects of the virus.

In mid-March, hospitals halted elective surgeries, or the procedures that can be scheduled in advance, which reduced hospitals' occupancy level.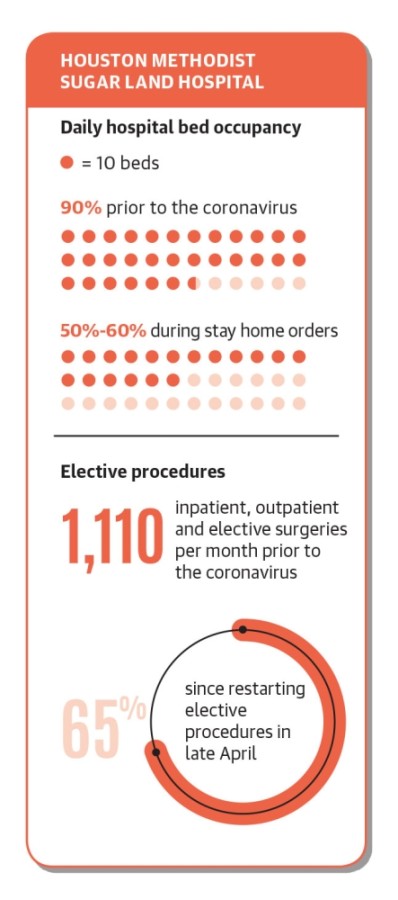 At Houston Methodist Sugar Land Hospital, CEO Chris Siebenaler said prior to the coronavirus, the hospital had an average daily occupancy close to 90%. In late March, April and early May, Siebenaler said inpatient occupancy has ranged from 50%-60%.

Siebenaler said prior to the coronavirus, the hospital performed about 1,110 surgeries monthly. Since a proclamation by Gov. Greg Abbott allowing hospitals to continue elective procedures beginning April 22, Houston Methodist is back to doing about 65% of these surgeries.
CHI St. Luke's Sugar Land Hospital saw a 30% decline in hospital admissions, a 65% decline in surgeries and a 50% decline in emergency room visits, according to president and CEO Steven Foster.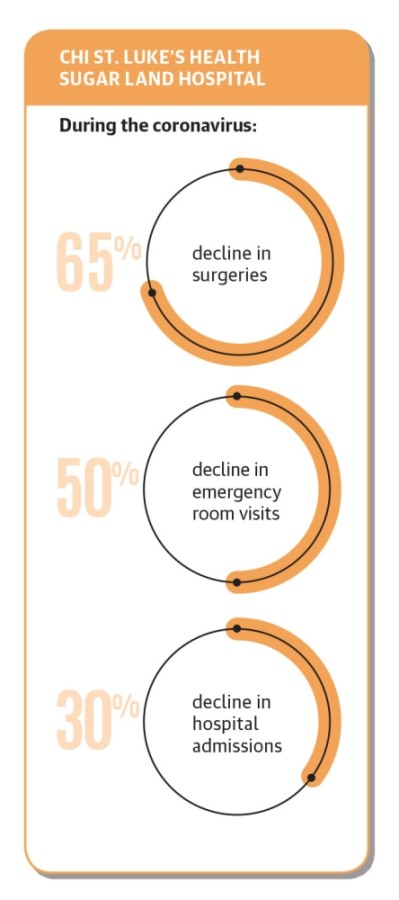 Both Foster and Siebenaler said these declines pose challenges for the hospital's budget, especially as costs associated with retaining staff and adjusting to the pandemic continue.
"Despite the decline in revenues and volumes, we still continue to invest in the training because our personnel, physicians, and staff are our greatest assets," Foster said. "We continue to make sure they have everything they need from personal protective equipment to all the safety measures needed to combat this disease."
Neither CHI St. Luke's, Houston Methodist nor Next Level Urgent care have laid off staff during the pandemic.
Foster said CHI St. Luke's has implemented a temporary hiring freeze and adjusted hours for some employees to reduce costs. At Houston Methodist, some staff working in underutilized departments during this time have taken a paid leave or been retrained to work elsewhere in the hospital.
With clinics seeing 60% less volume during the pandemic, Next Level Urgent Care has pivoted to helping employers and companies create return-to-work plans and provide temperature checks to prevent furloughing or laying off staff, CEO Dr. Juliet Breeze said.
"I'm trying really hard to keep my people employed," Breeze said. "We have worked really hard to find and grow really fantastic team members, and the last thing I want to do is let them down."