The Sugar Land Police Department, the T.E. Harman Center and Fire Station No. 2 will receive roof repairs, as they have experienced ongoing weather concerns and leaks, said Lane Wolf, the city's vertical construction manager during an Aug. 18 City Council meeting.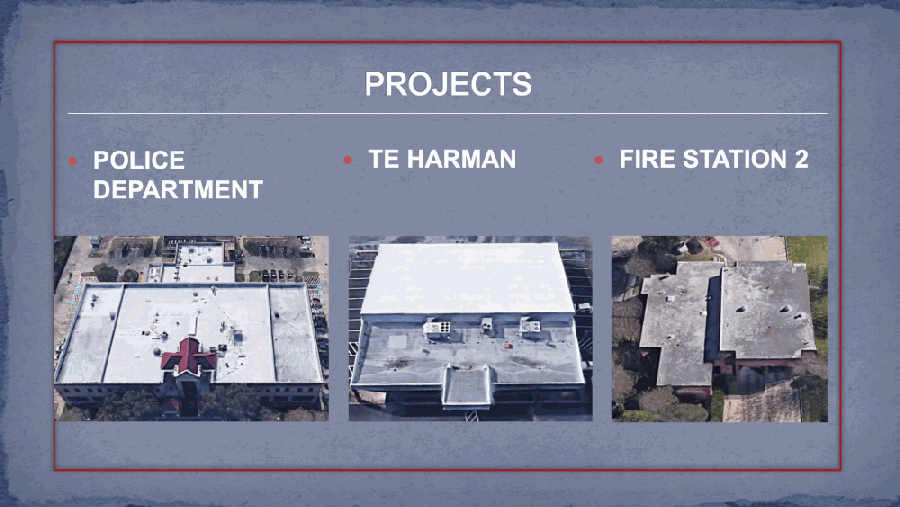 Wolf said the average warranty period on these commercial-use buildings is between 20 to 25 years. The police department's roof—the youngest of the three buildings—is 24 years old, while the T.E. Harman Center roof is 36 years old, and the fire station roof is 34 years old, Wolf said.
"These are the highest-priority [projects]," Assistant City Manager Chris Steubing said. "We have done some work on T.E. Harmon a few years back—it's got two different kind of roof systems on it, but we have taken a much more aggressive approach moving forward to make sure we don't fall back into any kind of disarray with any type of buildings."
The overall budget for these projects is $1.2 million, Wolf said during the presentation. About $51,000 is going toward design services with Building Exterior Solutions Inc., and $731,752 is going toward construction costs with Lessman Roofing and Sheetmetal LLC.
With the remaining $416,647 balance, Wolf said the T.E. Harmon Center will need a third-party mechanical contractor with a crane to lift the air conditioning units on the roof out of the way for construction.
"We're going to have to disconnect those [air conditioning] units, pick them up in the air and leave them suspended in the air while the roofer can go up there," Wolf said.
The remaining balance also accounts for any contingency funds that may be necessary for all three projects as they get underway, Wolf said.
"The only thing you can do right now when you perform the assessment is what's visual, so you never know what you're going to uncover once you start removing the roofing material," Wolf said.