The Fort Bend ISD board of trustees unanimously approved the district submitting a waiver to the Texas Education Agency that would allow for four additional weeks of online learning for most students if granted.

This would mean face-to-face learning would have to be offered for those who want it by Oct. 12.

Superintendent Charles Dupre presented a timeline for phasing in face-to-face learning according to this date. However, he said if conditions related to the pandemic change, the district would push back against the TEA's guidelines requiring an in-person option.

"My goal is to lead according to the best interest of our students and our staff, even if that means challenging TEA guidelines," Dupre said. "According to all the attorneys that have advised us, they are guidelines. They're not law; they're not policy; they're guidelines. If we really believe we needed more than that eight weeks, then we should ask TEA and the commissioner."

Dupre said it will take 13 days from the time teachers return to campuses to the day when face-to-face students are completely phased in. According to information presented during the meeting, kindergarten students would return starting Sept. 28, followed by middle and high school students returning the next week.
The proposed schedule for phasing in students is presented on the following two slides: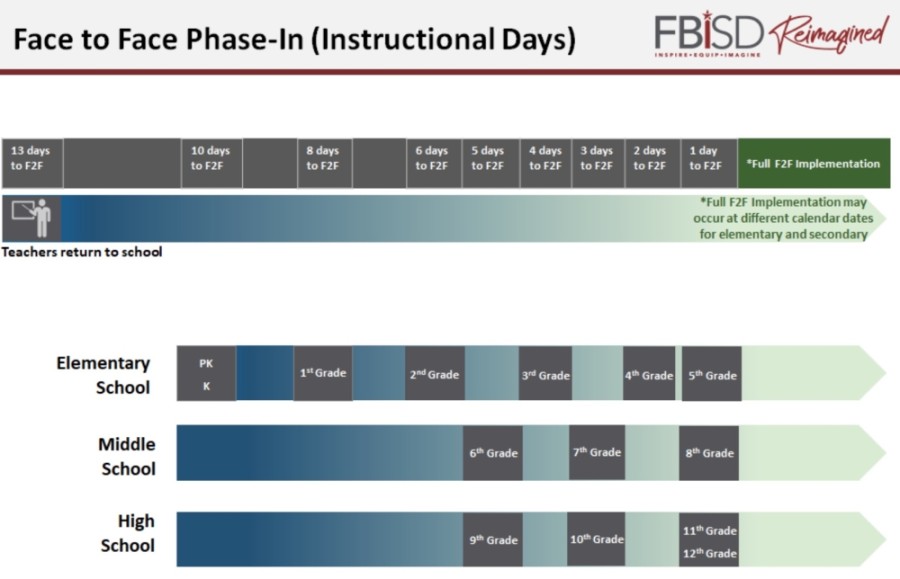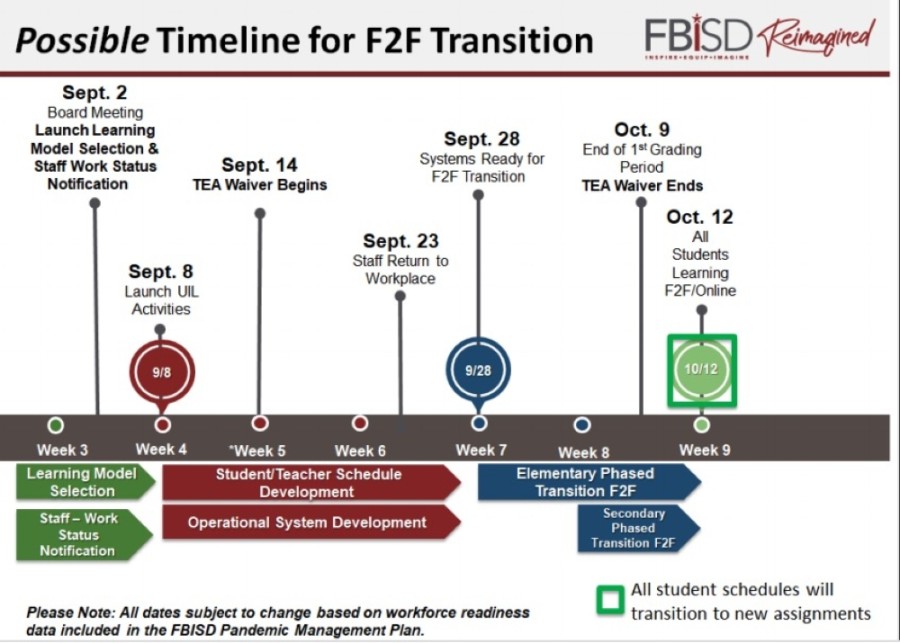 During the transition period, students would engage in asynchronous learning opportunities while teachers prepare their classrooms. While at school, teachers and staff will work to familiarize students with the new health and safety protocols, including school drop-off and pickup and transitions between classes.
Dupre said this transition schedule aligns with the district's nine-week grading periods, as the second grading period begins Oct. 12. However, he said there will be significant changes to students' schedules and teachers.
"There will be a disruption at the end of this nine weeks. Many schedules will change—most schedules will change, and teacher assignments will change for many, if not most, students," Dupre said. "In many ways, under this model, Oct. 12 would be like another first day of school."
Dr. Joe Anzaldua, who is serving as the local health authority for several local cities, including Sugar Land and Missouri City, during the coronavirus pandemic, said he agrees with the district's proposed plan based on the data that he has been monitoring.
"I think right now the evidence weighs on the side of letting the schools reopen," Anzaldua said. "And I do agree with the current timeline that Dr. Dupre set forth with the caveat that we have to be ready to move in the event things go south and we do have a second wave or things get out of control because that's always going to be a possibility."
Opting for in-person or online learning
From Sept. 3-8, parents will be asked to select whether they want face-to-face learning or to continue online learning for their student. This selection will govern the form of learning that child will receive for the second nine weeks of the school year, which runs until Dec. 18.
In the next few days, teachers will be provided information about returning to the classroom. Teachers with health concerns will be asked to contact human resources and work with district and campus leadership if their individual medical concerns prevent them from returning to school.
Once the district collects data on the number of students who want to return for face-to-face learning, district- and campus-level staff will develop master schedules for students. Furthermore, Dupre said the district is working to manage teachers' workload by trying to minimize the number of teachers delivering instruction to students both online and in person.
Still, Dupre said most students will change teachers, something several parents and students expressed concern about during the public comment portion of the meeting.
"Whether we go online or face to face, it's a mess," Clements High School senior Isabella Marino said. "No matter what we choose, schedules will change; teachers will change. Isn't that something that's supposed to happen before the school year starts? To change everything like that now is unfair to both the teachers and the students."
Note: This story has been updated to include revised slides provided by Fort Bend ISD.