Fort Bend ISD staff outlined what students, parents and teachers can expect during a day of online learning at the July 20 board of trustees meeting.

The first day of school in FBISD is Aug. 17, and most students will begin the school year online, with the exception of some students with special needs, Superintendent Charles Dupre said.

Director of Teacher Development Melissa Hubbard said the district has been working to improve the online learning experience for students so students receive high-quality instruction aligned with the district's curriculum.

"We are going to have scheduled live synchronous instruction for students [and] daily asynchronous learning to support that synchronous learning experience," Hubbard said.

During synchronous learning, both students and teachers will be engaged online together while the teacher is giving instruction or collaborative learning is taking place. During asynchronous learning, students will demonstrate their understanding of the curriculum.
The amount of time devoted to synchronous instruction each week is increased for older students, Hubbard said.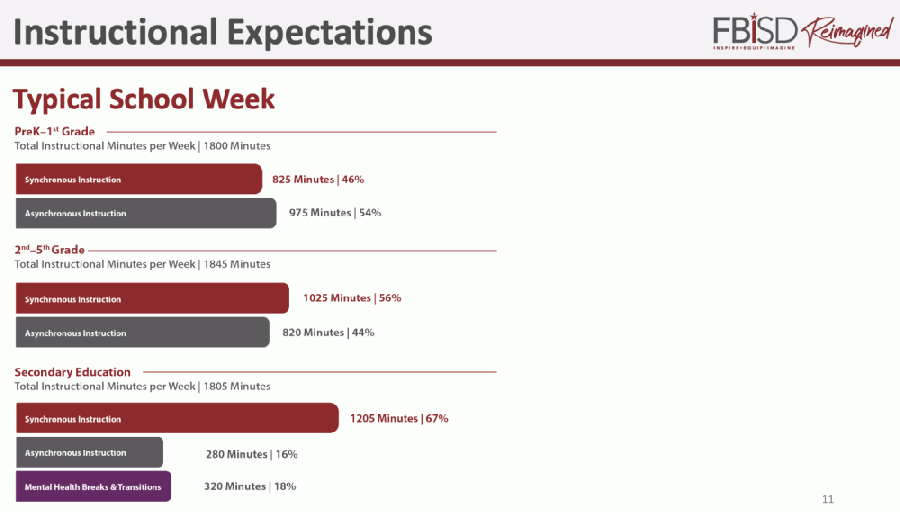 Ida Ford, FBISD's executive director of elementary schools, presented what a daily schedule might look like at the elementary level.
A sample of a kindergarten student schedule has two hours and 45 minutes of synchronous learning with designated times for science, social studies, reading and math as well as intervention and enrichment. The schedule also has three hours and 15 minutes of asynchronous instruction.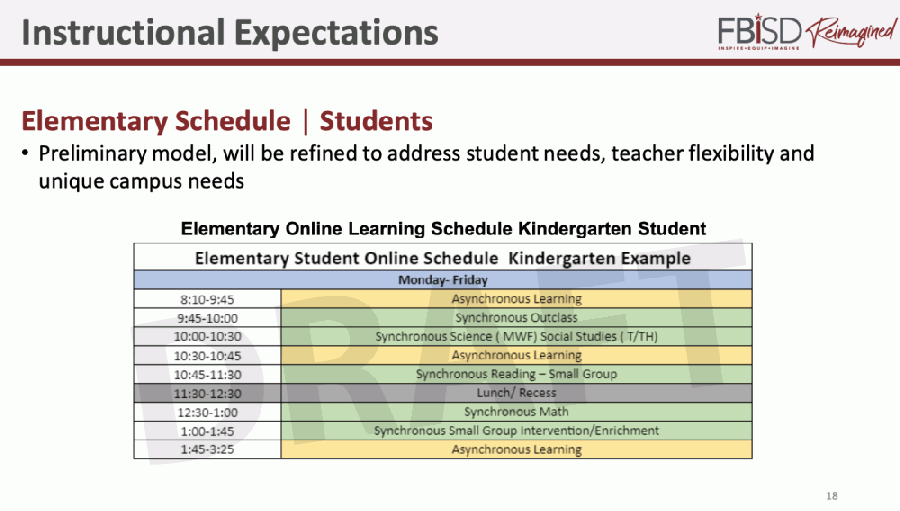 "We also have in this schedule a designated lunch and recess time that is for all grade levels," Ford said. "It is the same time of day to maintain consistency and assist families with their daily planning."

A sample third-grade schedule Ford presented had three hours and 25 minutes of synchronous learning and 2 1/2 to three hours of asynchronous instruction.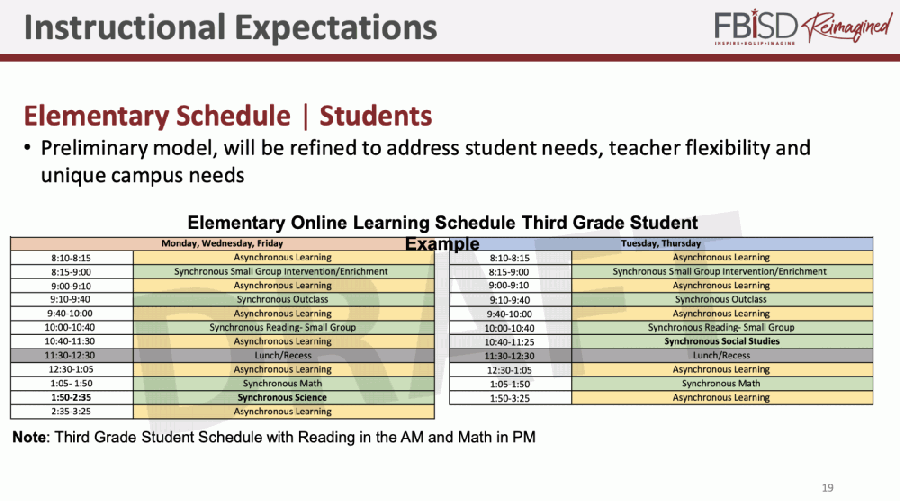 Elementary teachers will deliver between two and three hours of synchronous learning per day and 45 minutes of synchronous intervention and enrichment, depending on the grade level. Ford said teachers will also have allotted time each day to monitor students through interactive tools and review student work.
All teachers will have 75 minutes of professional learning each week and 45 minutes of conference time, Ford said.
Students in middle school and high school will follow the same online schedules, Executive Director of Secondary Schools Jennifer Nichols said.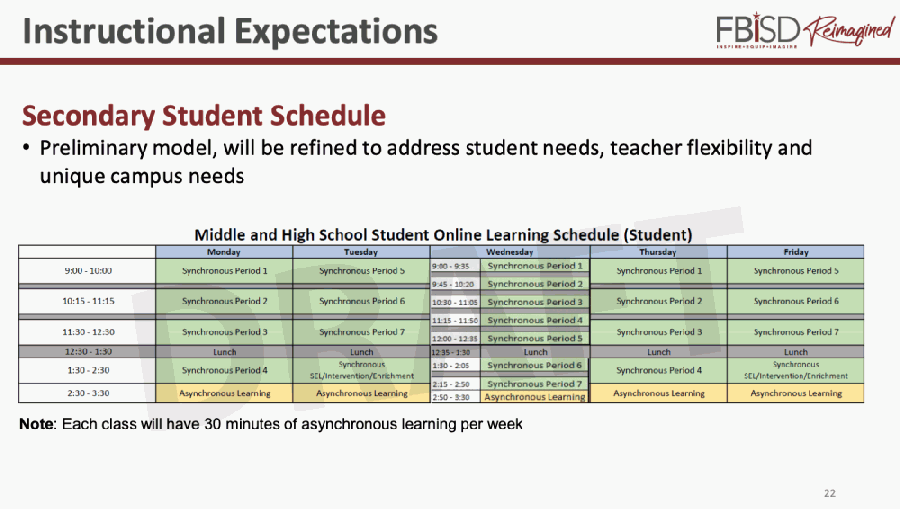 "As you can see in this schedule, students will engage in four hours of synchronous learning each day," Nichols said.
Students will attend four one-hour classes on Mondays, Tuesdays, Thursdays and Fridays, Nichols said, and on Wednesdays, students will visit all of their classes for 35 minutes.
"We've also embedded time for students to work on asynchronous learning, although asynchronous lessons and homework can be completed at flexible times for the students," Nichols said.
Secondary teachers will deliver four hours of synchronous learning daily, have two to four hours to monitor and provide feedback on asynchronous work each week, engage in professional learning for 90 minutes four times a week and have eight hours of conference time over two weeks.
"We have allocated time for meetings, planning, and professional development to fulfill those instructional expectations for online instruction," Nichols said. "We've allocated time in the morning, as well as in the afternoon with dedicated PLC or conference time."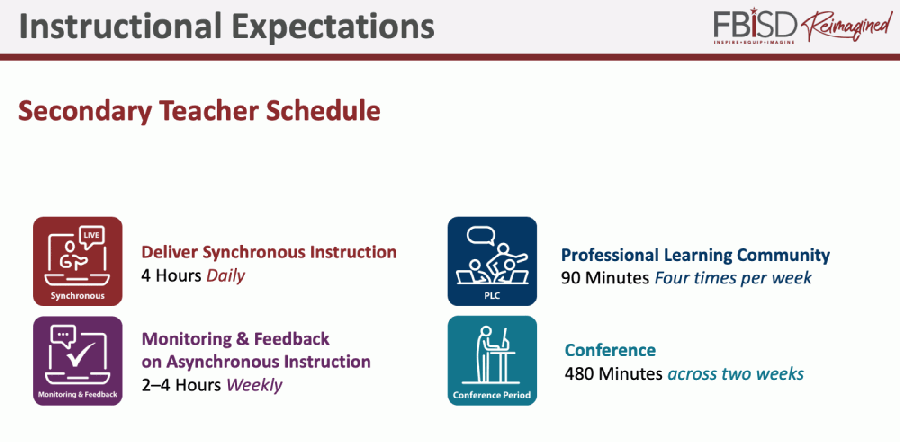 In a message to parents July 21, Dupre said the schedules presented during the July 20 meeting are models and that students' days will vary from some from what was presented. FBISD is continuing to plan for the launch of the 2020-21 school year online.
"We are truly reimagining education in Fort Bend ISD," Dupre said during the July 20 board of trustees meeting. "I don't think any of us really have a conception of what school will look like this fall when we start online. ... Whether you're a principal, teacher, board member, administrator, parent or student, this fall is going to look very, very different."
Dupre will host a live "Checking in with Charles" event July 22 at 7 p.m. to discuss the district's latest plans for the 2020-21 school year. Livestream the conversation here.