Fort Bend ISD is planning to offer students the opportunity to participate in off-campus physical education during the 2020-21 school year.
According to a June 11 release from the district, applications will be available July 13-Aug. 7 for those wanting to participate in the fall and spring semesters. Those interested in only participating in the spring semester need not apply until Nov. 2-Dec. 13.
There are two categories for off-campus PE available for students. Category 1 is available for only high-level training that leads to national competitions and is not offered by campus physical education, athletics or fine arts departments, according to the release. Category 2 is for high school students participating in at least five hours per week of structured activity.
From wrestling and ice skating to surfing and sailing, approved Category 1 activities for middle and high schoolers vary greatly. Middle schoolers may only apply in the Category 1 level, while high schoolers can apply to either Category 1 or Category 2.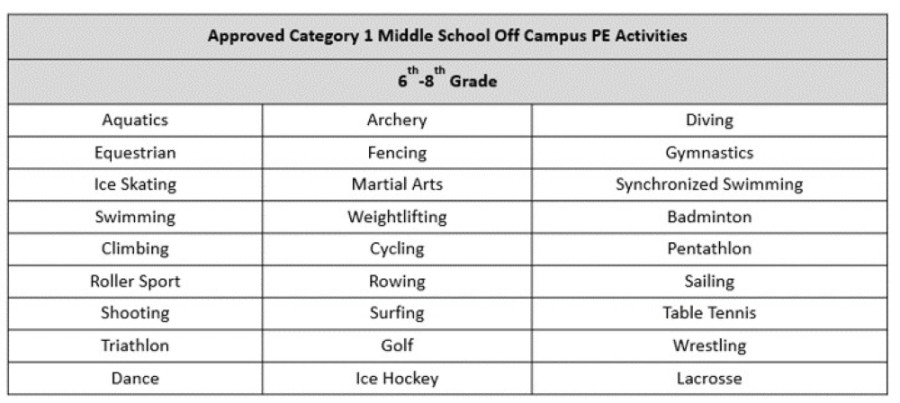 (Charts courtesy Fort Bend ISD)

Representatives of local training establishments and programs will also be able to access an online form through July 31 to begin the FBISD establishment approval process, the release states. The only approved Category 2 program at the time of the release is karate with Kick Start Kids.
To earn credit, students must participate for the entire semester and follow the FBISD academic calendar.

Due to uncertainty as to what the 2020-21 school year may look like due to the coronavirus pandemic, changes may be made to the program.
To learn more and to apply when the window opens, click here.