Missouri City City Council unanimously approved a zoning change that will allow for a neighborhood of 176 single-family units that will be leased out and managed similarly to an apartment complex.

Rezoning the 35.3 acres of land located near the intersection of Hwy. 6 and the Fort Bend Parkway Toll Road was given final approval at the July 19 City Council meeting.

The new development backs up to Oakwick Forest Estates. According to city documents, the city received five letters of protest against the zoning change from residents in the neighborhood. However, the developer said it has a good relationship with the Oakwick Forest Estates homeowners association and has been able to accommodate its requests related to the project.


The Dinerstein Cos., an apartment company founded in Houston in 1955, will develop, construct and manage the single-family rental properties, according to city documents.
The development will include a leasing center, a pool, a recreation area and several parks and have full-time on-site management.
Individual houses will be two, three or four bedrooms and have a fenced-in backyard and a two-car garage, said Brad Dinerstein, managing partner of development and design at The Dinerstein Cos.
"The plan here is for single-family residential," Dinerstein said. "The key difference here is that each of these units will be leased."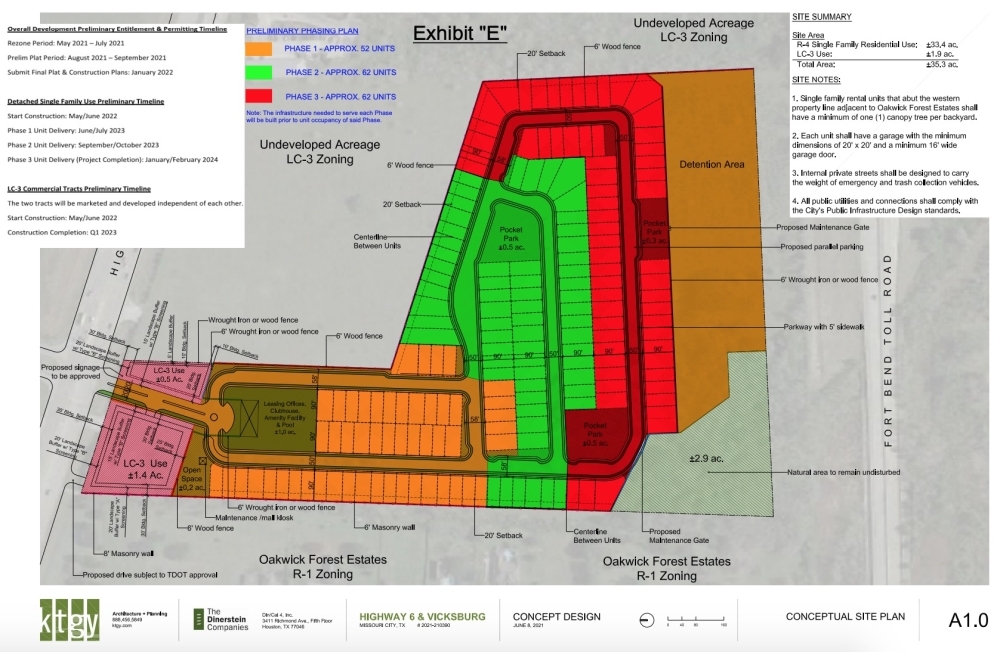 Former Missouri City Mayor Allen Owen spoke on behalf of the project during a July 6 public hearing. He said with the expansion of Amazon to Missouri City as well as the construction of the nearby Fort Bend Town Center II development, the city needs more housing options for families with children.
"We need to provide other forms of housing for families in this city," Owen said, adding rent will start at $1,800 a month. "Having a place for people to raise their families, to have kids that have a sidewalk to ride their bicycles up and down, to have a street that's safe, to have a swimming pool is what we ought to be about in this city."
In addition to the single-family rental units, the property will include commercial development at Hwy. 6.
Construction is anticipated to begin for both the residential and commercial development in early summer 2022. The first phase of three phases of rental houses, which will include 52 units, will be completed in summer 2023.