Census data shows the Asian population in Fort Bend County as well as Sugar Land and Missouri City has significantly increased in the past decade. Local experts said this growth is driven by new construction in the area, desirable school districts and a growing number of businesses catering to the Asian community.
Fort Bend County has the highest proportion of Asian residents in Texas, according to the U.S. Census Bureau's 2020 data released in mid-August. The county's Asian population made up 22.2% of residents in 2020, compared to only 7.4% of the residents in Harris County.
The population of county residents identifying as Asian increased by 83.7% in the past 10 years, outpacing the growth of all other racial groups and the county's overall population growth, according to the census. Meanwhile, the Asian population also increased by 54.1% in Sugar Land and 24.6% in Missouri City in the same time period.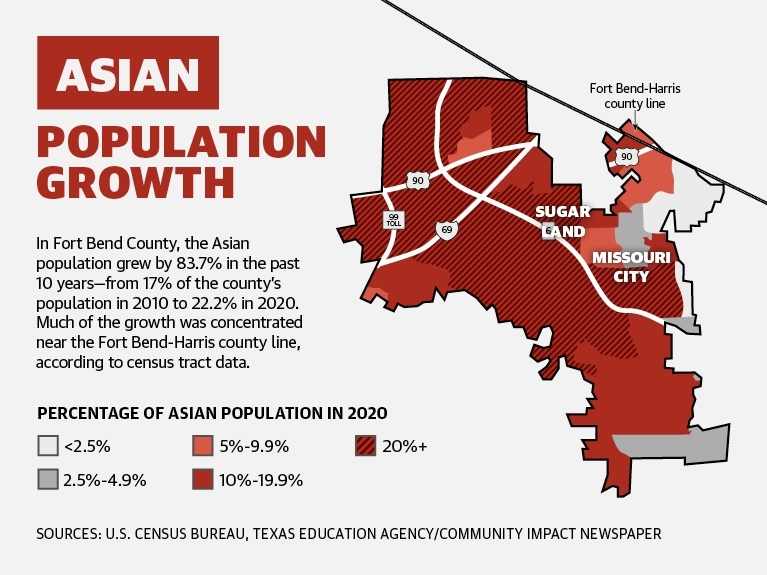 Pramod Sambidi, manager of socioeconomic modeling for the Houston-Galveston Area Council, said Fort Bend County is one of the most racially diverse counties in the nation. Specifically, Sugar Land and unincorporated areas of the county experienced a significant increase in the share of the Asian population over the past few decades.
"Asians prefer to move or relocate close to existing Asian communities," Sambidi said.
In Missouri City, Asians made up 18.3% of the city's population in 2020 compared to 16.2% in 2010. Meanwhile, in Sugar Land, Asians made up 35.3% of the city's population in 2010 and 38.6% of the population in 2020.
A growing community
Fort Bend County's census data otherwise reflected national trends, including a decrease in residents identifying as only white, increases in other ethnic groups and overall population growth.
According to Sambidi, there is one notable difference between the Asian population in Fort Bend County and the Asian population in the rest of the Greater Houston region. In Fort Bend County, Asian Indian residents account for 41% of the Asian population—the largest share—whereas Vietnamese residents account for the largest share of Asian population in the rest of the region, he said.
Salman Latif, a Realtor working in Fort Bend and Harris counties, said he has noticed an influx of people moving to the area from out of state, especially families from South Asian communities.
"It's mainly the security, the safety, and then of course what it brings in community," Latif said. "What mostly attracts is the, 'You're far from home, but you're still at home,' kind of feeling. Whatever language you speak, there's people that speak that language."
Meanwhile, enrollment trends in Fort Bend ISD show evidence of growth in the county's Asian community. FBISD's Asian population grew from 21.7% of students in 2011-12 to 27.2% in 2020-21, according to the Texas Education Agency.
As the city of Sugar Land approached build-out and the home prices in the city increased, Asian individuals started looking for new neighborhoods within Fort Bend County. Many chose unincorporated areas around Katy, Fulshear and Richmond, Sambidi said. According to Sambidi, the availability of large tracts of developable land, especially for master planned communities, outside of Beltway 8 contributed to growth in that region.
Business growth
With Sugar Land gradually becoming more diverse, the number of Asian-owned and -catering businesses are increasing as well. Jeffrey C. Wiley, president and CEO of the Fort Bend Economic Development Council, said the county's diversity has contributed to its overall growth, as the 16th fastest-growing county in the nation.
"We have seen an explosion of Asian-owned businesses—from large corporations to one-person small businesses—develop in Fort Bend County," he said. "This amalgamation of different cultures, businesses and ideas makes our community even stronger and more attractive to individuals and businesses as we continue to lean toward a population of 1 million people in the next few years."
Fort Bend County Judge KP George said at a Katy Area Economic Development Council meeting on Sept. 22 that Fort Bend County is the most ethnically diverse county in the country, citing census data.
"Fort Bend County is 50 years ahead of many parts of the United States. We can set the standard of how we can live in harmony. We embrace diversity. We use that for our advantage," George said.
At least 18 Asian-catering businesses have or will open in the Sugar Land and Missouri City areas this year, according to new businesses confirmed by
Community Impact Newspaper
's monthly reporting.
The new businesses included a variety of restaurants, a home improvement store, and a taekwondo school. Many of these businesses are located on Hwy. 6 in shopping centers anchored by Asian supermarkets such as Jusgo Supermarket and Al Rabba World Food.
Irfan Motiwala, owner of Alings Chinese Bistro in Sugar Land between Hwy. 6 and the Grand Parkway, said he decided to open his business in Sugar Land because of the demographics of the city.
"The food we sell is very popular in India, ... and Sugar Land has a very big South Asian population," he said. "It's a very friendly city and easy to do business in. Everything was just right. The city's really nice. It's easy to get help and it's the right demographics."