Sugar Land-based restaurant Sozo Japanese Steakhouse is offering new hires $10 to $15 an hour, depending on experience, yet owner David Gray said he is struggling to find workers.
"It's not just us," Gray said. "It's restaurants, hotels, everybody. ... SYSCO—the biggest food company in the world—needs drivers. It's almost like another pandemic of just staffing shortages, so it's been tough."
Gray said he employs a staff of fewer than 10 high school students at the dine-in and drive-thru restaurant. With no experienced workers, he has had to spend additional time training the staff on basics.
"It's been tough, but we have good people," he said. "We're still short, but at least they're raw and you can teach them good practices."
Sozo's situation mirrors other Fort Bend County businesses as well as employers across the state and nation.
As of June, Texas' unemployment rate was 6.5%, compared to 6.4% in May and 11.6% in June 2020, according to the U.S. Bureau of Labor Statistics. Unemployment rates in the Houston-The Woodlands-Sugar Land area were 7.4% in June and 11.6% last June.
As of Aug. 4, there were 897,031 job openings in Texas, according to Work in Texas, a Texas Workforce Solutions website. Elizabeth Huff, Sugar Land's director of economic development, said the city has seen the same trend as the rest of the state.
"We are hearing mostly from our retailers, restaurants and hoteliers that they are struggling to find employees at all levels," she said. "There are some new state initiatives that are trying to address the situation, but this isn't unique to Sugar Land. The rest of the state and country are experiencing the same challenges."
Unemployment benefits
According to the National Federation of Independent Business monthly jobs report in June, 46% of small business owners reported having roles they could not fill—a two point decrease from May, but still more than double the 48-year average of 22%.
Some employers attributed the hiring situation to federal pandemic unemployment payments they claim incentivize individuals to not work—benefits Gov. Greg Abbott opted to end in Texas on June 26.
"Most of the band of people that would be working for maybe $12 to $17 an hour are pretty much just sitting at home—you know, getting paid more there than they would at work," Gray said.
In March 2020, the federal Coronavirus Aid, Relief and Economic Security Act established the Pandemic Unemployment Assistance program, which temporarily expanded unemployment benefit eligibility and provided an additional $300 a week to those who lost their jobs because of the pandemic.
To remain eligible, unemployment claimants must search for work according to the Texas Workforce Commission's guidelines, such as completing one to three work searches per week and applying for work.
Fort Bend, Waller and Harris counties require residents to complete at least three searches per week to remain eligible for benefits.
In May, Abbott announced Texas will opt out of further federal unemployment payouts beginning June 26, citing an abundance of jobs available and fraudulent unemployment claims. In his statement about opting out of the program, Abbott said Texas should help unemployed Texans get jobs rather than paying them benefits.
"The Texas economy is booming, and employers are hiring," Abbott said in a May release. "The number of job openings in Texas is almost identical to the number of Texans who are receiving unemployment benefits."

According to the TWC, there were nearly 60% more jobs open in Texas in May than there were in February 2020, before the pandemic hit Texas.
Others said pointing the blame at unemployment benefits is mischaracterizing unemployed Texans as lazy and unwilling to work. Jonathan Lewis, senior policy analyst with Every Texan, a nonprofit that advocates to improve equity in health care, education and jobs, said he believes factors such as child day care, low wages and a lack of jobs that match employees' skills can turn away potential job seekers.
"This characterization that workers are lazy is pretty damning," he said. "If it's just a $300 benefit that's holding people back from accepting a job, [it's] a pretty sad state of affairs."
However, Lewis likened cutting off federal benefits to "shooting yourself in the foot."
"It doesn't serve the Texas economy to force people into lower-paying jobs than what they were earning before," he said.
Lewis said a lack of affordable child care and matching skill sets as well as inadequate wages are all barriers to entering the workforce. Texas' minimum wage has remained at $7.25 since at least 2010 despite the national average growing from $7.41 to $9.21, according to the Labor Law Center.
Jordan McGill, a single mother who works part time at Constellation Field in Sugar Land, said she has been looking for another part-time job—as she only works during home games, which is about every other week.
McGill said that while everywhere is hiring, she could not find employers willing to work with her schedule or match the pay of her current role.
"Or they did not like the fact that I will not put my daughter in day care just to go to work," McGill said, citing the cost of day care and a part-time job as a breakeven scenario. "I gave up after about my fourth interview where I was told that I was a great fit—as long as I gave up either my Skeeters job or put my child in day care."
For now, McGill is working as a DoorDash driver for additional income; it allows her to work flexible hours without putting her daughter in day care.
"I know everywhere is hiring right now—but if [employers will not] work with people's schedules, or [if employers] make personal lives seem less valuable than their work life, it makes it hard—especially for single parents—to get a job or want to work," she said.
On the rebound
While staffing shortages are a main concern for the Fort Bend Chamber of Commerce, President Kerri Schmidt said the county does have economic advantages over other areas in the state and continues to bounce back.
"As a board member of the Texas Association of Business and the Texas Chamber of Commerce Executives, I'm hearing about this concern from all over the state," she said. "In Fort Bend County, we are fortunate to have an attractive region with great schools and rich amenities that continue to draw folks who want to live here. [It is] an advantage over some areas of the state that may not be as attractive."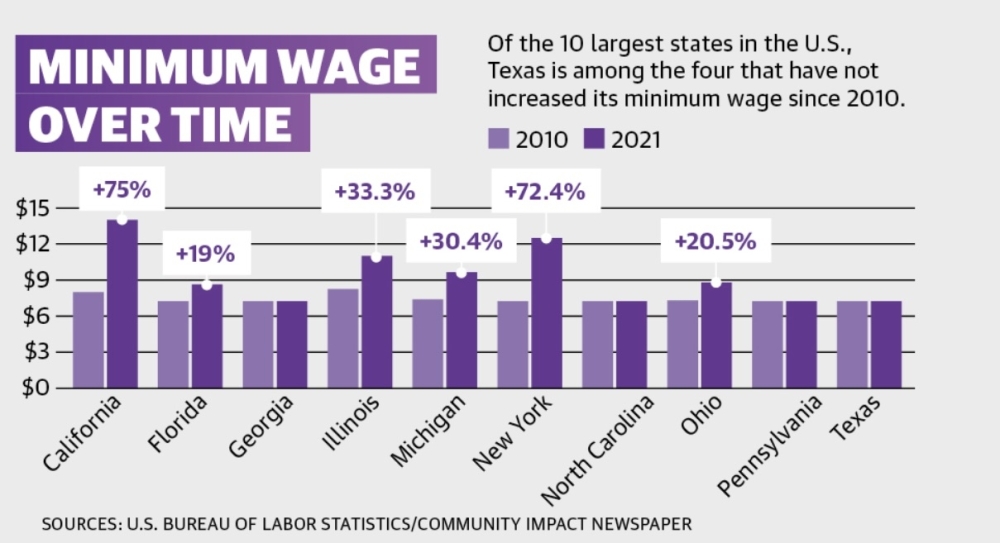 Similarly, Missouri City officials said unemployment is following the statewide trends, but sales tax revenue from e-commerce has positively impacted the economy. In early 2020, Missouri City's unemployment rate was around 14.2%—the most recent figure the city had was 8.1% in March, interim City Manager Bill Atkinson said. Benefits are running out, and people are going back to work, he said.
"We do see people going back to work and the unemployment rate falling significantly," Atkinson said.
To aid in the job availability, Amazon is building a 1 million-square-foot fulfillment center in Missouri City this year, which is expected to bring more than 500 jobs. In 2020, Amazon hired over 400,000 employees across the country, bringing its worldwide workforce to nearly 1.3 million at the start of 2021, according to the company's U.S. Securities and Exchange Commission annual filings.
Schmidt said despite the staffing •challenges—unemployment in Fort Bend County continues to decrease.
"We have certainly been in a recovery mode," Schmidt said. "With every month we are getting closer to where we were prepandemic, which averaged at 3.5% [unemployment rate] in 2019. ... We are in a strong economic revitalization. We are seeing our businesses that were hit the hardest coming back to normal activity."
Brooke Ontiveros and Anna Lotz contributed to this report.