Harris County officials said parks and recreation projects in the Spring and Klein area have continued steadily through the coronavirus pandemic, with several trails set to break ground or wrap up next year.
Dennis Johnston, the parks director of Harris County Precinct 4, said the precinct completed a project in May that added new asphalt to the existing trail system at the D. Bradley McWilliams YMCA at Cypress Creek and deepened its fishing pond.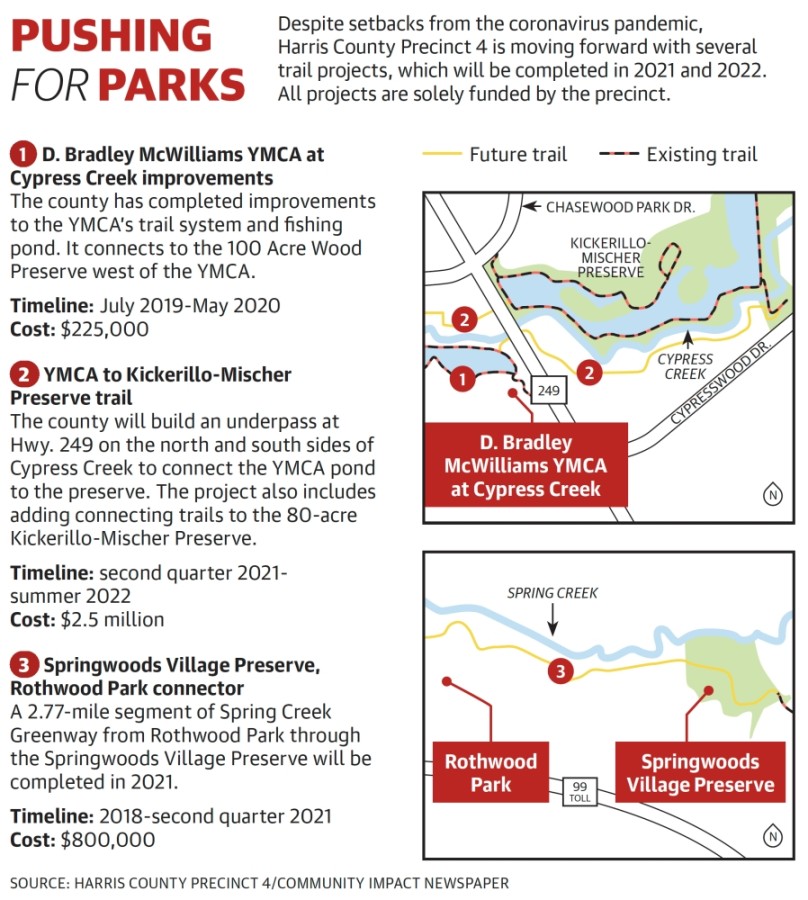 YMCA Director of Operations Cody Meredith said the YMCA donated its pond to Precinct 4 in 2019 to help connect the 100 Acre Wood Preserve to the Kickerillo-Mischer Preserve.
"Seeing the trail around the pond being utilized by families has made it all worthwhile," he said.
The precinct plans to break ground on a project in the second quarter of 2021 that will add trails under Hwy. 249 on the north and south sides of Cypress Creek to connect the YMCA to the Kickerillo-Mischer Preserve, which is an 80-acre nature preserve. The trails are expected to be completed by 2022, Johnston said.
"We just put in a new playground [at Kickerillo], but we haven't made the connection yet," he said.
"We're not going to open that until we finish the connection under [Hwy.] 249."
Improving access to the Spring Creek Greenway, a 19-mile trail from Tomball to Humble, is also moving along, Johnston said. He said precinct officials hope to finish a 2.77-mile segment from Rothwood Park through the Springwoods Village Preserve this summer. Work on the segment has stalled due to design changes, Johnston said.
After the projects are completed, Johnston said the precinct will have spent most of the funds from the $60 million parks and trails bond approved by voters in 2014. He said he does not know if the county plans to invest in another park bond soon.