The Spring and Klein area will have a new emergency medical services provider for the first time in 45 years when the contract between Harris County Emergency Services District No. 11 and Cypress Creek EMS is terminated in September.
How those new services will look—and what CCEMS will do once it loses 51% of its funding—is still unclear.
At their Dec. 17 meeting, ESD No. 11 commissioners decided the ESD will officially become its own EMS provider when its contract with CCEMS expires. The district hired Doug Hooten as its first executive director Dec. 3 and Dr. Casey Patrick as its first medical director Jan. 6. The district also finalized a purchase agreement for an administrative building on Stuebner Airline Road.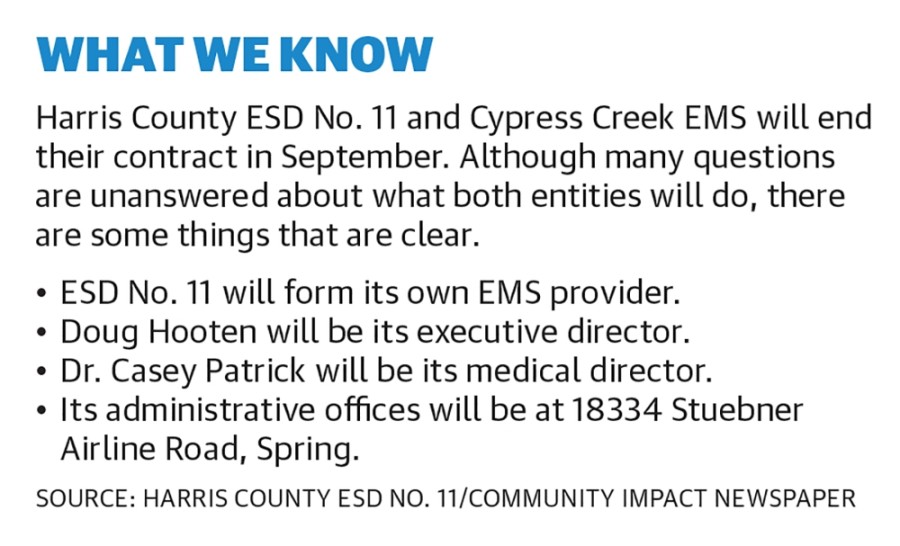 Hooten said that he cannot reveal the size of the self-operating service or how much the staff and facilities will cost, but he said residents should not see a drop in quality of service.
"That self operation will continue to provide ambulances ... in a reasonable amount of time with qualified, competent people who will deliver great service, just like [residents] probably are receiving today," Hooten said.
At the Dec. 17 meeting, PKF Texas, an accounting services firm, presented takeaways from a 100-plus-page report from a financial audit of CCEMS. The report included payroll and billing inconsistencies and about $10 million in unaccounted funds due to incorrect billing.
"If [CCEMS' financial information] means what [the report] deciphered it to mean, it's really ugly," ESD No. 11 President Karen Plummer said during the meeting. "We're hoping it's not really ugly, but it's looking really ugly."
CCEMS CEO Wren Nealy said CCEMS could answer most of the issues ESD raised, but PKF did not reach out with questions. He also said he has not seen the full audit.
Although CCEMS will continue to exist after the 360-day termination period, Nealy said he was unwilling to reveal too many details of its plans for fear of interference from ESD No. 11's commissioners.
"They're really treating this like a nasty divorce, where you're not just happy with divorcing from your spouse—you want to destroy them; you want to financially bankrupt them; you want to take everything that they own and just totally [destroy] it," Nealy said. "For a body of elected officials who are tasked with one thing—and that's providing the emergency services for the 650,000 people that they're supposed to be serving—that's rather childish."