After starting as a vendor at the Tomball Farmers Market in 2016, Caroline Cobell and her husband, Chad Cobell, opened Caroline's Kitchen in Tomball in February 2017. However, the specialty tamale shop quickly outgrew its 550-square-foot space, pushing the couple to open a new concept with expanded offerings.
"We were full," Caroline said. "We had no dining room, and people were sitting wherever they could."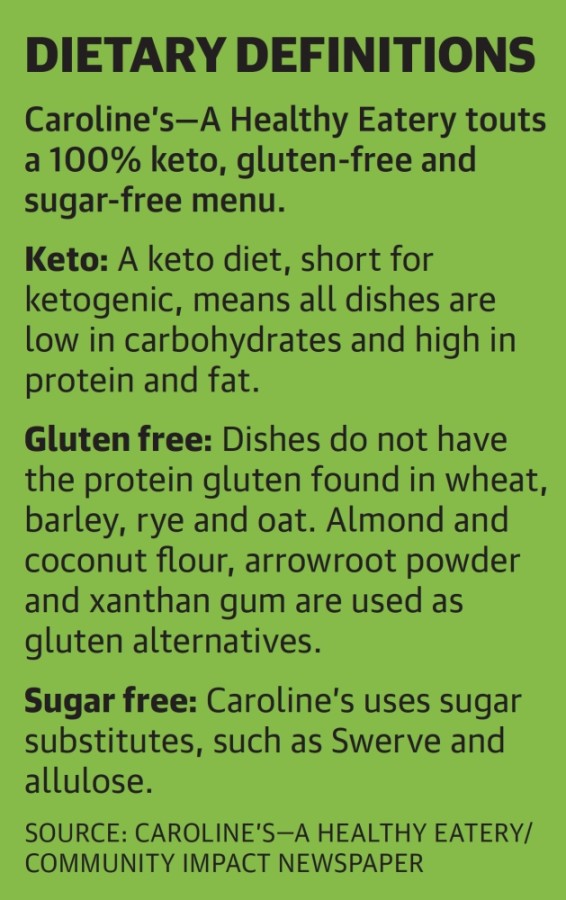 Inspired by her personal health journey, Caroline opened Caroline's—A Healthy Eatery on Louetta Road in October 2019. The restaurant boasts a menu that is 100% keto, gluten free and sugar free—a diet Caroline said she adopted after learning she had rheumatoid arthritis and degenerative disc disease and was insulin resistant.
"I realized the food that triggered my inflammation and pain was bread and sugar and pasta and rice," she said. "When I cut those out of my diet and stumbled upon the keto diet, that's when things started changing."
While the menu changes seasonally and according to ingredient availability, Caroline said staple items include a copycat Chick-fil-A sandwich, tostadas, pizzas and tamales—all made with alternative ingredients. The eatery also caters to other diets, including dairy free, vegan, paleo and halal.
"People come here and cry every day," she said. "Parents can come here and bring their kids [who are diabetic or have celiac disease], and they can pick anything they want. ... That's what makes me the happiest."
Although the coronavirus pandemic caused the couple to close Caroline's Kitchen in Tomball earlier this year, Caroline said they are planning to relocate and expand Caroline's—A Healthy Eatery by February.
In addition to current menu items, Caroline said the new eatery—which will be located near the intersection of Louetta and Stuebner Airline roads—will feature a full bar and the area's first 100% sugar-free and gluten-free doughnut and coffee shop.
"It's going to be a game changer," Caroline said.
Caroline's—A Healthy Eatery
9440 Louetta Road, Ste. 12, Spring
281-205-7774
www.carolineskitchen.us
Hours: Sun. 11 a.m.-4 p.m., Mon. noon-4 p.m., Tue. 10 a.m.-5 p.m., Wed.-Thu. 10 a.m.-6 p.m., Fri. 9 a.m.-6 p.m., Sat. 9 a.m.-5 p.m.