As the number of senior adults nationwide and in the Spring and Klein area continues to grow, so does demand for residential options. The following list is not comprehensive.


Independent-living communities (IL) cater to older adults with limited care needs. Most include amenities, such as fitness programs, housekeeping, communal meals and more.


Assisted-living communities (AL) specialize in providing care and supervision. These facilities frequently offer a full range of amenities as well as limited medical assistance.


Memory care facilities (MC) specialize in providing care to seniors with Alzheimer's, dementia and other cognitive issues. Staff members are trained to help residents manage these diseases.


Hospice care (HC) is intended to relieve symptoms and suffering associated with a terminal illness in those who have been given six months or less to live. The patient must choose to forgo further curative treatment.


Nursing home/skilled nursing facilities (SN) provide care to those with illnesses or mental conditions requiring full-time monitoring and medical care.


1. Atria Cypresswood (AL, MC)
6611 Cypresswood Drive, Spring
281-407-6903
www.atriaseniorliving.com
2. The Auberge at Vintage Lake (IL, AL, MC, HC)
10120 Louetta Road, Houston
832-761-7632 or 832-864-9188
www.frontiermgmt.com
3. Autumn Grove Cottage at Champions (AL, MC, HC)
8733 Eastloch Drive, Spring
832-626-2601
www.rcmseniorliving.com
4. Autumn Leaves of Cypresswood (AL, MC)
6327 Cypresswood Drive, Spring
281-374-1750
www.autumnleaves.com
5. Avanti Senior Living at Augusta Pines (IL, AL, MC, HC, SN)
24520 Community Center Drive, Spring
281-205-2600
https://augustapines.avanti-sl.com
6. Avid Care Cottages-Champions (AL)
5807 Old Lodge Drive, Houston
832-692-0093
www.avidcarecottages.com
7. Avid Care Cottages-North (AL)
3611 Glenpine Drive, Houston
832-692-0093
www.avidcarecottages.com
8. The Bellaire Senior Lodges (IL, AL, HC)
6420 Cypresswood Drive, Spring
832-404-2000
www.bellairelodge.com
9. Brookdale Champion Oaks (AL)
17705 Red Oak Drive, Houston
844-650-2755
www.brookdale.com
10. Brookdale Champions (AL, MC)
14050 Cutten Road, Houston
281-893-0886
www.brookdale.com
11. Brookdale Cypress Station (AL, MC)
303 Lantern Bend Drive, Houston
281-893-0876
www.brookdale.com
12. Brookdale Hospice Houston (AL)
15425 I-45, Ste. 160, Houston
713-936-9404
www.brookdale.com
13. Brookdale Willowbrook Place (AL, MC, SN)
13500 Breton Ridge St., Houston
844-493-8001
www.brookdale.com
14. Conservatory at Champion Forest (IL)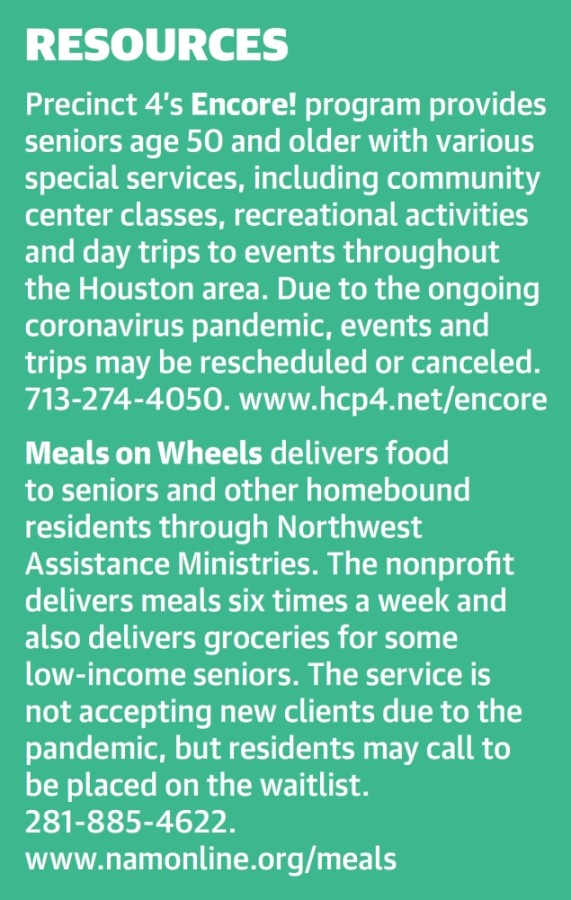 8215 Cypresswood Drive, Spring
832-400-6650
www.conservatoryseniorliving.com
15. Ella Springs Senior Living Community (IL, AL, MC, HC, SN)
16700 Ella Blvd., Houston
281-994-9806
www.ellasprings.com
16. Embark at Willowbrook Park (IL)
7575 Willow Chase Blvd., Houston
281-764-8087
www.embarkseniorliving.com
17. Grace Memory Care (AL, MC, HC)
25610 Oakhurst Drive, Spring
832-677-2901
www.gracememorycare.com
18. HomeBridge Care (AL)
1324 Lemm Road, Ste. 2, Spring
713-785-5501
www.homebridgecare.com
19. Ivy Point Klein (IL)
19310 TC Jester Blvd., Spring
281-747-9949
www.ivypointklein.com
20. Just Divine Hands (AL, MC)
510 Enchanted Hollow Drive, Spring
281-528-9508
www.justdivinehands.net
21. Loving Care Cottages Assisted Living (AL, MC)
14977 Terrace Oaks Drive, Houston
281-910-4497
www.lovingcarecottages.com
22. Mera Vintage Park (IL)
14914 Vintage Preserve Parkway, Houston
832-481-6769
www.meravintagepark.com
23. Mercy Elderly Assisted Living (AL)
19003 Mirror Lake Drive, Spring
832-364-2273
www.mercyelderly.com
24. Mossy Oaks Retreat Assisted Living (AL)
23003 Fritz Lane, Spring
281-882-3112 or 714-350-3276
www.mossyoaksretreat.com
25. New Haven Assisted Living of Spring (AL, MC)
21327 Falvel Road, Spring
281-336-9032
www.newhavenassistedliving.com
26. Northgate Assisted Living (AL)
14902 Welcome Lane, Houston
832-853-7178
www.ngassistedliving.com
27. Paradise Springs (IL)
5600 Cypresswood Drive, Spring
281-767-2715
www.holidaytouch.com
28. Park Manor of Cypress Station (SN)
420 Lantern Bend Drive, Houston
832-249-6500
www.parkmanor-cypressstation.com
29. Pathways Memory Care (MC, SN)
2930 Cypress Grove Meadows Drive, Houston
281-315-1450
www.pathwaysmemorycare.com
30. Silver Leaf Memory Care Community (AL, MC)
1923 Silver Leaf, Spring
832-674-0100
www.villagecarehomes.com
31. The Solana Preserve Vintage Park (IL)
14221 Vintage Preserve Parkway, Houston
844-376-6054
www.brookdale.com
32. The Solana Vintage Park (AL, MC)
19929 Chasewood Park Drive, Houston
713-489-3387
www.brookdale.com
33. Spring Creek Village Assisted Living & Memory Care (AL, MC)
2305 Holzwarth Road, Spring
832-534-0186
www.springcreekvillage.com
34. Sycamore Creek Ranch Memory Care (MC)
6510 Cypresswood Drive, Spring
832-791-1577
www.scrmemorycare.com
35. Unlimited Care Cottages (AL, MC)
515 Enchanted River Drive, Spring
713-419-2609
www.unlimitedcarecottages.com
36. The Village at Gleannloch Farms (IL, AL, MC, SN)
9505 Northpointe Blvd., Spring
281-766-8148 or 281-862-8494
www.villageatgleannloch.com
37. Wood Glen Court Assisted Living (IL, AL)
5000 Cypresswood Drive, Spring
832-534-3039
www.woodglencourt.com