Land is being cleared for FM 1960 to be widened from Business FM 1960 in Humble to just west of the San Jacinto Bridge in Atascocita. The area will be split into two projects connecting near Twigsworth Lane.
The Texas Department of Transportation projects will expand the road and improve safety along the corridor by widening its current four-lane road with a continuous center turn lane to a six-lane road divided by a grass median with 5-foot pedestrian sidewalks.
TxDOT Public Information Officer Danny Perez said the department acquired all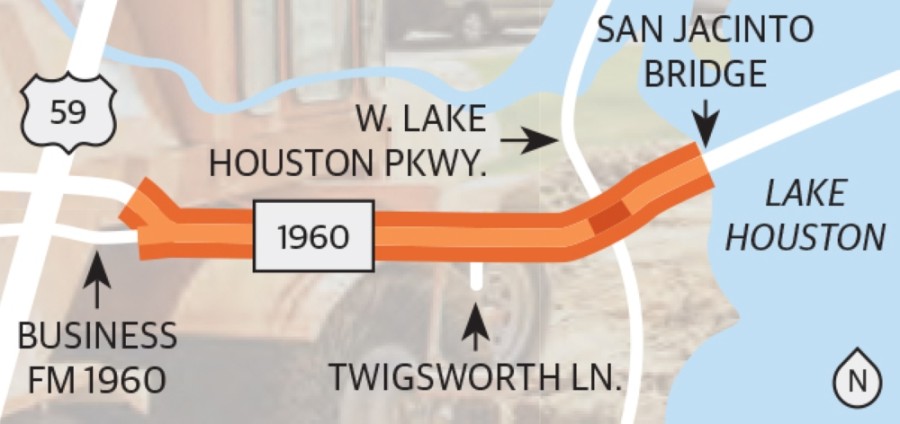 necessary right of way along the road, and contractors are actively removing signs and buildings from the right of way. Contractors began clearing land in January for the $70.2 million eastern expansion, which will also create an overpass over the West Lake Houston Parkway intersection.
Although contractors have not started clearing the land for the $63 million western project due to ongoing utility adjustments, Perez said construction is expected to begin this summer. The western project is expected to finish in 2023, while the eastern project is expected to wrap up in 2024.
Meanwhile, contractors also began laying foundation for sound walls along portions of the road, he said. Walls will be on the north and south sides between Twigsworth and Cloyanna lanes, with the south wall extending just past Cloyanna to Kings Park Way.
Another southern wall will be from Atascocita Shores Drive to Lake Houston.Perez said drainage and sewer improvements will also begin on the eastern project in June.
"We look forward to moving these projects forward and constructing a roadway that will improve mobility and enhance safety for years to come," Perez said.