The study phase for Harris County Precinct 4's Hamblen Road realignment project began in January.
The project aims to expand the road to four lanes between Loop 494 and Laurel Springs Lane and realign it to connect to the Sorters McClellan Road and Loop 494 intersection. It will also create a bridge over the Union Pacific Corp. railroad.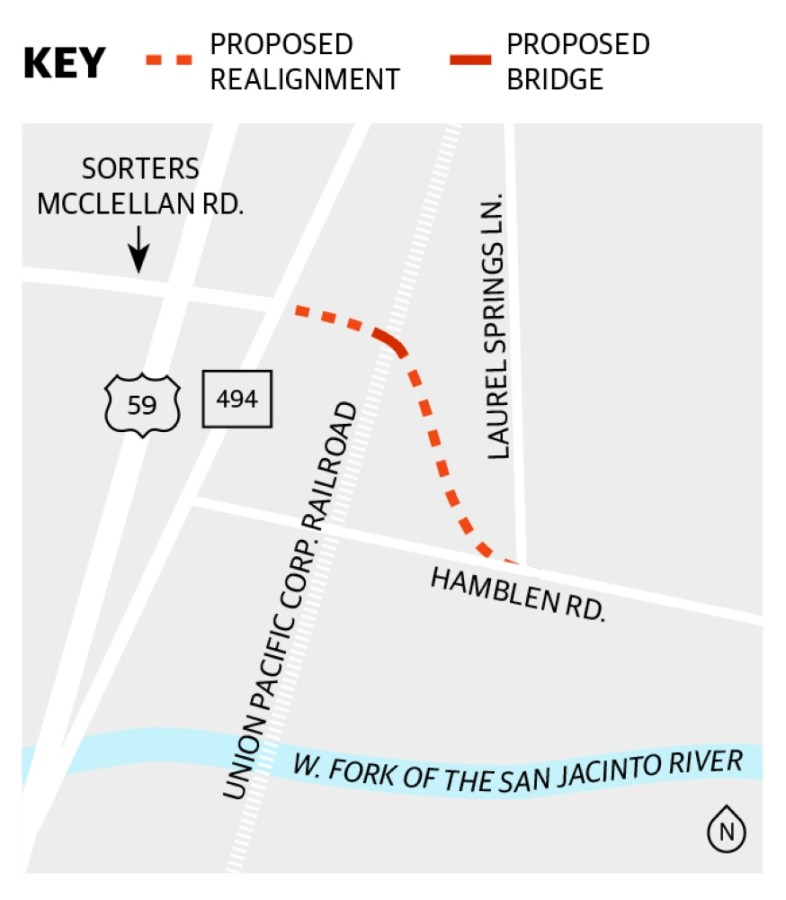 The project has been controversial among some Kingwood residents who live along Hamblen Road. Some residents oppose the project because they fear expanding the road to a boulevard with a median and realigning it will increase traffic along the corridor, city of Houston and county officials have said.
Precinct 4 Commissioner Jack Cagle said the realignment will improve safety by diverting traffic around the railroad at Hamblen Road and reduce flooding by fixing issues with roadside drainage.
"If there is a stopped train on that railroad, there is no way to get in Kingwood unless you go to the back and cross over the [West] Lake Houston [Parkway] bridge," he said. "So there are some serious safety and mobility issues in the community."
Cagle said the project will also improve mobility for pedestrians who can take advantage of the hike and bike trail that will be created in Edgewater Park's expansion and the San Jacinto Greenway.
The study phase—which began Jan. 11 and will take 12-18 months to complete—will identify and address environmental and flooding issues and traffic impacts, said Pamela Rocchi, director of the capital improvement projects division at Harris County Precinct 4, via email.
Harris County aims to enter a joint partnership with the Texas Department of Transportation to fund construction as well as apply for federal funding through the Houston-Galveston Area Council, Rocchi said. H-GAC's next call for projects in its Transportation Improvement Program is expected to take place in the fourth quarter of 2021; however, Rocchi said the call for projects could be delayed due to federal funding availability.
She said an estimated timeline for the project cannot be determined, as it is dependent on funding availability. The county does not have a cost estimate for the project.