After Houstonian George Floyd's death in Minneapolis police custody in May and the nationwide protests that followed, public scrutiny of law enforcement policies reached a new level. Lake Houston-area entities then began re-evaluating their use-of-force policies and investing in studies to examine possible oversights in the criminal justice system, law enforcement officials said.
Humble Police Chief Ken Theis, who was appointed as chief Oct. 8, said the department amended its use-of-force policy this summer under former Chief Delbert Dawes. He said the policy requires every officer present or involved in any use of force to report it; officers who witness an incident also have a duty to intervene.
"We never had an issue with an officer not reporting it, but it encourages [them] to make sure each and every officer involved in that scene will say something," Theis said.
Harris County is also pushing forward on a broad range of studies into the county's criminal justice system. The final results of some of the studies could be released in 2021, county officials said.
Meanwhile, Houston Mayor Sylvester Turner and the Houston Police Officers' Union are renegotiating their three-year labor contract. The Houston Police Department includes the Kingwood Division, which serves Kingwood and Summerwood.
Assessing procedures
On June 9, Harris County Commissioners Court approved 11 motions aimed to address the county's criminal justice system, which included feasibility studies and reports analyzing racial and ethnic disparities. Some studies are looking at the feasibility of creating a county-level emergency responder program and a civilian oversight board to investigate allegations of abuse of force, to name a few.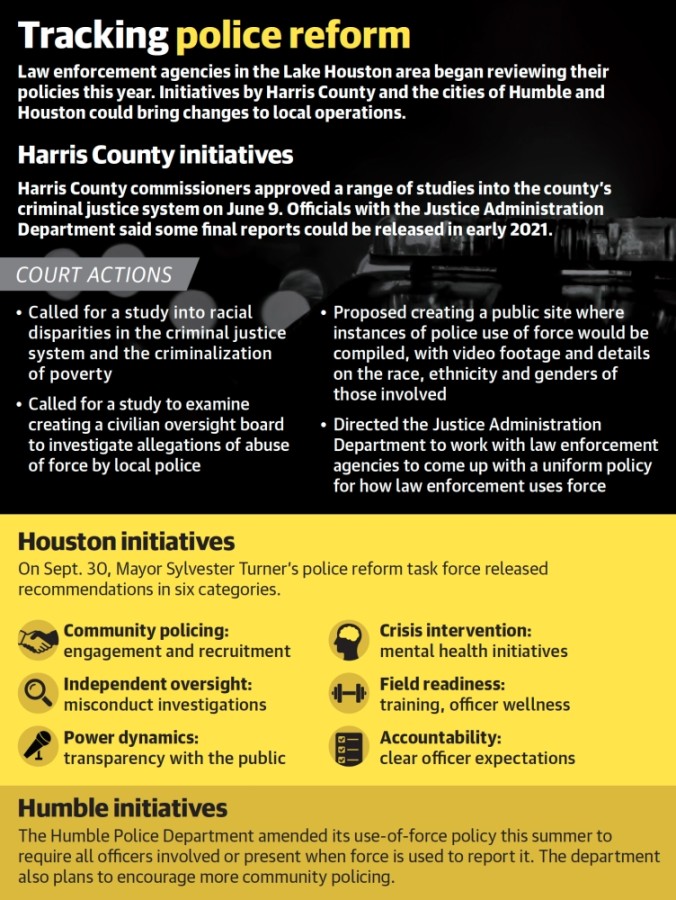 Ana Yáñez Correa, deputy director of the Harris County Justice Administration Department, said some preliminary reports have been completed and the department is taking the next steps. For example, JAD, which is conducting the studies, launched court appointment and indigent defense dashboards this fall.
"We are taking a multipronged approach to fulfill these mandates," she said. "We're not just doing reports. ... As soon as we get data and we're able to validate that data, we're putting it in the public."
In early 2021, Correa said JAD hopes to release the final versions of several studies and launch pilot programs with local law enforcement groups.
Commissioners also directed the county's eight constables meet with other agencies as well as JAD to develop a model use-of-force policy.
Harris County Precinct 4 Constable Mark Herman, whose department serves the Atascocita area, said via email constables met for three months this fall to formalize the draft policy. He said constables will now coordinate with the sheriff, the district attorney, the fire marshal and the county attorney's office for their input.
Herman said Precinct 4's current policy mirrors those of all other Harris County law enforcement agencies; however, he did not provide policy details.
"Our policy as well as other agencies have all been approved and vetted by the Harris County Attorney's Office," he said.
In addition to the incident reporting, Theis said one of his main goals for the Humble Police Department is to increase community policing.
"That builds a really good foundation for your department," Theis said. "Not that it's way off base or anything—it's just something we need to improve upon."
Montgomery County Precinct 4 Constable's office, which serves the New Caney and Porter areas, did not return comments by press time.
Houston police changes
In late June, Turner appointed 45 members to his task force on policing reform, which explored best practices and procedures for the Houston Police Department; it released a report with its recommendations Sept. 30.
"People are watching in a way that they haven't before," said Carla Brailey, the co-chair of Turner's task force. "Being a part of this committee, we knew the results could be a matter of life or death."
With the Dec. 31 deadline for renewing the police union contract approaching, the mayor's reform task force and a report from the American Civil Liberties Union of Texas included proposals to remove or revise two key HPOU contract provisions to improve accountability. However, some union representatives said they are crucial worker protections.
One is the 48-hour rule allowing officers to review evidence against them in a misconduct allegation before making a statement. The other is the 180-day rule preventing the department from disciplining officers involved in misconduct that occurred more than six months prior.
Advocates argue the rules give officers an advantage in misconduct allegations. However, Kevin Lawrence, executive director of statewide police union Texas Municipal Police Association, said the 48-hour rule is a balancing act.
He said if officers are required to submit a statement following an allegation, but civilians have the right to remain silent, the 48-hour rule levels the playing field.
HPOU Executive Director Ray Hunt added that the Houston Police Department can ask for permission from the state attorney general to discipline an officer after 180 days.
"It has nothing to do with us trying to say, 'Hey, we want you to hurry up so you don't find the evidence,'" he said. "If you can't find it in six months, you've got a problem."
If Turner and HPOU President Joe Gamaldi do not agree and receive a vote of approval from HPOU members and City Council by Dec. 31, the contract automatically renews as is with a 2% raise for officers.
The contract does not prevent talks from happening after Dec. 31.