As mayor of Humble, Merle Aaron starts every day by sitting down and having coffee with his wife, Linda. By 8:30 a.m., Aaron is at Humble City Hall, visiting with the Humble Police or Public Works departments. He takes phone calls from the Humble ISD board of trustees or local residents, and participates in the bimonthly City Council meetings.
In January, Aaron announced he would not seek re-election for a third term in the May 1 election. Instead, he will retire in May to spend more time with his wife, whom he has been married to for almost 63 years, and travel as soon as it is safe to do so.
"Not long after I retire, I'll be 83 [years old]," Aaron said. "I plan on spending the rest of my time making 84 and 85 years with my wife more profitable. ... We're a pretty simple couple. We love our kids; we cater to them, and then we just like to travel and do things together."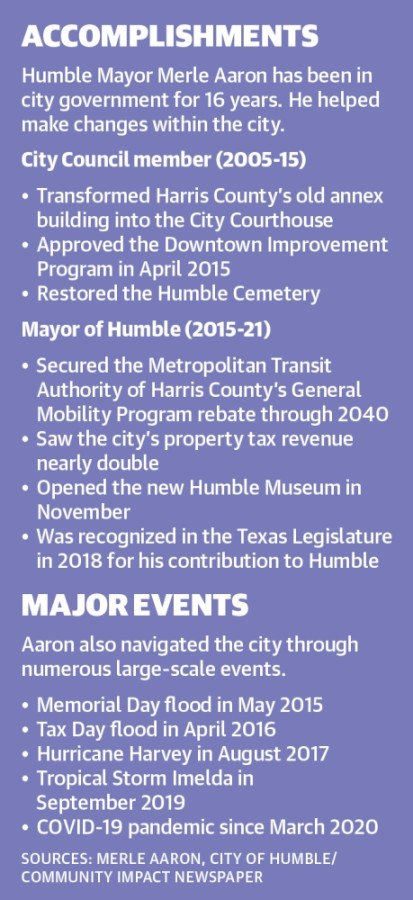 The founder of local business Aaron Mechanical, Aaron has spent the last 16 years serving the Humble community: 10 years as a City Council member and six years as mayor. He and his family have lived in the Humble area for almost 60 years.
Aaron was first elected to a vacant seat on City Council in 2005, and his top priorities were improving infrastructure and financial stability. While serving in government, Aaron said he is most proud of his role in transforming Harris County's old annex building into the courthouse and restoring the Humble Cemetery.
When he decided to run for mayor in 2015, Aaron said his wife, three children, eight grandchildren and 16 great-grandchildren were supportive. With his family campaigning while donning purple T-shirts that read "Merle Aaron for Mayor" and "Pa-Pa for Mayor," Aaron was elected the 14th mayor of Humble in May 2015.
Throughout his six years as Humble's mayor, Aaron helped the city weather through four major storm events as well as the coronavirus pandemic. Aaron said he has most enjoyed knowing his door was always open to the community.
"Everybody's equal," he said. "I don't think there's anybody that walks in that door [who] has less importance to me than the other one does."
Two candidates have filed for his position in the May election: Arliss Bentley and Norman Funderburk. The advice Aaron said he would give the victor is to sleep on big decisions and attend as many local and regional meetings as possible.
"I would say no knee-jerk reactions," he said. "Think about it, and be a good listener and read everything that you can get your hands on."
Once retired, Aaron said he will not likely stop participating in the community, whether it be at his church—United City Baptist Church—or a nearby hospital. He said he looks forward to watching Humble's growth and downtown revitalization.
"I think the best days for Humble are ahead," he said. "I think that we will see an atmosphere in Humble that will be envied by a lot of people and a lot of cities."